Hi darls,hope everyone's week is going great,i have been under the weather for the past three days,but i'm fine now. Today,you will find out how to buy your perfect full lenght jeans and pants online if you don't already know. Many people (especially frequent mall-goers) wonder how to buy their perfect sizes online without trying them on,wonder no more!
If you remember this post 10 ways to shop smart online on a budget i talked about buying from stores that specify their model's height to help you have an idea of the lenght on you especially for bottoms,well it doesn't stop there!

The picture above is an example of how the perfect size guide looks like. After checking for your size and the model's height,you have to check for the Inseam or Inside leg depending on the store, to be sure it's the same with yours despite being same height with the model. For example,my height is 178cm/5'10 and my perfect inseam is 34in (yeah i have long legs! lol) but i could also wear 33in or 33.5in if i'm desperate and i don't find 34in. In the picture above,the inside leg measurement is stated at the last line. You have to know your inside leg measurement before buying but if you don't,this is how to measure….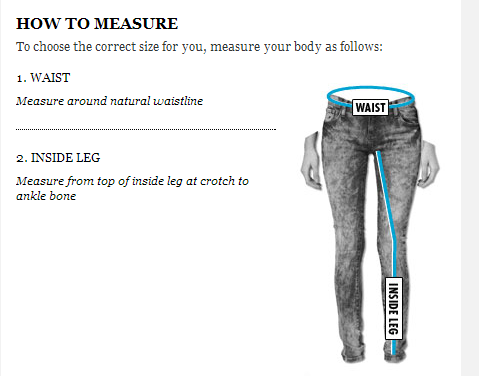 Hopefully this will help in your future shopping
Have a nice day
xoxo!!