Most online shoppers shy away from buying full length jeans and trousers online. Sometimes, this is because of the fear of wrong sizing and fit. In this post, I've shared how to buy jeans online and get your perfect full lenght and fit.
If you are one of those (frequent mall-goers) that wonder how people buy jeans online without trying them on first, wonder no more. In my post about 10 ways to shop smart online on a budget, i talked about buying from online stores that specify their model's details.
These details include, model's height and size worn in the product photo. For trousers and jeans, there should be details of inseam (inside leg) to help buyers to have an idea of how the length would be on them. This is especially important for bottoms.

The picture above is an example of how the perfect size guide looks like. Below are the things to do when buying jeans and trousers online, to ensure you buy the right size and fit.
How To Buy Jeans Online In The Right Fit
• Check for model's size and height. This is to find your corresponding size and height.
• Check for the Inseam or Inside leg depending on the store, to be sure it's the same with yours despite being same height with the model. For example, my height is 178cm/5'10 and my perfect inseam is 34in (yeah i have long legs! ). I can also wear 33in or 33.5in if i'm desperate and can't find 34in.
In the first photo in this post, the inside leg measurement is stated at the last line. You have to know your inside leg measurement before buying jeans aand trousers online. If you don't know your inseam or how to measure, I've got you covered.
How To Measure Inseam/Inside Leg When Buying Jeans Online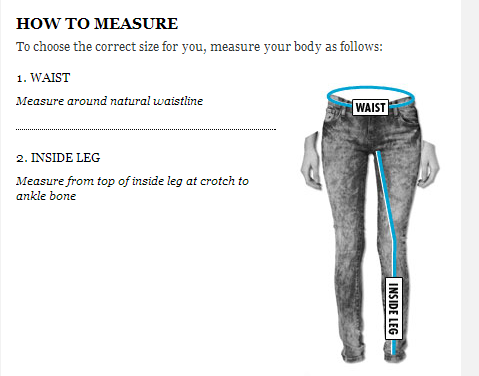 A pair of Jeans is such a versatile piece that everyone needs at least 2 perfect jeans. Even though there are many ways to wear jeans presently like the embroidered jeans trend and frayed/raw hem jeans trend, the plain old jeans remain a staple.
A quick #guide on how to shop #jeans online, how to measure inseam/inside leg and more! #fashion Click To Tweet
I hope this quick guide on how to shop jeans online will help you in your next online jeans and trousers shopping. In the meantime, don't forget to pin this post to your Pinterest, tweet and share to your friends.
Thanks for stopping by as always!
xx.
Keep Up With All Blog Posts