Hi lovelies,it's been a minute! hope everybody is doing great. The last few days have been crazy for me but i thank God the event was a huge success,it was worth it! I spent most of my time at the event backstage and running around doing my coordinator work but i managed to take some pictures while at it.
The tiredness is written all over my face..lol. I had to take my shoes off because of all the runnings involved,wore flats. These shoes weren't as comfy as they looked,they kept slipping and i was too weak to even walk in them.
Outfit details
                                                              Dress: Vila,available 
Here
                                                              Necklace: Mango (gift)
                                                              Belt: DIY
                                                              Shoes: Asos,available 
Here
Pictures of some of my lovely contestants and other amazing people i worked with.
I had so much fun working with all of them,from the rehearsals till the main event.
Make-up time
The beautiful ladies in their casual wears (1st appearance)
My super-duper guys in their casuals (1st appearance)
Guys in their casuals
2nd appearance (sports) Namaste!
Annetta and Nero
Sharon in Edo traditional attire (3rd appearance)
Nero in traditional attire (3rd appearance)

Sharon and Nero's attires are from the Niger Delta part of Nigeria.
Elina (Namibian)
Emmanuel in an Eastern Nigerian Men's Outfit
Ebube a.k.a Birdman in an Eastern Nigerian attire
Stephen in a Modern Eastern Nigerian Ruler (igwe) attire

Their attires are from the Eastern part of Nigeria (The Igbos) – my people 😀
Muhammed (the No.1 aboki) in a Modern Northern Nigerian attire
From left: Uchenna in an eastern Nigerian titled man attire,Nero,Hamza(sudanese),Stephen,Muhammed and Ammar(sudanese)
Mimi- The female Host in her Gorgeous dress
Emmanuel a.k.a craze clown or Mc craze – The Male host
Contestant chioma
Uchenna,Mimi,Mc craze and contestant Mary
Nero in final appearance (evening)
Muhammed,tired Me and Mc craze
Annetta – The winner of Miss kharkov Africa 2013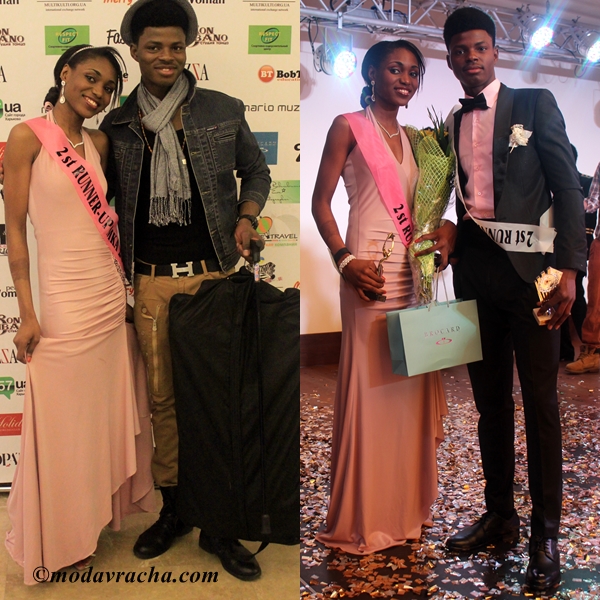 Representing the Niger Delta – Sharon and Nero (2nd Runners up)
Elina with supporters
Winners – Uchenna,Nero,Annetta,Muhammed

Uchenna won the Mr Kharkov Africa 2013 contest and the Mr Fit award. Annetta Won the Miss Kharkov Africa 2013 contest,the award for most voted female contestant based on the facebook polls before the event and fashion bombshell of the night. Muhammed won the Mr Dapper award and I must say, this final appearance attire stole my heart!
With My Queen Kemi – First miss kharkov Africa

I coordinated the contestants in 2011 when Kemi won,they were all amazing too!
say cheese!
I couldn't get pictures of all the contestants but trust me,they were all amazing! I'm so proud of them and i'm glad i worked with them. Thanks to everyone that helped in one way or the other,the event was a huge success! Check out pictures of them on stage Here and Here
xx!