Hello Lovelies, It's a brand new week and few days to a new month, did you achieve all your goals for the month? Well, if i haven't achieved anything, i most certainly achieved a weekend of long hours of sleep unlike me) and I'm so ready for a productive week!
Can you remember the asos dress (popular on the Internet)  Michelle Obama wore during her husband's re-election campaign in 2012? The dress was originally $92.82 (which is still less than $100) and now currently on sale for $64.97. This an inspiration to fashion lovers on a budget. Sometimes, most times you don't have to spend a fortune on fashion pieces to look good..the First lady of USA knows this!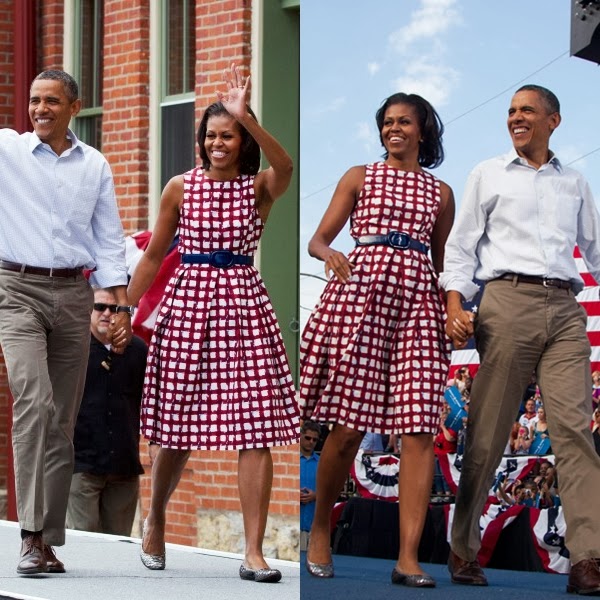 While the First Lady wore the check print dress last year, Jessica Alba wore hers sometime in July, i came across the photo on asos' tumblr page.
I reblogged the photo back in July but only realized today that the dress was not sold out yet. It's still available but in limited sizes Here.
These two women can afford dresses way more expensive than this dress but they opted for this one which is not only beautiful but affordable too. If you've been following my blog for sometime, you probably would have noticed that Asos is one of my favorite stores and i wear lots of items from them and other brands they carry. One of the reasons being that they sell items that almost everyone can relate to, styles, prices and otherwise and another reason – free shipping worldwide.
Would you rock this dress?
*P.S. you can follow me on tumblr Here where i share fashion and style inspirations from around the world.
Wishing you all a productive week!
xx.
*Stay in touch – Join this blog || Like on facebook || Follow via bloglovin