From left to right: The Daileigh, Beeswonderland, Victoria Tornegren
Hello lovelies, I hope you had a great week. So i came across a white and black printed waist jacket i bought over a year ago that I'm yet to wear while arranging my wardrobe, I thought the prints were cow prints when i bought it, only to discover they're leaf prints. It got me thinking of the cow prints trend i saw on the runway and street style photos last year. I'm yet to see more of it,could it be a failed trend or still evolving?
My jacket
Just like other monochrome trends, it would look great when accessorized with a pop of color, there's a lot going on with the prints already but hey, there are no rules in fashion, right?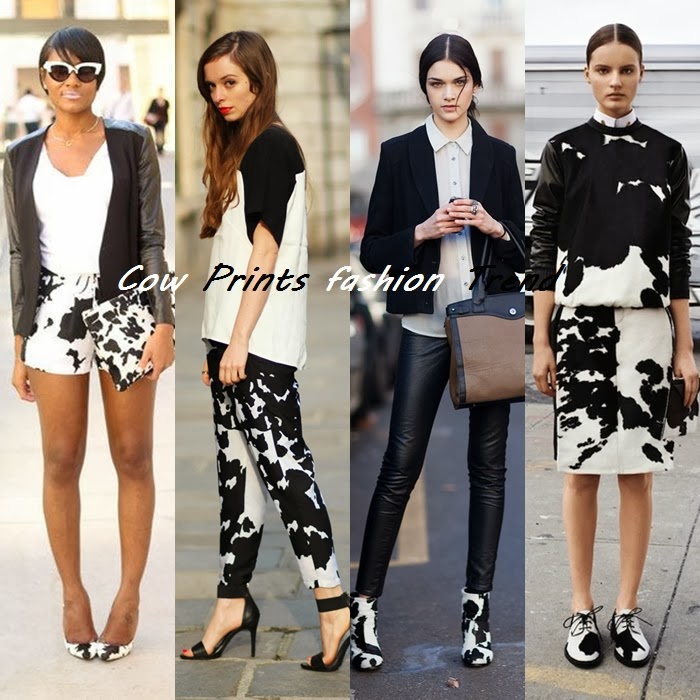 From left to right: The Daileigh, Sabfashionlab, Isabella melo, a model
I love The Daileigh's Jeffrey Campbell pumps (sold out in most stores, can be found here), I would totally rock them! I also love the Zara pants. If I'm to rock this trend, i would wear separates, one item at a time and add a contrast colored item, you?
Here are some of my Saturday faves
1. Cow print shirt (also available here) 2. Asos faux Cow Lapel. 3. Boohoo Cow print bodycon dress. 4.Truth or Dare by Madonna Irena heels
One of my favorite celebrity cow print looks
Beyonce..
Yay or Nay for cow print..would you rock this print, how will you rock it? tell us in the comments box. Have you rocked the cow prints already? Show us! link up your style using the 'Add your link' widget below to add the link to your cow print outfit post.
My next post would be from…….*keep guessing :)*
Have a lovely weekend!
xx
Join this blog || Like(facebook) || Follow(bloglovin) || Shop modavracha || Subscribe(email)