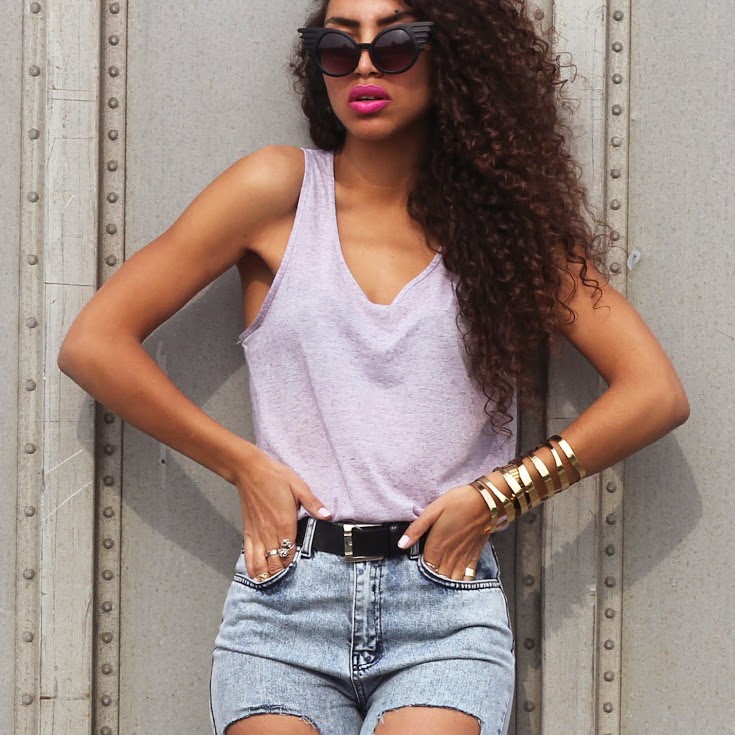 Hello Lovelies! how has your week been? Today's blogger feature is an amazing young lady from Amsterdam. I liked Larissa Bruin of
From hats to heels blog
the first day i came across her photo on tumblr. First thing i admired was her hair, then her outfit and the photography. It's always inspiring seeing people who enjoy what they do, want more from life and totally enjoy getting all they want every step of the way. She was born and raised in a small town but always felt the urge to seek the extraordinary. She loves city trips, fashion and photagraphy. She shares some of her other interests and more in this interesting interview…..
1. Could you start by telling us a bit about yourself. any habits, routines, addictions?
  I am Larissa, psychologist turned fashion blogger. Besides that, I am a huge popcorn addict and thrill seeker. I always love new adventures.
2. How would you describe your personal style? Do you see yourself as a fashionista or stylista?
 My style is a mixture of feminine chic and edgy rough. I love to combine the two into an outfit that is both romantic and sassy. Fashionista, stylista. What's the difference? I love fashion and I love to style myself ;-).

3. Tell us a bit about your blog and what inspired you to start it, what inspires your posts?
 I started blogging when the great international bloggers that are now so famous just started to become visible. I loved what they did: combining fashion and writing. And since I've always had a huge wardrobe, I thought I might try it out as well. Nowadays, I am still inspired by these bloggers, other fashion influencers like designers and also my own followers.

4. What does fashion mean to you? 
 Fashion to me is a way to say who you are and what you are all about. It's one of the first things people will see when they meet you and therefore I always want to dress on point.

5. What fashion items would you splurge on and what would you never be caught wearing, why?
 At the moment I am in love with maxi coats and cardigans. (I hope) you will never catch me in white leggings.
6. What do you love most about fashion blogging and what has been your biggest challenge about blogging? How do you deal with this challenge?
 I love blogging because I get to meet so many inspiring people, with whom I share same interests. The biggest challenge about blogging is time management, because it can get very hectic. I am still finding ways to manage this, but with a handy diary, mobile device and communication skills this is stabled.

7. Would you like to see anything change in the fashion industry? What and why?
 I think that there should be more room for newcomers in the fashion industry, without too much nepotism.
8. What is your skincare routine? Any favorite beauty products? How do you care and maintain your gorgeous hair?
 I have been using day creme from Nivea ever since I was 8 or something and I avoid using too much foundation. My favorite beauty products would have to be my range of lipsticks (I always use three at one time). To maintain my hair, I use Herbal Essences for dry hair (shampoo and a lot of conditioner).
9. If you were given the opportunity to work exclusively with one fashion brand in the world, which brand will you pick and why?
 If I would have to choose a brand it would either be
Missguided
or
River Island
, because I think they match my style the best. It's kind of versatile but always catchy, feminine, chic and sassy. If I'd have to choose a designer it would be Balmain, for the same reasons.
10. Any last advice/tips/words for fashion lovers, fellow bloggers and modavracha's readers?
What ever you do, make sure you do it your own way. Stick to your personal style and interests; that's the only way to keep up and the only thing they'll love you for.
 Wow! I don't even know where to begin! I totally enjoyed reading Larissa's answers, I can't get enough of her photos!  And i do hope we never catch her in white leggings 🙂 lol! Hope you enjoyed reading the interview….For more of Larissa, you can check out her social networks:
Facebook
||
Twitter
||
Instagram
Till my next post
xx!