If you are following a facial routine like i mentioned in my Korean skincare post, then you would use a toner after cleansing when you are not exfoliating. Koreans refer to toners as Freshners (some are spelt as Fresheners).
I've just recently finished using the 250ml of Etude house wonder pore freshner 10 in 1 launched in 2014 which is supposed to be an improved version of the Etude House wonder pore freshner 7 in 1.
I never used the Etude house wonder pore 7 in 1 so i don't know how it compares with the 10 in 1 but I will be sharing my thoughts on the 10 in 1 which I have used.
Benefits of Etude House Wonder Pore Freshner 10 in 1
Balance skin's ideal Ph level.
Deep cleanse pores.
Refine skin tones.
Minimize appearance of pores.
Keep the elasticity of pores.
Control a large amount of sebum.
Remove skin surface's dead cells.
Moisturize inside and outside of skin.
Cleanse pore insides with cooling effect.
Complete smooth glass-like texture.
Review Of Etude House Wonder Pore Freshner 10 in 1
After using this product as my toner, i can't say i benefited from all 10 benefits but i did benefit from up to 7 of them (1, 3, 4 (to an extent), 6, 8, 9 and 10). While it minimized the appearance of pores, i wouldn't say it made a huge difference on the overall size.
Actually, I think the freshners smooth glass-like texture is what creates the illusion of the minimized pores. *Regardless, this might work for someone else.* I liked that it was fragrance-free, soothing, refreshing and improved my skin tone, it didn't dry out my skin and it controlled sebum.
The only con was the effect on pores (especially because the company described it as "Ultra pore solution"). This was my main aim of purchasing it, to combine with other pore products for maximum effect. Other than that, this is a great daily toner especially for people with oily or combination skin plus it also has a 500ml version
According to COSDNA ratings on the ingredients, it's safe for acne-prone and sensitive skin types. Since i'm new to Korean skincare, i will be trying more freshners before i settle for the best. If i don't find any useful, i will repurchase this one and find another product to tackle the pores.
It's amazing how life is. In the past, i didn't see the use for toners ( don't judge me), but now i can't have complete facial care products without a toner, knowledge is indeed power!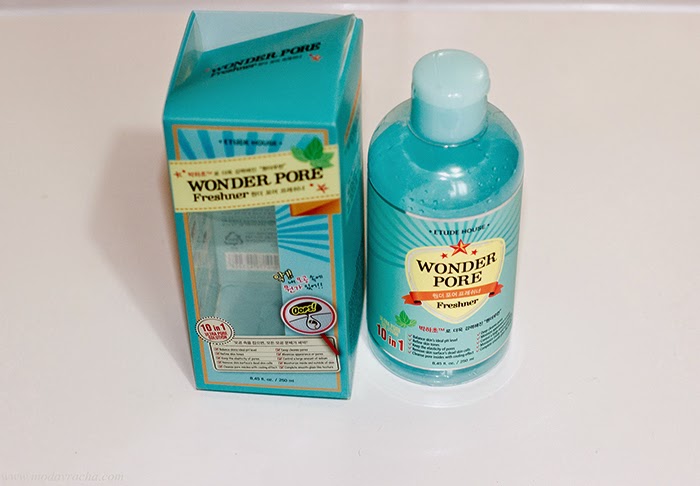 Where To Buy Etude House Wonder Pore Freshner 10 in 1
W2beauty
(you can get $5 off your first order of $30 and above with my sponsor code 055355010 plus samples and 5% off your next order when you review the purchased products following the link in the email received asking you to review the product) ||
Amazon
||
Ebay
Have you tried the Etude House wonder pore freshner before or any Korean toner? Do Share your experience with us!
Have a great week!
xx.
Etude house wonder pore freshner 10 in 1 review
Packaging

Ingredients

Overall Effect

Effect on pores

Fragrance-free
Summary
One of those toners to have in your collection while testing out others, the fall-back toner when others fail. Good product regardless.