It's been a while since i last reviewed a Korean beauty product on the blog. Today's post is about this Nots 28 remedy acne pore deep cleanser review, a Korean acne care product sent to me by the good people at Q-depot.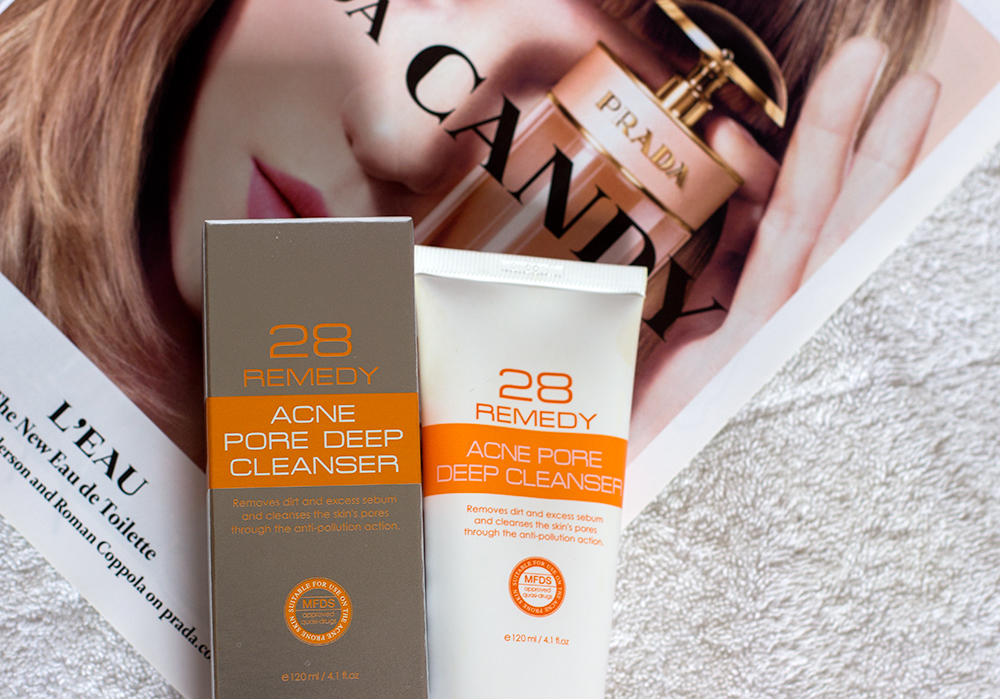 Q-depot
is an online Korean cosmetics and skincare store with over 15,000 products from more than 25 brands. They offer worldwide free shipping for orders over $69 and low-cost shipping starting from $2.99 for orders less than $69 and they also offer free samples with every purchase.
This product came at the right time, just when i got an enormous zit on my right cheek which made it the perfect time to try it's acne deep pore cleansing capabilities…
I took a risk with this Nots 28 remedy acne pore deep cleanser especially after my last innisfree anti-trouble skin care product (reviewed) experience but i didn't have a lot of options because i really wanted the zit to reduce and disappear as soon as possible so I didn't exactly want to wait. Before the store reached out to me about the Not brand, I never saw or knew anything about the brand and their products but i found this information on their official site.
It helps your skin clean without causing any skin problems, even for acne-prone skin.
Low irritation formula (no-pigment, no-fragrance, no-alcohol), perfectly safe for acne-prone, sensitive skin.
The low irritation natural formula (color-free, fragrance-free, alcohol-free) cleanses sensitive acne-prone skin with no harm, adding vitaity with excellent skin-soothing effect.
Outstanding cleansing ability that eliminates all makeup residue from BB cream and sunblock – it is not eliminated by other cleansers. Also, it has outstanding moisturizing effect with Vitamin Tree extract. It is a multi-functional cleanser with excellent cleansing and moisturizing effects, which are critical to skin.
It restores the bright skin tone by cleansing the dark skin due to wastes and dead skin cells. It also maintains the optimal oil-water balance.
Main Ingredients
Moisturizing: Parsley extract
Acne care: Triclosan
Brightening care: Green tea extract
NOTS is an abbreviation for Noble Through Skin. A brand that claims to provide high quality natural cosmetics that upgrades your style with clean and healthy skin based on 4 principles – Safety, Natural, Standards and Interaction.
Now to what I like about this product…
The packaging: I know the Koreans like to pay attention to their fancy packaging but this one doesn't have the fancy drawings and photos. The lid is tight fitted so the product can't escape unless pressed out. By the way, the packaging of the other products from this brand look quite luxurious and attractive. love their glassy look.
The consistency: I like that it's creamy like my reviewed Skinfood aloe vera foaming cleanser and even smoother like paste so, a little goes a long way plus minimal wastage which will make this 120ml last for a long time. It feels like clay after being massaged onto the face.
Cleansing effect: I like the way my face feels after washing my face, I don't feel any oil or make-up film on my face which initially concerned me because i thought it would be drying.
Moisturizing effect: Contrary to what i initially thought based on the cleansing effect, this cleanser wasn't drying at all on my skin, I left my face without any additional moisturizer for about 30 minutes just to be sure.
No irritation: though there weren't any open wounds on my face, i didn't feel any form of irritation while using this product, not even a mild feeling.
General effect: There wasn't any noteworthy effect for about 3-4 days though the zit reduced within these days, it could have easily reduced with or without this cleanser so i can't say much about it's fast effect. I started noticing significant changes from the 5th day, the reduced zit which darkened on reduction began to lighten and some older smaller acne scars cleared up completely. There were few hormonal zits here and there but I could see the brightening effect on my face, not glowing but noticeable.
I can't say much on the effect on pores because i have already treated my pores with other korean products stated in my previous reviews but my pores are still in great condition.
All my old acne scars haven't cleared up completely but the improvement since I started using Korean products in general is tremendous that some of them are easily covered with just powder and the rest with foundation alone. I haven't used concealers for about 3 months.
What i don't like…
The smell when applied first though it disappears few seconds later while massaging it onto the skin, i still have issues with it because i don't like to perceive anything at all in my skincare products as you already know. I can't really place the smell though it smells a bit like a mixture of natural scent and soap, not sweet-smelling or maybe it's just my nose but it's very tolerable because of how quickly the smell disappears as you keep washing your face.
It contains Triclosan which is a controversial product that is thought to contribute to the development of antimicrobial-resistant germs with continued use although there isn't enough evidence to prove this.

Minimal effect on stopping new zits

. I still had a few zits pop up here and there while using during the second week.
Packaging

Ingredients

Consistency

Fragrance

Effect on new zits

General Effect

Availability

Price
Summary
Not for me or anyone looking to take care of their acne problem.
Although i couldn't find information on more ingredients used in this product, in general i would recommend this product based on my own experience for someone without minimal breakouts as daily face wash for maintenance instead of major acne treatment. Even though this my Nots 28 remedy acne pore deep cleanser review might be helpful, remember that everyone's skin may react differently so it's always advised to stop if you experience any issues like redness, itching and so on.
Has anyone else used this Nots 28 remedy acne pore deep cleanser before, please share your experience with us!
*This Nots 28 remedy acne pore deep cleanser review was sponsored by Q-depot regardless, all opinions are 100% mine.
Thanks for reading as always.
Have a nice day,
xx!
*Don't forget to follow my new google+ page.
Keep Up With All My Blog Posts