I left Selcuk the next day after my visit to Pamucak and Sirince for Pamukkale. I first read about Pamukkale on Jessica Stein's blog(tuulavintage) and i knew right away that i wanted to visit this city, so i added it to my list of places to visit in Turkey and researched every thing i could about it and how to get there.
Pamukkale which means cotton castle in Turkish has been in use since the 2nd century and not just because of it's extraordinary landscape but because of it's natural phenomena – warm, heavily mineralized water flowing from springs creating pools and terraces which is believed to have healing properties.
I took a pamukkale turizm bus from Selcuk bus station, the journey is about 3 – 3.5 hours and costs about 35 Liras. [pullquote]Beware: most of the buses advertise direct buses to pamukkale but they usually just transfer you to another shuttle at Denizli at no extra cost though. I bought the direct bus ticket but if you buy a ticket to denizli, the transfer would cost 13 liras or about 3liras if you opt for the minibuses on your own. Ask questions to be sure before paying for your ticket.[/pullquote]
Being the last city of my vacation which also happened to be a natural spa city, i wanted to take my time and enjoy it. Usually people go to pamukkale on day trips but i chose to spend some time there so i booked my hotel for 3 nights, it's not often that one gets to see such a natural wonder. I left with the 16.30 bus and arrived just in time to experience the sunset over the pamukkale travertines from the rooftop of the hotel.
I spent the first day relaxing and resting from all of my tours of the previous cities i visited. Pamukkale is a small place without much really. I'm pretty sure the travertines and a few other ancient sites are the only reasons people know about it. Just like every other place visited by a lot of tourists, there are a lot of tourist traps near the entrance of the travertines. Most of the hotels are also within walking distances to the site.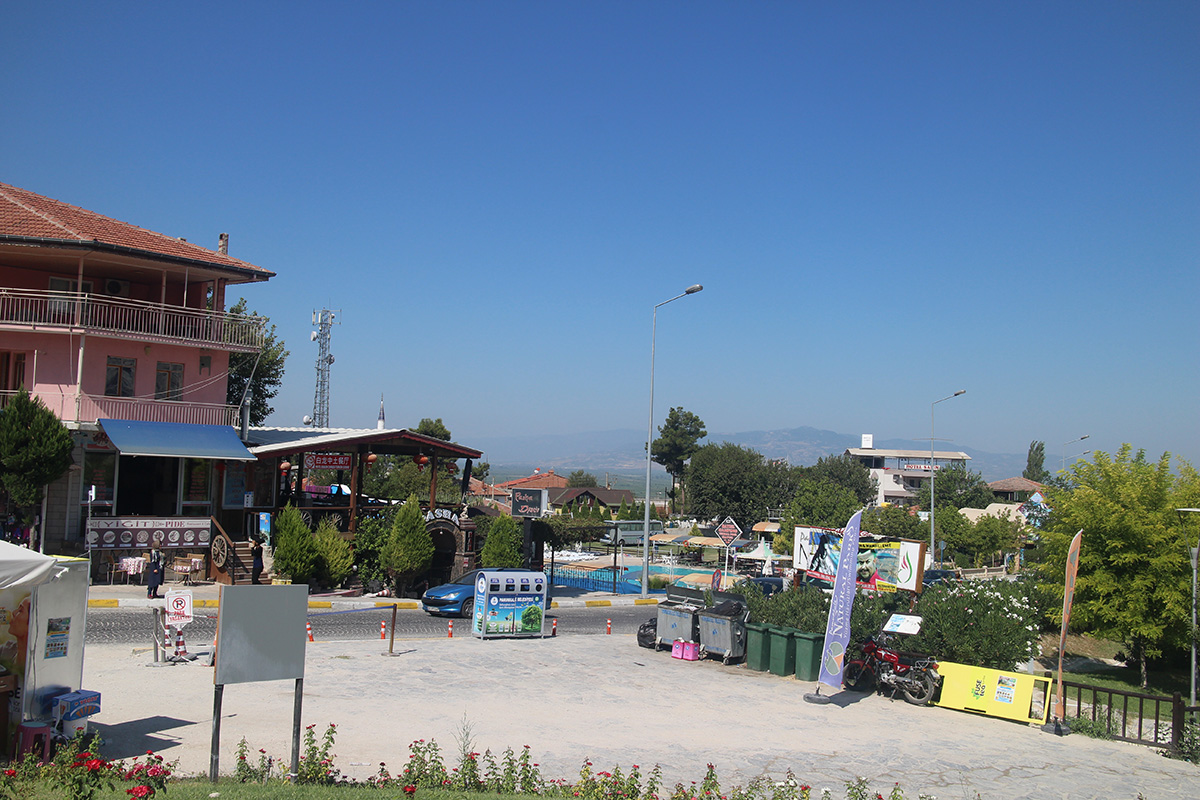 The next morning, i went to visit and spend all day at the site which is also a Unesco world heritage site together with the nearby ancient city of Hierapolis which is adjacent to it. Entrance fee to the site including Hierapolis costs 25liras and an extra 35liras if you would like to swim in the cleopatra antique pool.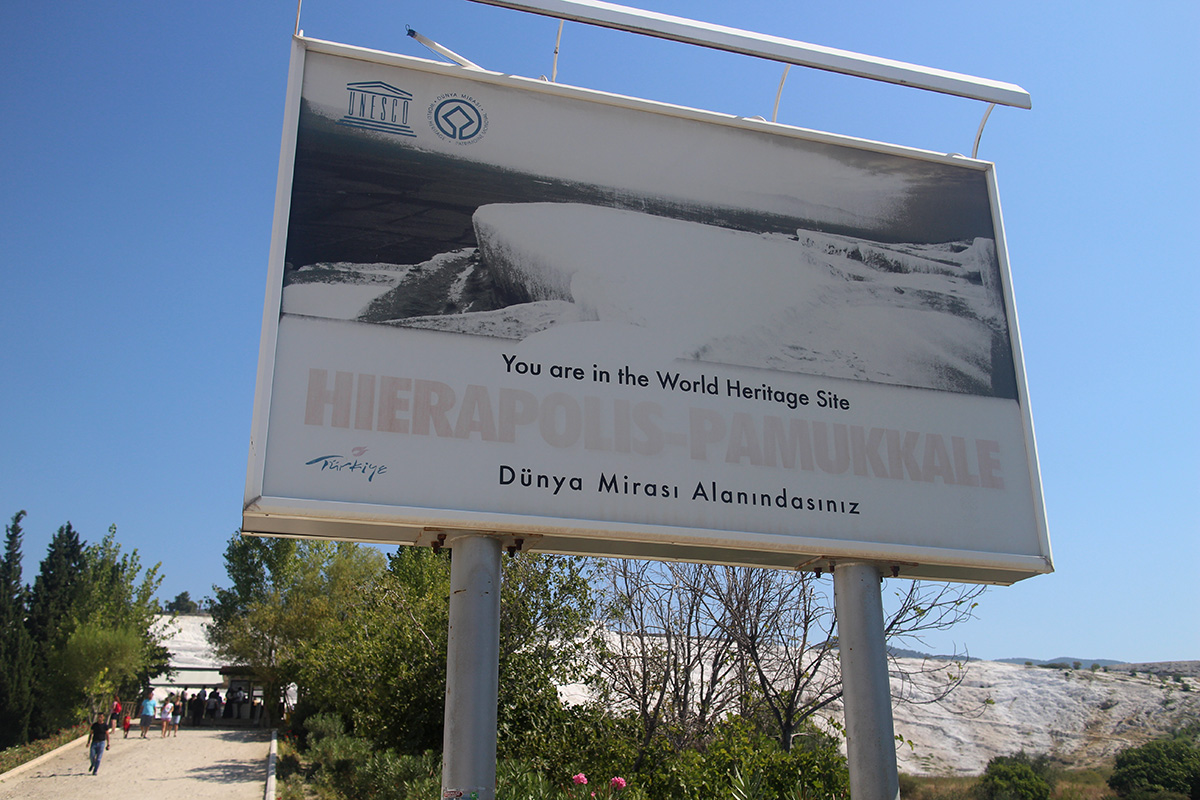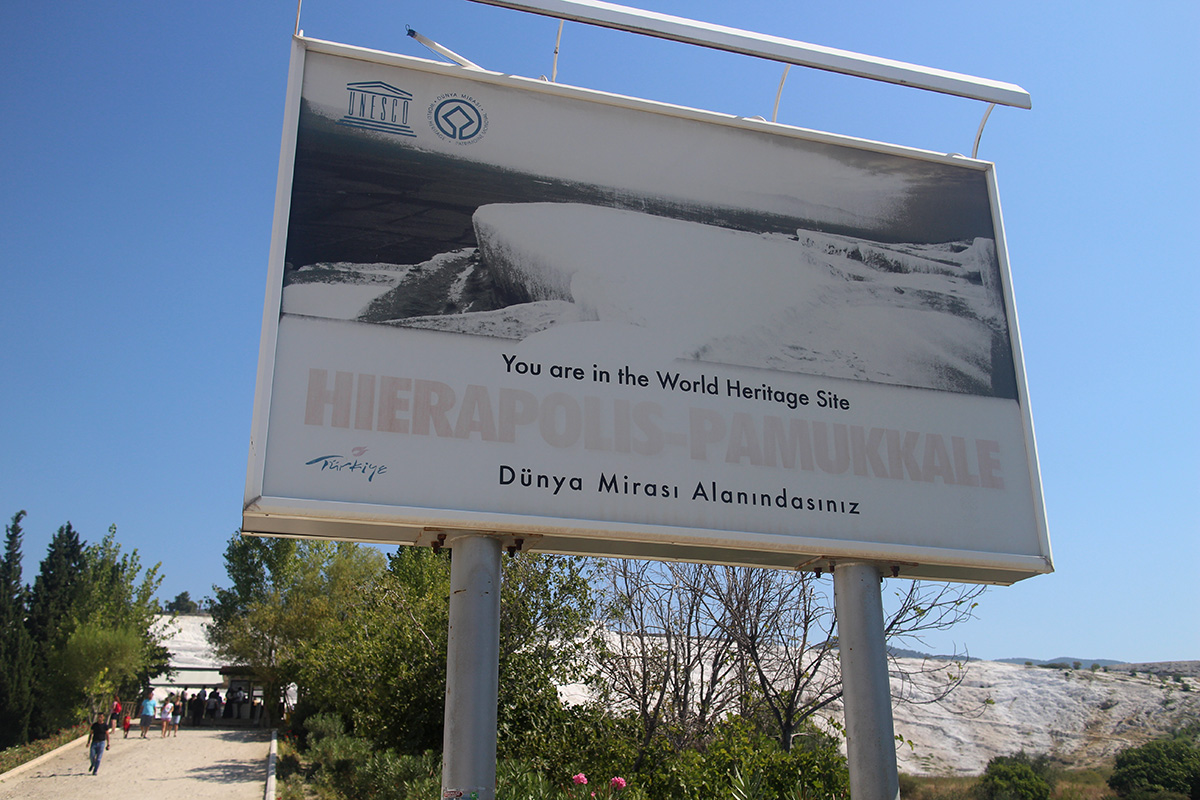 There are two entrances, the lower one you can walk from, all the way up the travertines or the upper one with cars passing through the Hierapolis where people who can't climb, older people or maybe anyone who doesn't feel like climbing really and tour buses use. I used the lower entrance as that is where most of the hotels are situated and it was just about 3-4 minutes walk from my hotel.
I was amazed at how such a white place could exist in the middle of normal looking surroundings. To help preserve the terraces, no shoes are allowed and most places are now closed from the public, while some of them have clear signs in English, German and Russian, you will hear whistles blown if you step into such areas.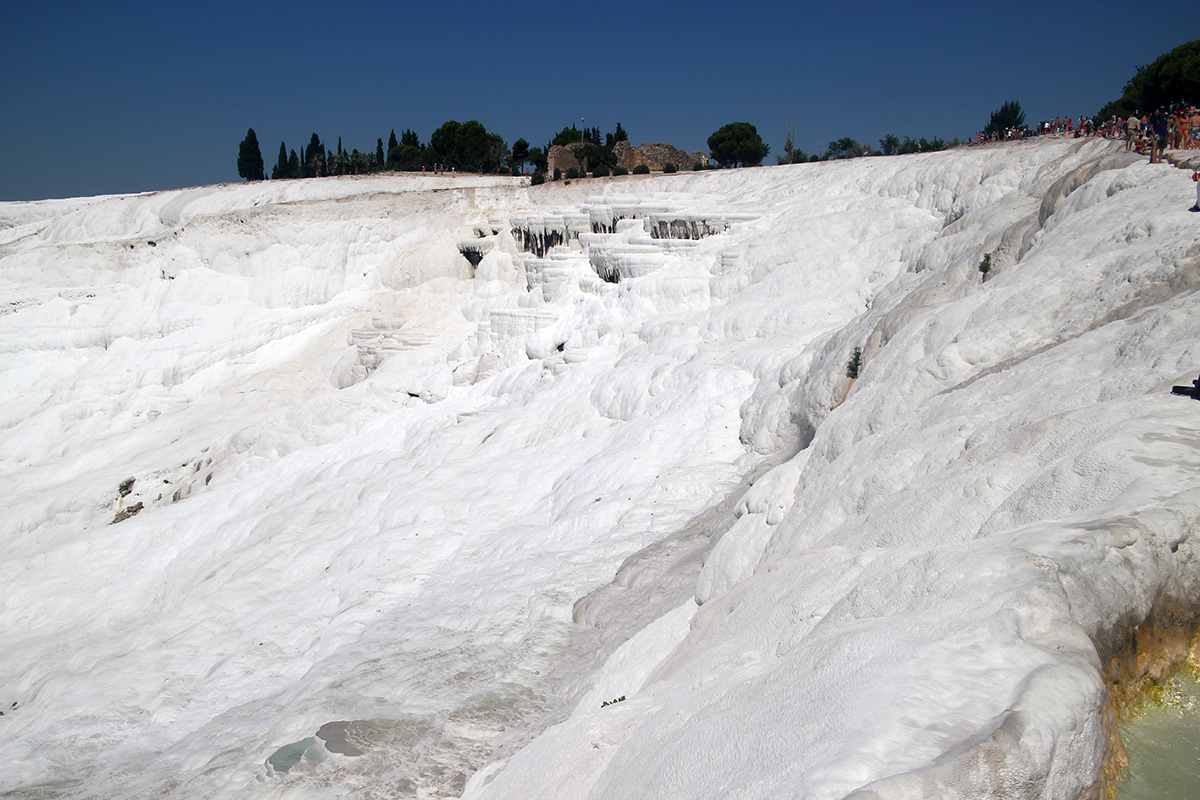 I spent the whole day here, so i took my time exploring. I started from the bottom and climbed all the way up where i took a couple of photos. The view of the natural park from the top is beautiful.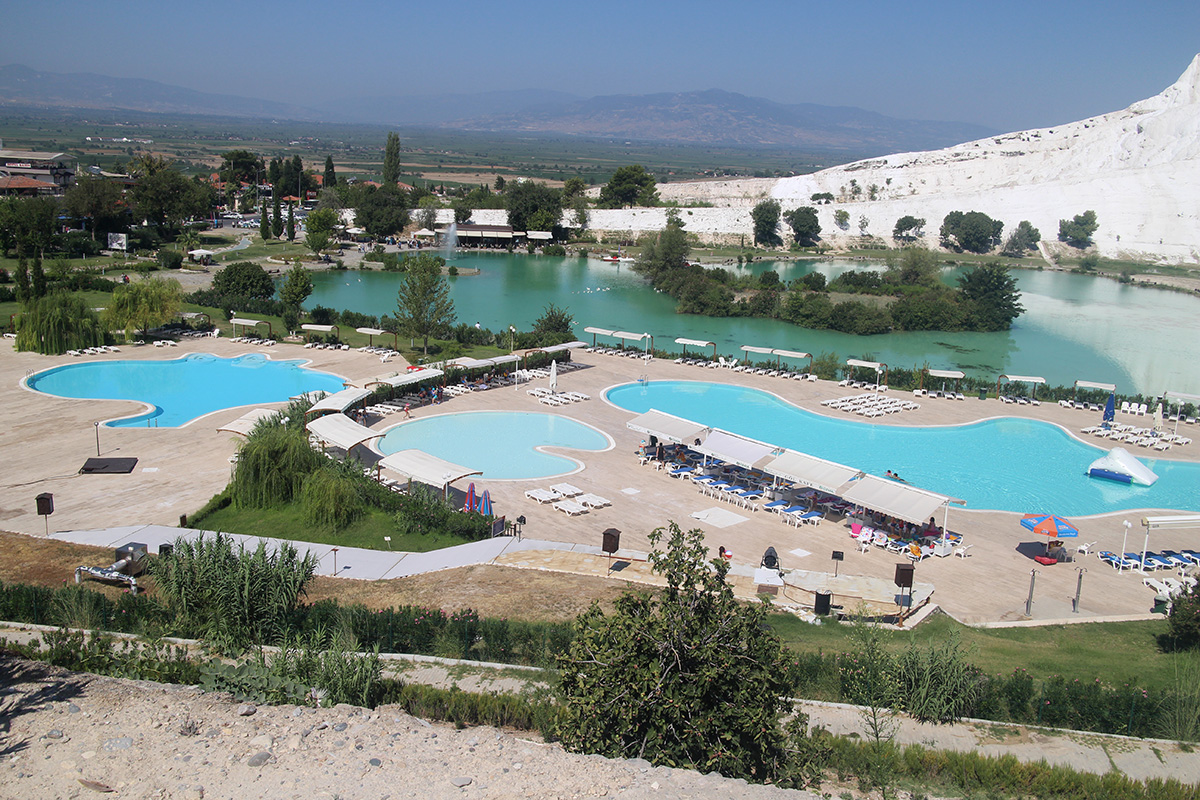 I just couldn't stop taking photos. I'm really glad i left my summer vacation in Pamukkale for last.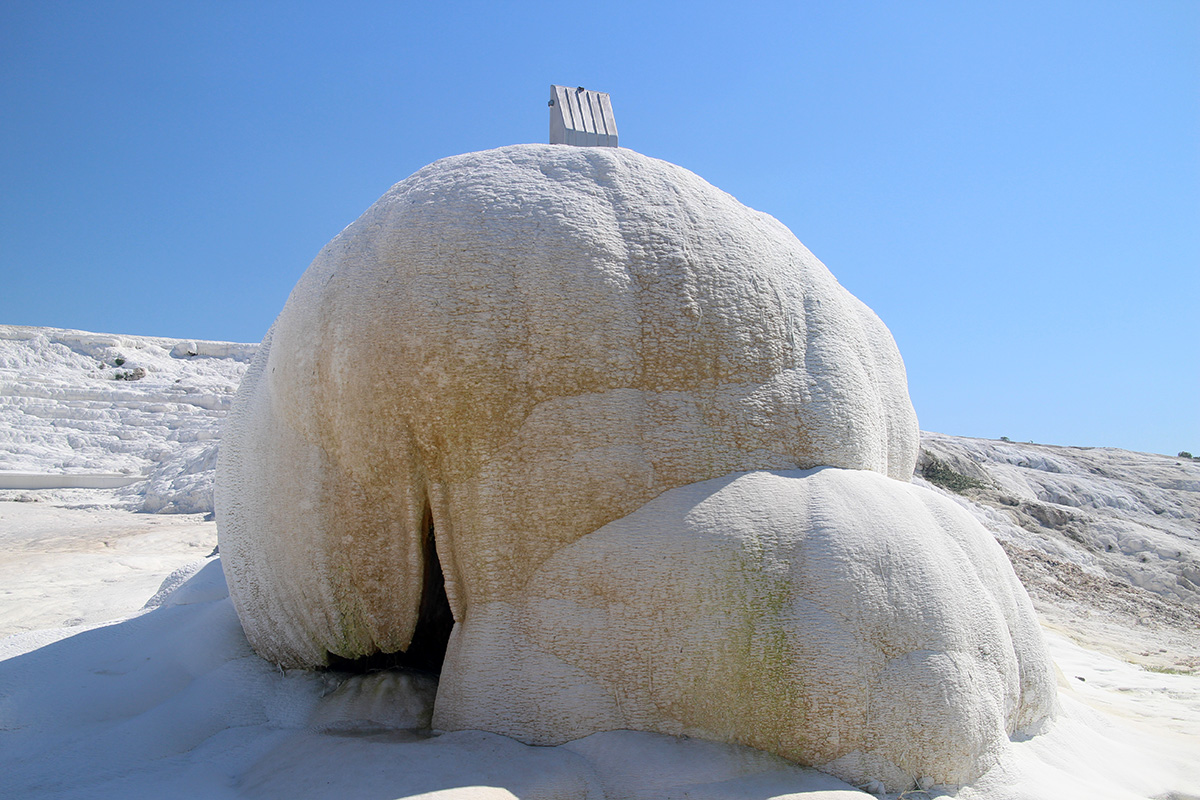 After soaking my legs for a bit, i continued up towards the thermal pools.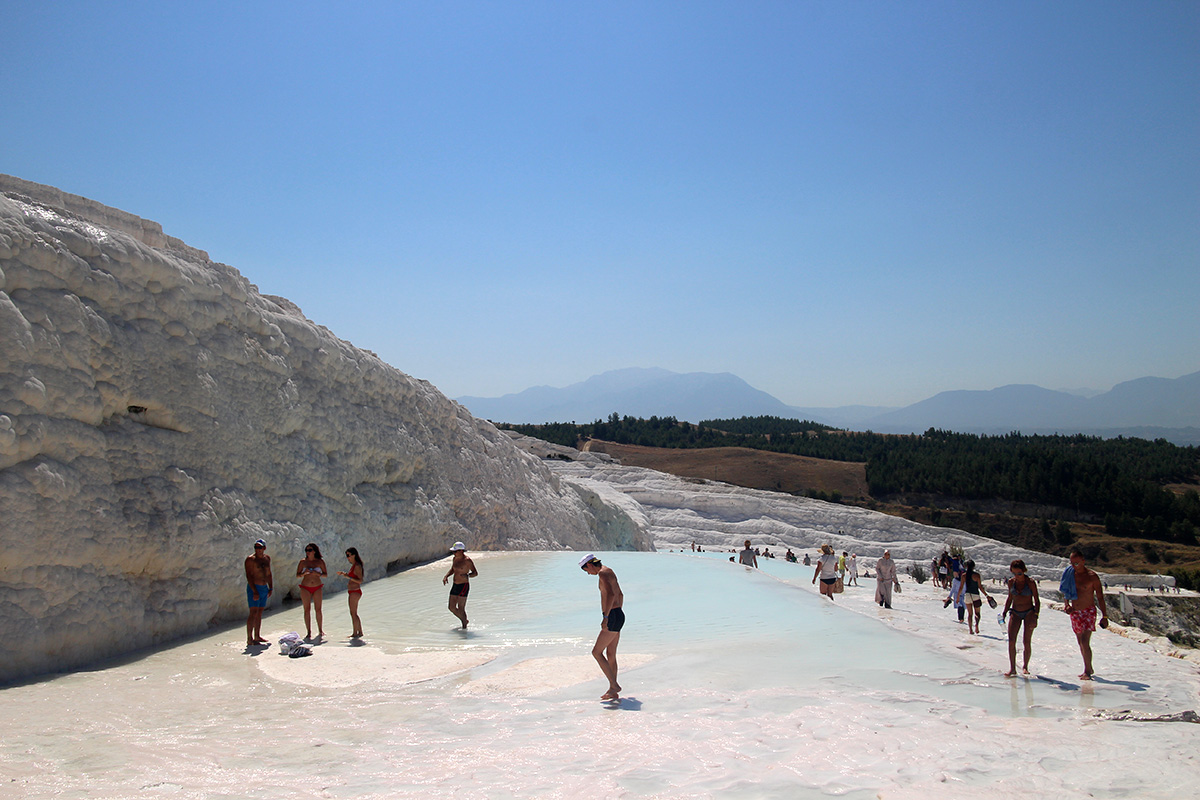 Oh, you know me and my penchant for adventures and all things good life, i wanted to dive right in and soak myself but i had to visit Hierapolis first and then come back to relax. Also, it was morning and the sun was still playing hide and seek, so i passed the baths and continued towards the ruins.
I didn't quite pay attention like i did when i was exploring the ruins in Ephesus but i took a couple of photos around the necropolis, everything interesting along the way, then went all the way up to the theater.[pullquote]Remember to take water with you especially during summer because even though there are some stores inside, you will have to walk a while to each of them.[/pullquote]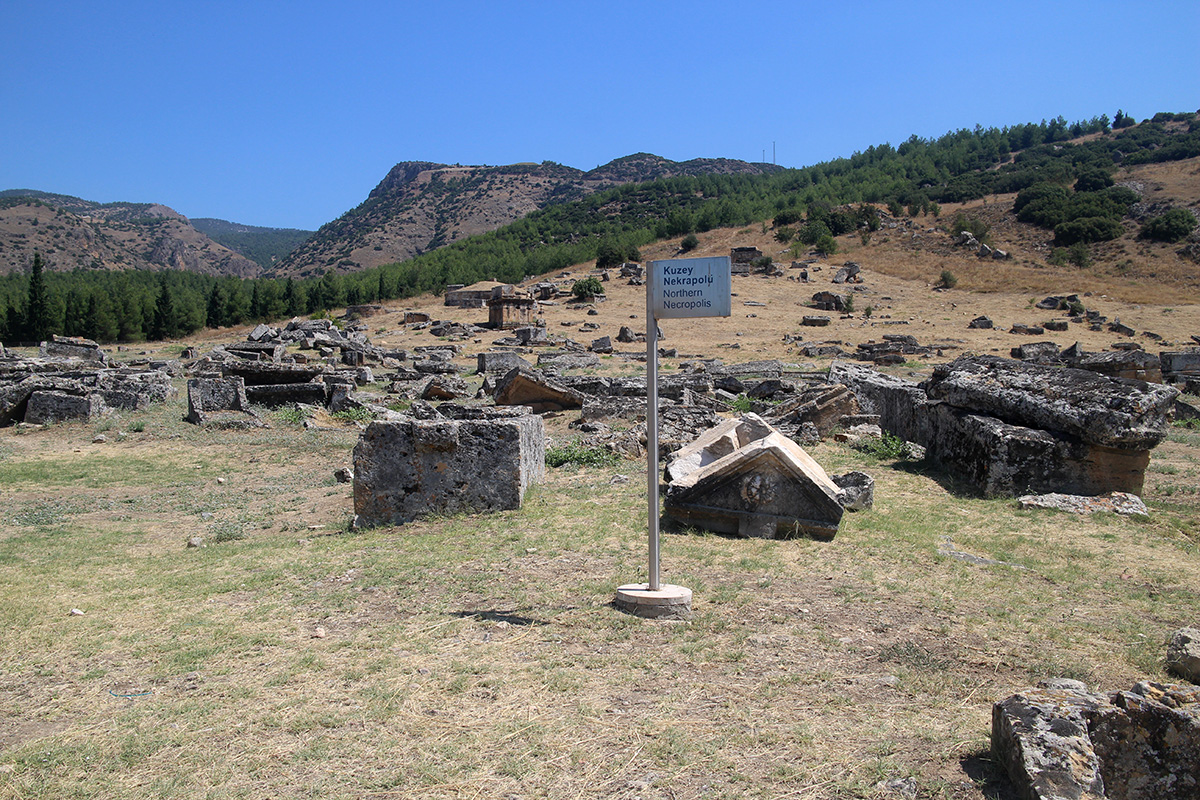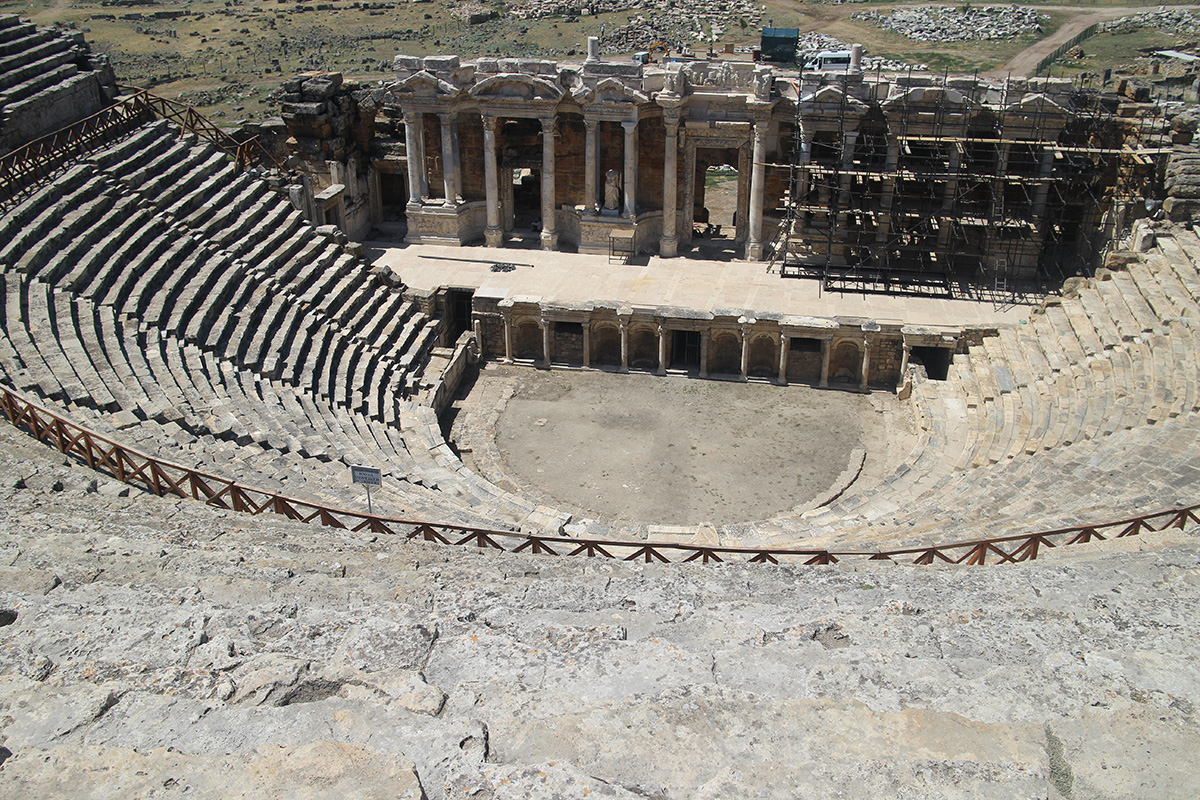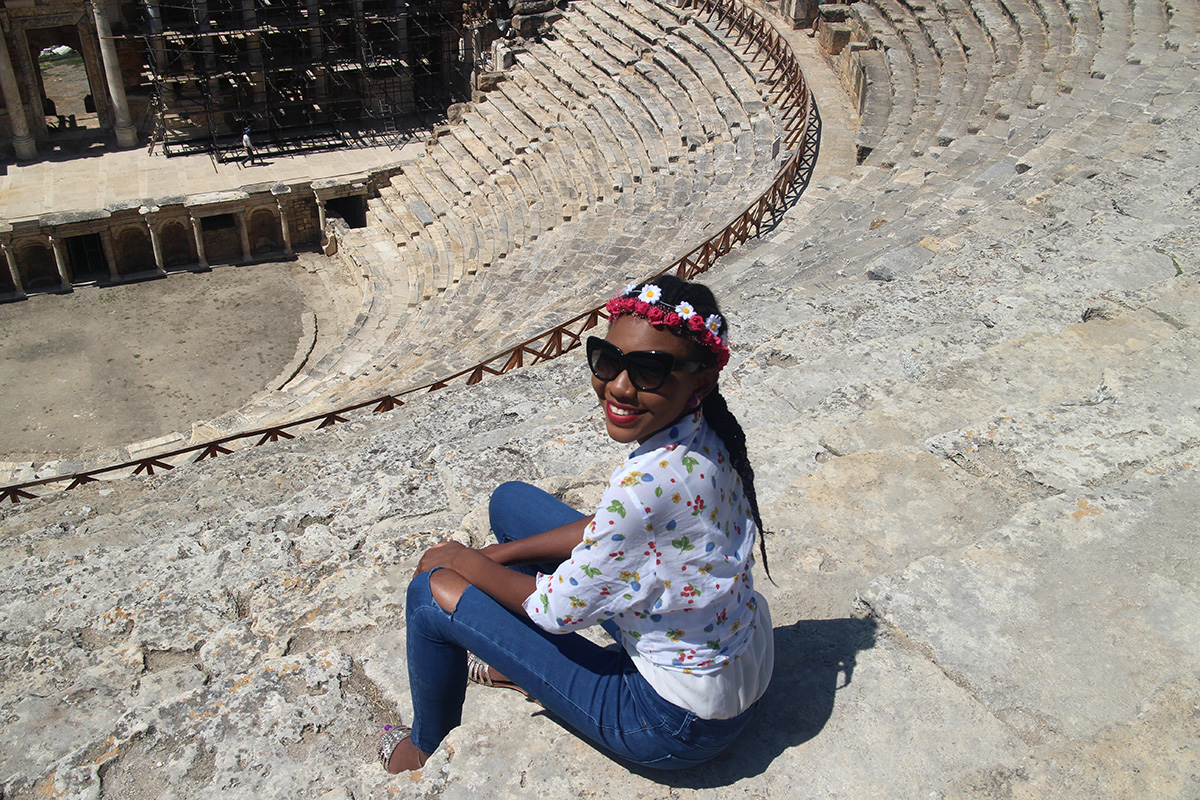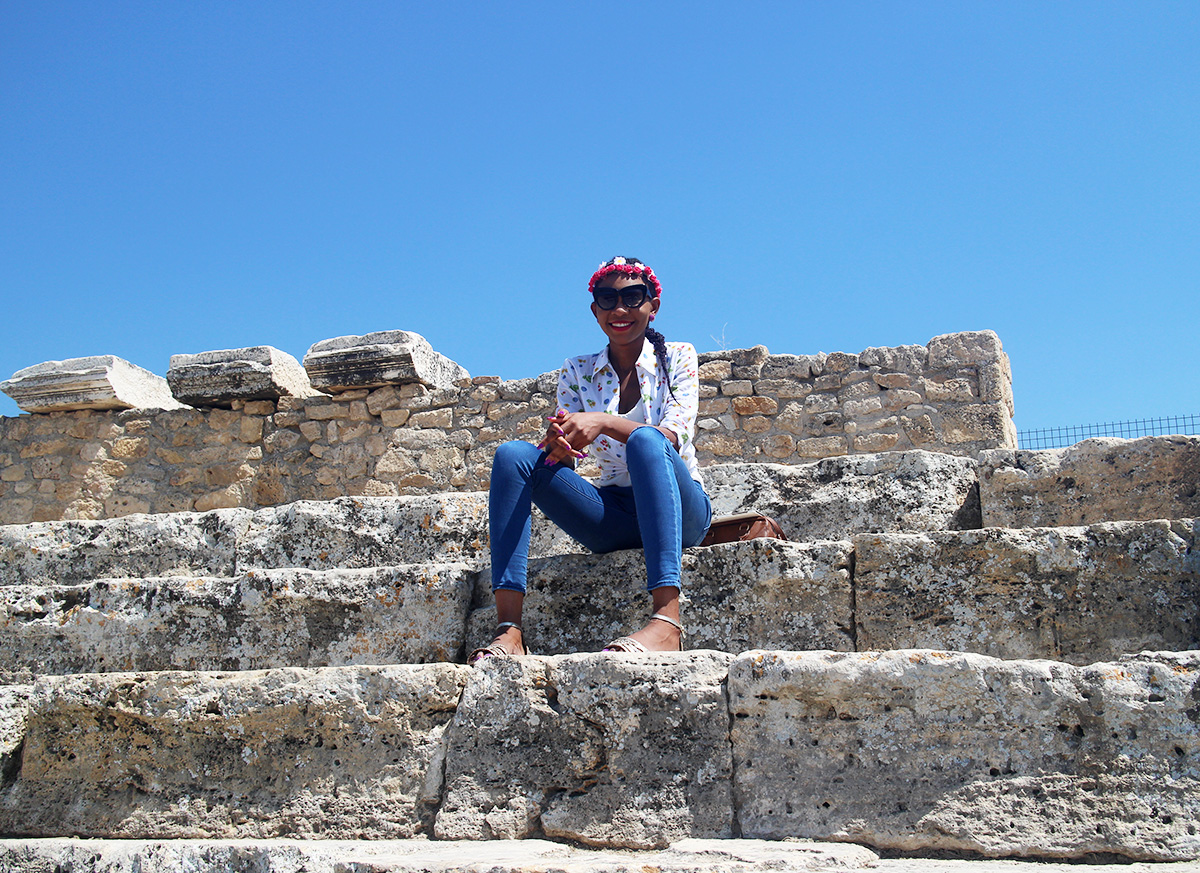 After the theater, i changed into my swimwear and totally indulged in one of the pools. I spent time just immersing myself. The feeling was exhilarating and knowing that the water has healing capabilities and also serves as natural exfoliator especially if you use the clay on your skin, i just relaxed and spent about 4 hours in there without even realizing it plus i had time to get some photos without a lot of people showing.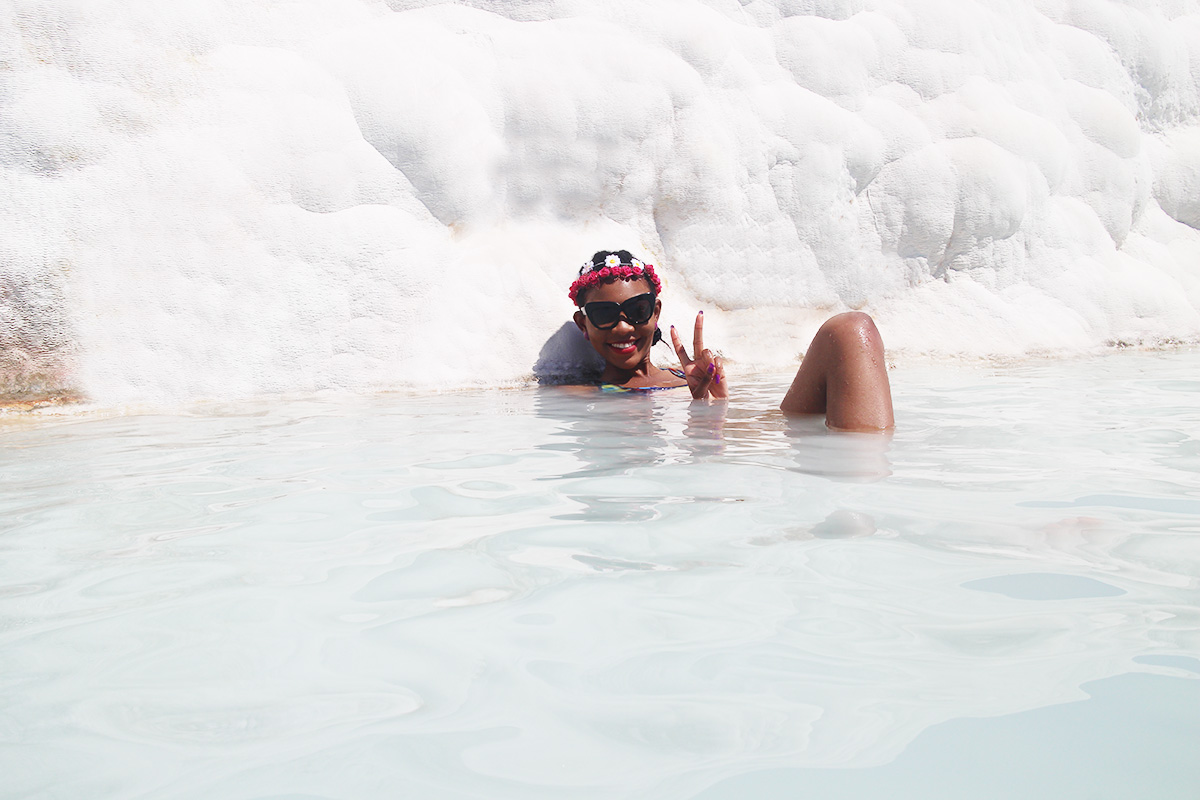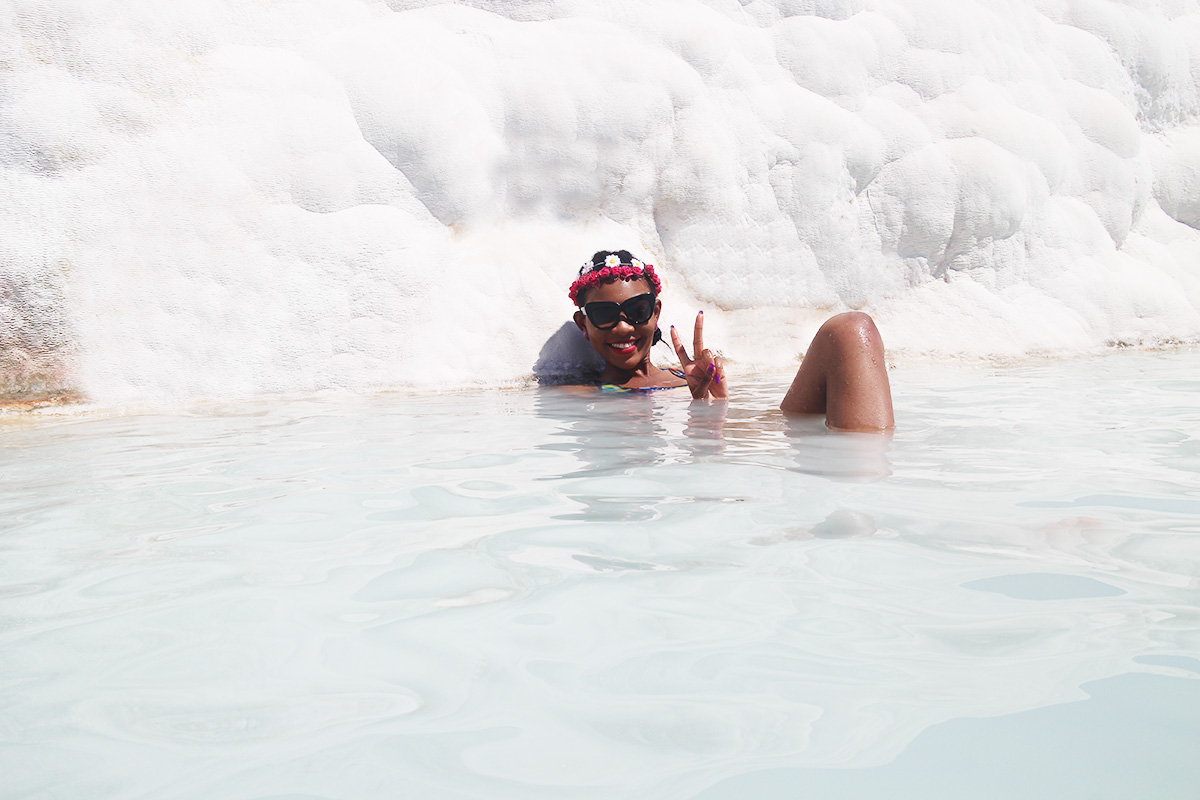 I felt really good when i finally came out but the bad thing about that day was that i actually forgot my sunscreen, silly me, since it was evening already i didn't get to see my skin clearly, i sat for a while, enjoyed the sunset and left for my hotel. The next day i realized i was lots of shades darker, i would guess close to 5, yes, that bad! First day of uni, my friends saw me and said "what happened to you??? you looked burnt", lol. This is really a risky thing to do so, always remember your sunscreen, i won't go into all the medical talk about sun and your skin now but always ensure you have the highest spf you can find if you are planning on spending hours in the sun.
The exfoliation really worked great on my skin, old scars and marks too that i wished i exfoliated my face too but there would definitely be a next time. After about a week it was as though my skin began peeling as a result of the direct sunlight, lol, i have a sensitive skin so i don't know if this would be same for everyone, but with proper management my skin feels even softer and looks clearer now especially the parts that have already peeled (nothing nasty looking like severe peeling, burns or anything, can be totally covered with my natural body lotions and oils), my darker shade is fading away gradually too leaving behind a better even skin tone.
Get my look: Shirt (love this too) || Jeans || Sandals || Swimwear
Lesson well learnt. I left the next day back to Istanbul via the Denizli airport to catch my flight back to Kharkov. So, that was my little vacation. How about you, any travels or travel story? Feel free to share!
Thank you for stopping by as always.
Have a great day.
xx!
Keep Up With All My Blog Posts