Closet swap is a party/gathering of mostly friends or familiar people where each attendee brings an agreed upon amount of their fairly used and unused clothing, jewelry and accessories for other attendees to select from, look at it as a trade by barter gathering, in some cases these gatherings are for donating to a cause, creating awareness, etc.
For this post, I've put together 10 tips for hosting a successful closet swap that worked for me that will be useful for you too if you have plans of hosting a closet swap soon or in the future.

10 Tips for Hosting a Successful Closet Swap
1. Chose a time of year that people are naturally energized to clean out their closets.
Think the beginning of each season (March, May, September) or the New Year (January). Right now, everyone is feeling broke from the holidays but ready to revamp their closet. There isn't a better place to start creating a new you than your closet. A closet swap helps you declutter and think deeply about what you want your style to be for the year.
2. Invite your guests properly.
A closet swap should be casual but also exciting. You don't want your friends thinking they can bring junk. Set the stage with a proper invite about a month ahead of time. People will forget about it if you lay plans more than a month ahead unless you keep sending notifications which can become intrusive. Try Paperless Post.
3. Offer tips to your guests about how to clean out and organize their closets.
Getting ready for a closet swap might seem intimidating to some people. You might be a style and organization maven but it doesn't come naturally to everyone. Empower your friends. Send your guests articles leading up to your event, like this one!
4. Invite people who are excited about it.
They can help spread the word to their friends. This will help ensure you spread your net wide enough that all types of styles and sizes will be represented. There will be no versatility if everyone comes bearing the same brands and sizes. You'll be surprised how some of the different sizes fit on everyone. Some "mediums" might go home with smalls and vice versa. That might be the solution to finding the right home for that sweater you just don't wear enough.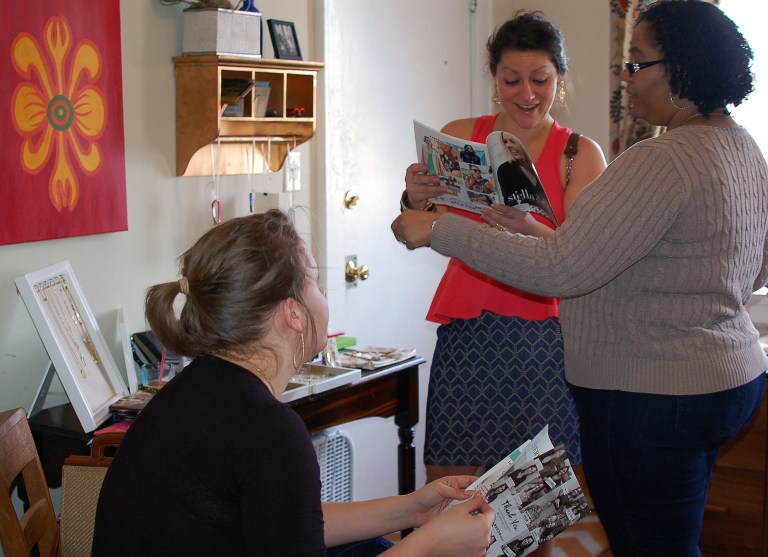 5. Get organized!
If you have a freestanding closet rack, you can strip that for the day so that guests can use it to hang items. It'll help you go through your own wardrobe properly so as not to miss anything. If you don't have a proper clothing rack, look around your home for items that could act as clothing racks. Think: counter edges to rest hangers on or a place to tie strings from one end to the other.
Laying clothes on tables and chairs is also a perfect good display option. Do this for shirts and pants.
Make signs for each section so that people can easily come into the swap and start unloading without much distraction from you as the hostess. If you go with a closet rack model, print out several squares with "S," "M," and "L" on them so that your attendees can check out dresses and coats effectively.
6. Have something tasty and relaxing to offer.
It is a party after all. Make it one.
A few favorite Every Girl recipes:

7. Be bold!
Try on new styles and colors, try on sizes you don't think will work. Lead by example and encourage your guests to do the same. The compliments and ideas will start flying.
8. Take charge of the outcome.
Offer to arrange the selling and donating of clothes after the event. Simply donating the clothes is the easiest but you have a right to sell them as the hostess. The next hostess can do the same! If your guests aren't comfortable with this, share sites with them to sell on their own: A few to checkout: ThredUp.com, Poshmark, Tradesy.
9. Share your new outfits!
Text your guests after the event. Thank them for attending, ask for feedback and ask them to send photos of their new outfits. Encourage each other after the event to try new things. Remind one another how beautiful and powerful you are.
10. Have someone else volunteer to host the next one.
Everyone will have so much fun and friends who couldn't make it will be sad they missed it! Have a guest volunteer to do one. Maybe before the summer starts.
There you have it! 10 tips for hosting a successful closet swap that has worked for me.
For more inspiration, visit this recap of a recent closet swap I hosted, watch the video, learn more about the ladies in attendance and see what everyone came and went away with!
So, what do you think of these 10 tips for hosting a successful closet swap? Have you hosted a closet swap before, any additional tips?
Thanks for reading
xx!
To ensure you don't miss out on posts like this and more, follow this blog
*If you are looking to blog better this year, check out How to use an editorial calendar to improve your blog contents.