This flare jeans outfit is long overdue! I've been obsessing over flare leg jeans since this 70s flare jeans trend post. I was inspired by a lot of the flare jeans outfits in that post. I initially planned on styling this denim on denim outfit with flared jeans but the colors of my denim shirts weren't doing it for me. So, i waited till i found this perfect multi striped shirt and restyled the look. My flare jeans outfit is the exact one i used for the collage in the post on how to create collage with photoshop. It was my outfit to church yesterday. I rarely wear jeans to church but i loved the colors in the entire outfit so much especially because spring is almost here that i didn't mind.
  70s trends have been dominating the fashion scene for a while now and they keep getting hotter by the day. Flared pants are in the top 70s trends among fashionistas. They can be styled in a lot of ways with loose, fitted, plain, designed, long or short items. I like that other styles of denims are resurfacing making denim even more versatile and skinny jeans less of a uniform.
Read: 5 Fun Ways To Wear Denim Now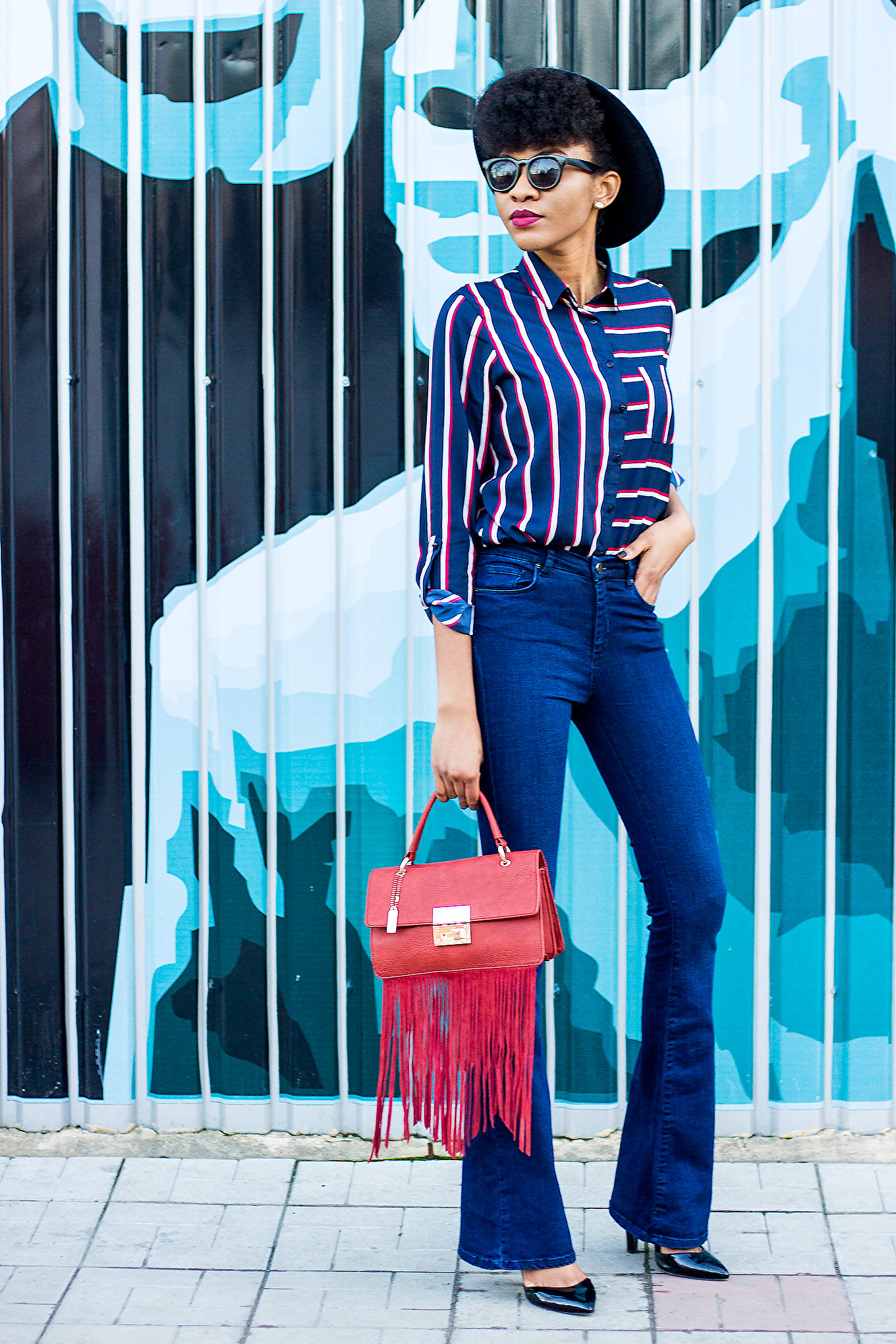 While i love the floor length flare leg pants, I was excited to even find this deep blue bell flare jeans in my exact inseam which is 34 and not always easy to find. Note that regular inseam is 32. If you don't know what inseam is, Read: How To Buy Your Perfect Full Length Jeans Online. Without heels they are floor length but with heels they jump up a bit and requires a bit of stretching if you need it not to look too jumpy. This is probably my final days of leaving my natural hair out, i need to do a protective styling soon before most of it starts breaking.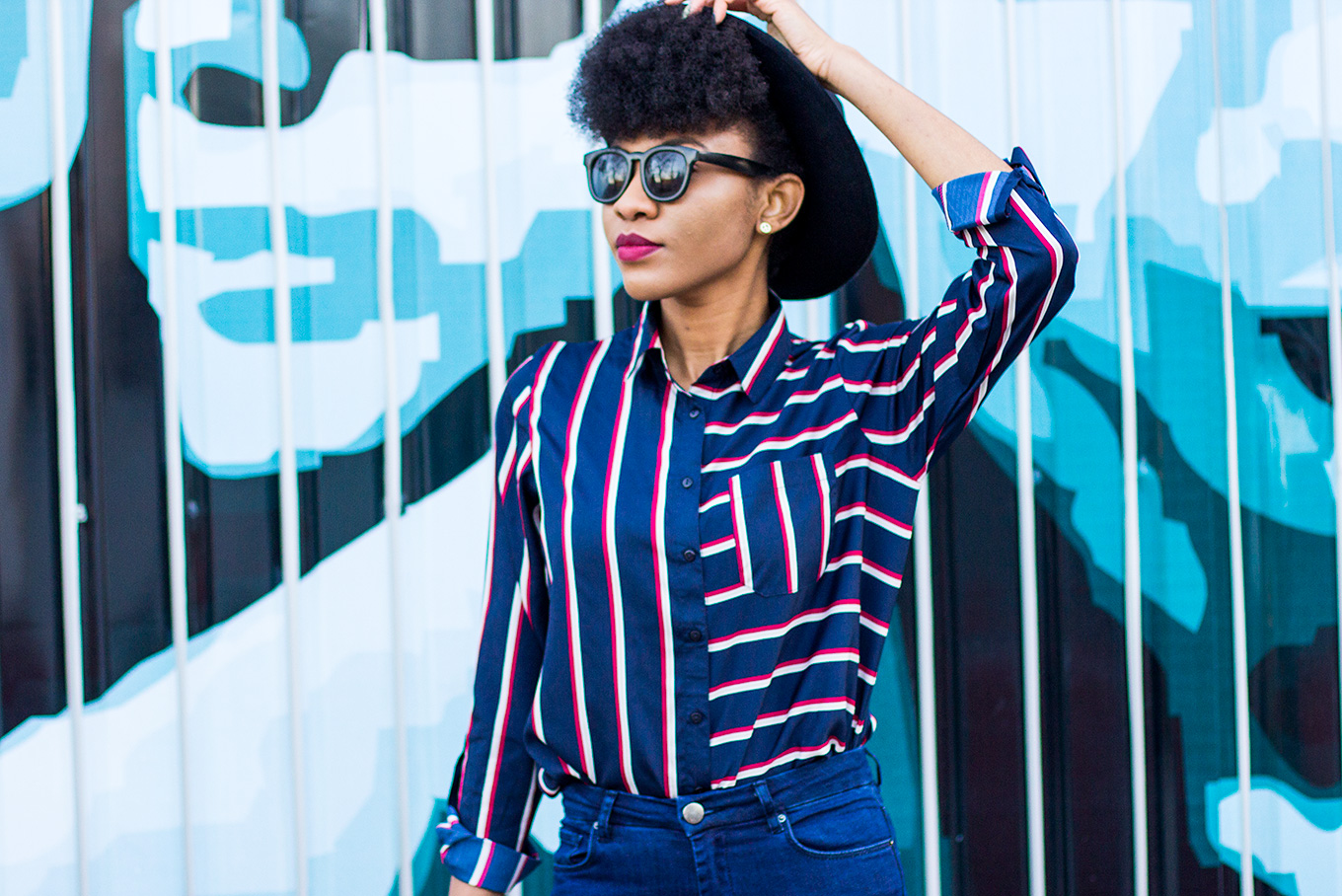 Talking of spring being around the corner, this fringe bag that i used in my last outfit post was an obvious choice to complement the colors in my outfit. The black version sold out fast, i would have gotten that too because i absolutely love the style. I'm not so big on backpacks and hobo bags and a lot of fringe bags come in these styles. This grab on bag by Glamorous is one of the few styles I've seen that matches my style perfectly.  A modern twist to the 70s inspired flare jeans. Click To Tweet
   For more 70s trends, Read: The Lace Up Front Trend. If you can't wait for summer and feeling all bohemian, Check out: The New Bohemian: Summer Wardrobe Essentials 2016 Move aside skinny jeans, there's a new player in town! Click To Tweet
This multi striped shirt and flare jeans outfit - the perfect mix of retro and modern. Click To Tweet If i were to choose other colors to restyle this flare jeans outfit, i will go for mustard, white or deep blue shade as the jeans, how about you? Are you loving flare jeans fashion, have you rocked any lately?
Wearing: New Look Shirt (also available on Asos) || Asos Jeans || Glamorous Bag (also available in black)|| Asos Heels (similar in leather and suede) || Asos Earrings || Nyx Soft Matte Lip Cream in Copenhagen (other shades also available on Asos and FeelUnique || Calliope Glasses (Similar) || Shein Hat *c/o
Thanks for stopping by as always
xx!
*P.s. I have one spot left (March 26) for Guest Saturday posts this month, get in touch if you will like to contribute.
Keep Up With All My Blog Posts
*If you liked this post, you can check out….
       Hot discussions on the blog right now!