Flat mule shoes are simply the flat versions of the already popular mule shoes. If you remember from my previous mules shoes post, a mule is a backless shoe often closed-toe, worn by men and women (though mostly women). They can have high, stiletto, low or chunky heels. As we've already discussed the high heeled mule shoes, let's discuss the low heeled mule shoes.
3 Easy Ways To Wear Flat Mule Shoes
   First time i saw a blogger wearing flat mule shoes was when i was putting together this sweater fashion post. I was going to select Tina Sizonova's sweater look with flat mules but because she had lots of stylish sweater outfits, it was difficult to select one, i went for a different sweater look as seen in that sweater post. Now, i have the opportunity to share that look with you. She styled her flat lace up mules casually with layered sweaters, midi culottes and a cross body bag.
   You can totally switch things up during warm days by wearing flat mule shoes with tailored shorts creating an unusual chic laid back look. I can totally see myself rocking this look but i worry i'll get a lot of dust on my legs at the end of the day. Regardless, don't you just love this chic shorts look with the flat mule shoes?
  If you'll rather stick to good old jeans, why not make it interesting by throwing on the perfect trench coat?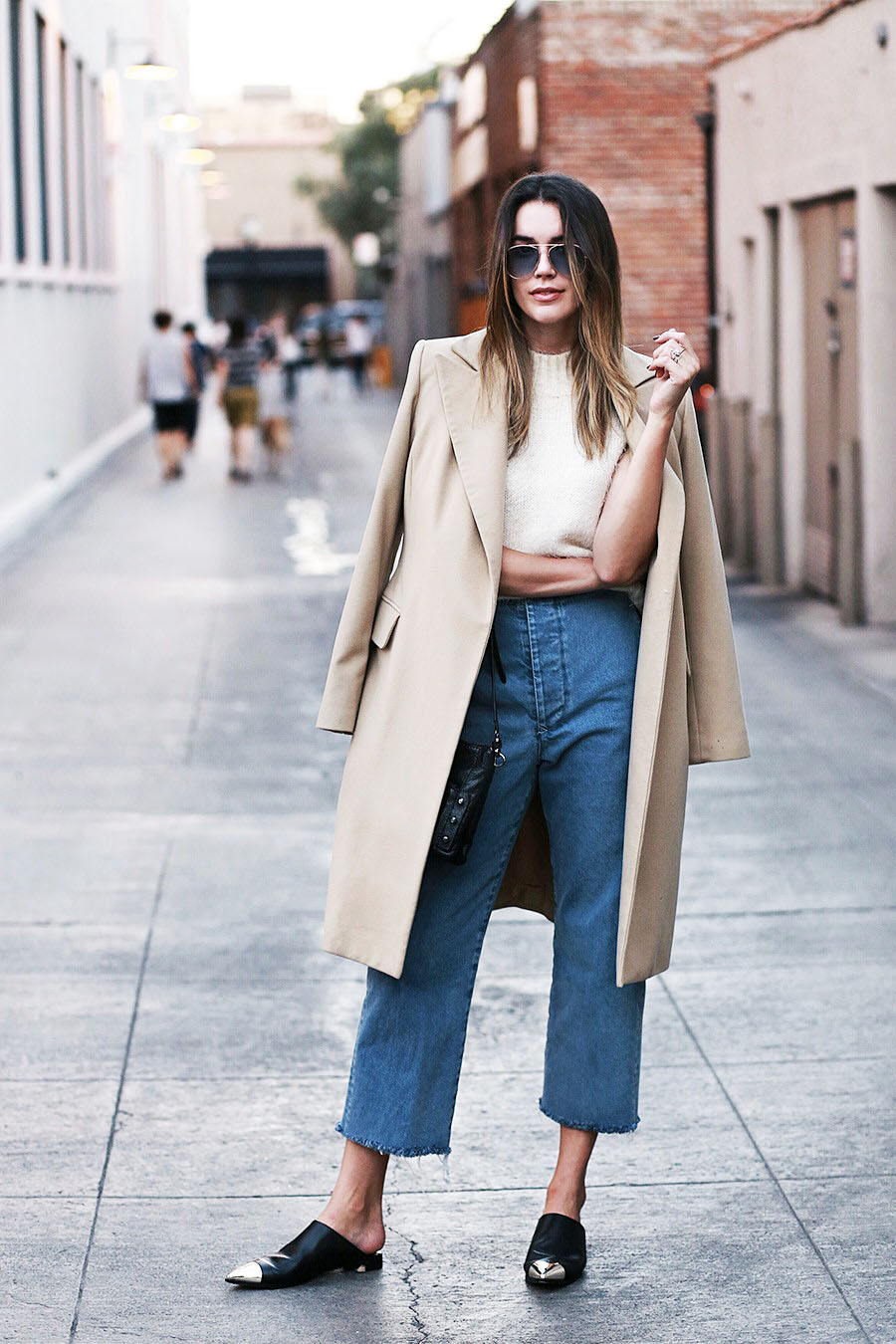 I like mule shoes especially the high-heeled mules you've already seen in my previous mule shoes trend post but the flat versions are quite interesting. They are perfect for those lazy or casual days when you want to be at ease, run a lot of errands on foot without wearing out your feet or for those long travels and switch between airports. They are fashionable but i doubt i'll be able to wear them all day during long walks on summer days simply because of dust.
  Flats are so easy to wear and keeps your feet comfortable, they are even more comfortable when they are sliders and you can easily slide them on and off. So, what do you think of flat mule shoes? Do you find them as stylish as the heeled mule shoes?
Shop Flat Mule Shoes
You can also find lovely flat mules on Shopbop.
*Photo Sources: Tina Sizonova || Thrifts and Threads
Thanks for stopping by as always
xx!
Keep Up With All My Blog Posts
*If you liked this post, you will like….
   More Shoe Trends On This Blog