It's festival season again and this tassel kimono outfit is what i would wear to a festival like coachella on colder days if i were attending one. It's suitable for the chilly weather but will probably be too hot for the warmer days even though the 2 fabrics are actually lighter than they look. I've always loved coachella and i wish to attend one someday but till then, i will keep looking at other people's coachella outfits while creating my own Nochella outfits.
  Do you remember my last year's Nochella outfit? The weather back then was so warm that we spent all day enjoying it. This year's weather is warm quite alright but still unpredictable as it feels as though we skipped spring and headed straight into summer. Some days, it feels cold for a while and hot the rest of the day, so you have to really consider picking outfits to suit the entire day.
  The weather was perfect the day i wore this outfit to Uni. It was a sunny day but one of those slightly chilly days so a half sleeved kimono was enough to keep me warm. I've always wanted a tassel kimono outfit, especially a long vest style like this maxi tassel waistcoat. Seeing this stripe fringe wrap made me forget all about my maxi obsession. I love that it's open front and has short sleeves which makes it very easy to throw on for a quick run around town paired with skinny jeans or wide leg pants.
  I paired it with both skinny pants and flared pants and it looked good with both styles. I chose the skinny jeans because it fit my clean flat shoes more and i just couldn't wait to rock them. This was actually the first time i wore them not this pinafore with flat shoes outfit.For a bold finishing touch, wear a stripe tassel kimono over a high neck top and skinny jeans. Click To Tweet
  I'm a boho lover even though i don't wear enough boho outfits as i would like. For me, boho styling starts with a great floaty kimono just because i like festival inspired outfits and a lot of them consists of kimonos, wraps, tassels, hats, etc.
Read: 2016 Summer Wardrobe Essentials: The New Bohemian
  I loved this festival inspired tassel kimono outfit so much that i wanted to photograph it from every angle plus the weather made it even more tempting to continue taking photos. Taking photos with a friend is always fun especially when they love photos too and non of you is rushing off to anywhere.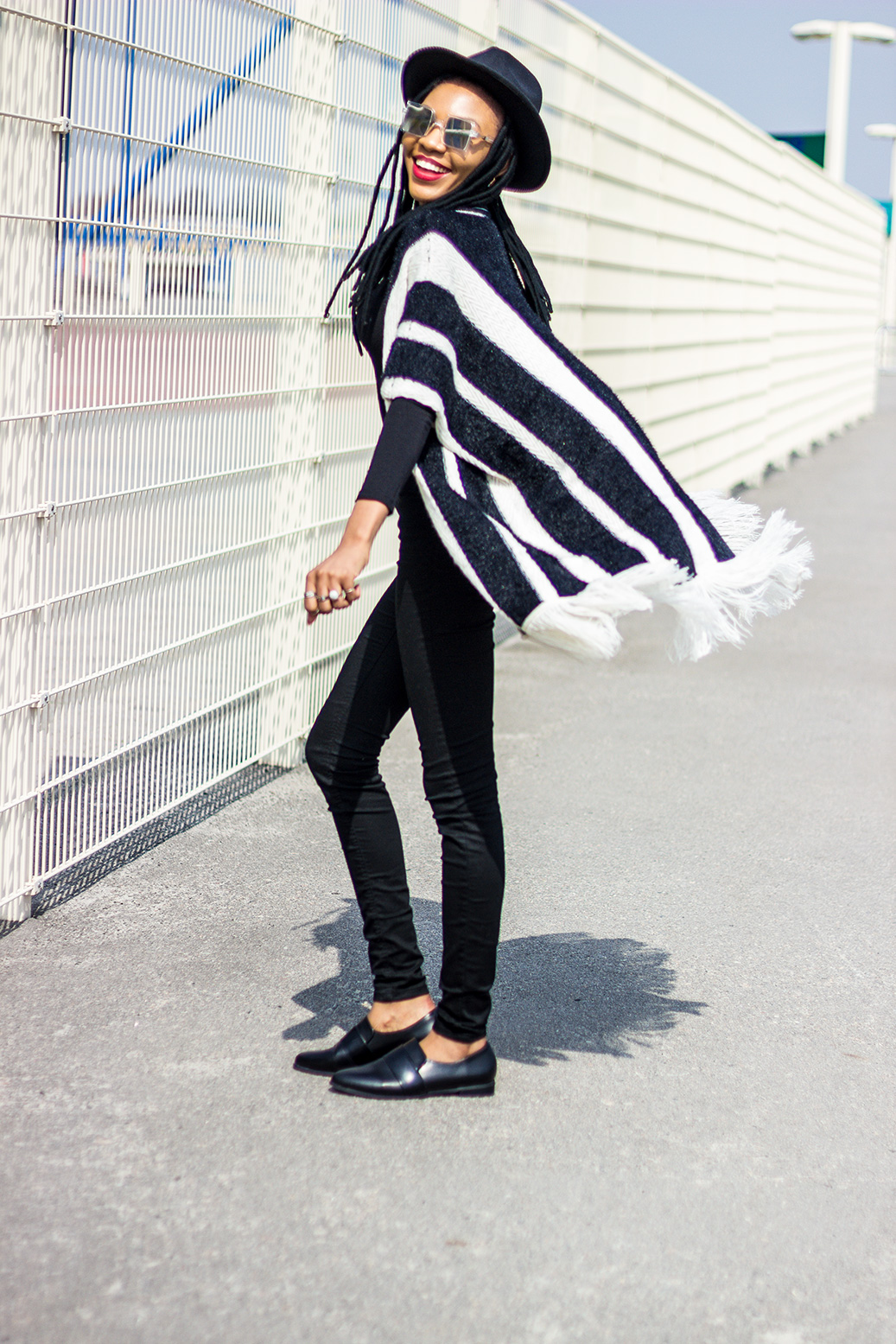 Sometimes i get confused with descriptions of fashion pieces, fringe, tassel, kimono, blanket wraps, etc on online stores. This kimono was described as stripe fringed blanket wrap on the site but i think it looks more like a kimono than a blanket wrap because the fabric is lighter than it looks. The details also look more like tassels than fringe. what's the difference really?
Read: How To Wear Fringe Trend Outside Coachella 
  What do you think of my look? How would you style your tassel kimono outfit?
Wearing: Cameo Rose Kimono (love this too) || New Look Tall Jeans (similar jeans)|| New Look Shoes (love these and totally obsessing over these) || Shein Hat (Loving this matador felt hat currently on sale) || New Look and Asos Rings (similar rings) || Polette Sunglasses (you might like these)
Thanks for stopping by as always
xx!
Keep Up With All My Blog Posts