This Garnier micellar cleansing water is probably the next most popular micellar water out there after the Bioderma sensibio H2O which you must have already seen everywhere. I won't really call micellar water a new skincare trend but you know how the beauty world is, there's always the next big thing everyone is crazy about.
Micellar (pronounced like My cellar as in wine cellar) is water somewhere between cleanser and toner that contains microscopic micelle molecules that lift waterproof makeup, oil and other impurities from the skin. You can read an in-depth explanation of micellar water here. I've been using the garnier micellar cleansing water for a few months now and i'm ready to review it.
Garnier Micellar Cleansing Water Review
Packaging

Consistency

Ingredients

Effect

Price and Availability
Summary
Awesome!
Removes make-up, soothes and hydrates the face, eye area and lips in 1 step without rinsing.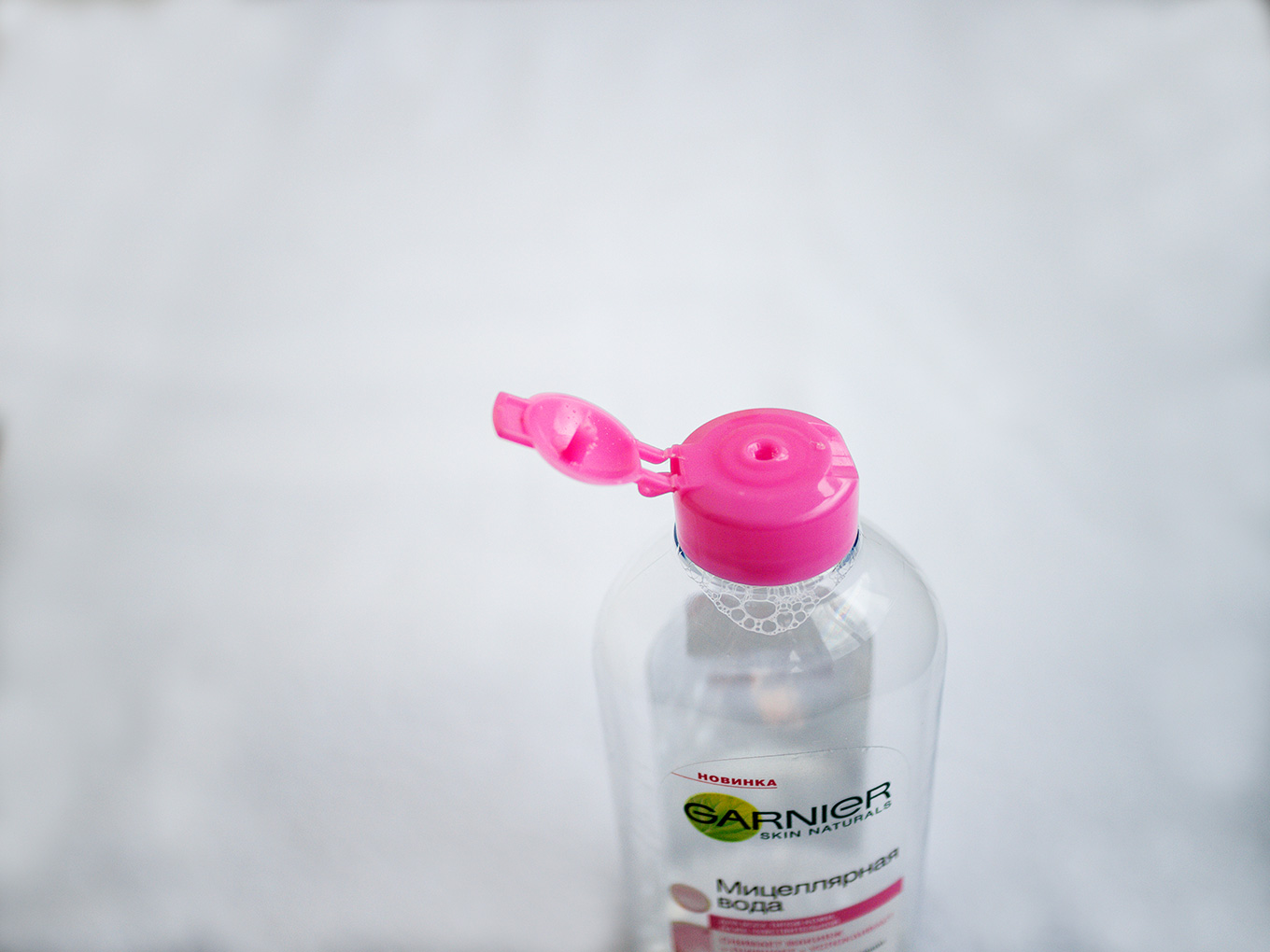 Packaging: The packaging is simple, just as pictured above. The lid is air-tight which prevents spillage if the container is accidentally knocked over, provided you cover it properly after use.
Consistency: Just like regular water, colorless, fragrance-less. It bubbles sometimes if shaken.
Ingredients: AQUA / WATER, HEXYLENE GLYCOL, GLYCERIN, DISODIUM COCOAMPHODIACETATE, DISODIUM EDTA, POLOXAMER 184, POLYAMINOPROPYL BIGUANIDE, FIL B162919/3.
Effect: Even though it feels just like water on the face, it removes makeup, oil and impurities as described without stripping the skin of moisture. It doesn't leave the face dry afterwards even though it's not a wash off cleanser. That's why it's nicknamed the lazy girl's cleanser, it can do all in one and you don't even have to wash it off.
Price and availability: It's costs between $4 – $8 in most stores, that's not bad for a 400ml bottle. It can be found in most beauty stores in all countries that sell Garnier products.
I use this Garnier micellar cleansing water after using my baby wash (current cleanser) to wash most of my makeup off. It's like putting finishing touches and the final step to make sure i get all the makeup and impurities off my face without stripping my face. Sometimes I use my oil cleanser first.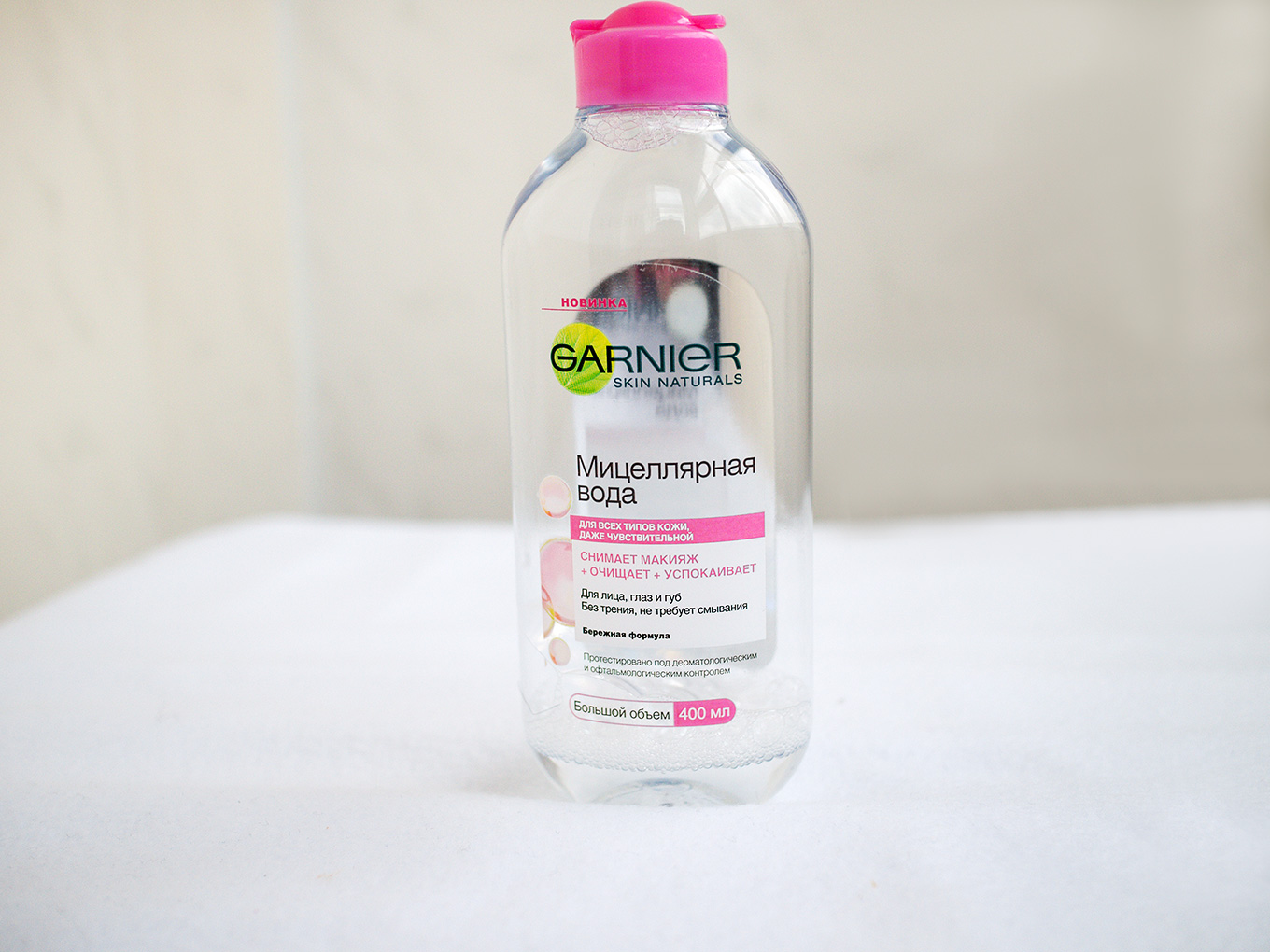 It's very mild on the face and even the eyes, it doesn't sting when it gets into your eyes while cleaning off mascara or any eye makeup. The reason i use my face wash first isn't because this cleansing water can't take off all makeup, It can but it's just faster for me to use my face wash first. Also, i love how refreshed the micellar cleansing water leaves my face. Below is a photo of it with English description.
Garnier micellar cleansing water has been described as an easy way to remove make-up, soothe and hydrate the face, eye area and lips in 1 step without rinsing. I couldn't agree more! When i got this one, another friend got the green version for combination & sensitive skin with mattifying effect. She said it broke her out, no wonder this pink version is more widely used.Micellar cleansing water is an easy way to remove make-up, soothe and hydrate your face! Click To Tweet
Buy Garnier micellar cleansing water online
Have you used this Garnier micellar cleansing water before? What micellar cleansing water have you tried? Do share!
For other skincare products i'm currently using, read my new in products post.
Thanks for stopping by as always
xx!
*P.s. I'm still accepting Guest Saturday posts, get in touch if you will like to contribute.
Keep Up With All My Blog Posts