These Korean skincare products for oily skin are the latest products I've added to my routine since this updated routine post. While i was sick and undergoing treatments few months ago, i had a bad reaction to some of the drugs i was prescribed and my face that i worked so hard to clear up these past 2 years was filled with spots and rashes all over again.
  I had to stick to baby shower gel and baby lotion for the duration of my treatments to avoid irritating my skin further. Luckily, the mighty rashes cleared up within a month but not without leaving pigmentation behind. After then, i started looking for Korean skincare products for oily skin that also targets trouble skin to an extent because my face got oilier. While waiting for my new products to arrive, i resumed using my Mizon Aha serum (*reviewed) which made very significant difference even way better than my initial use.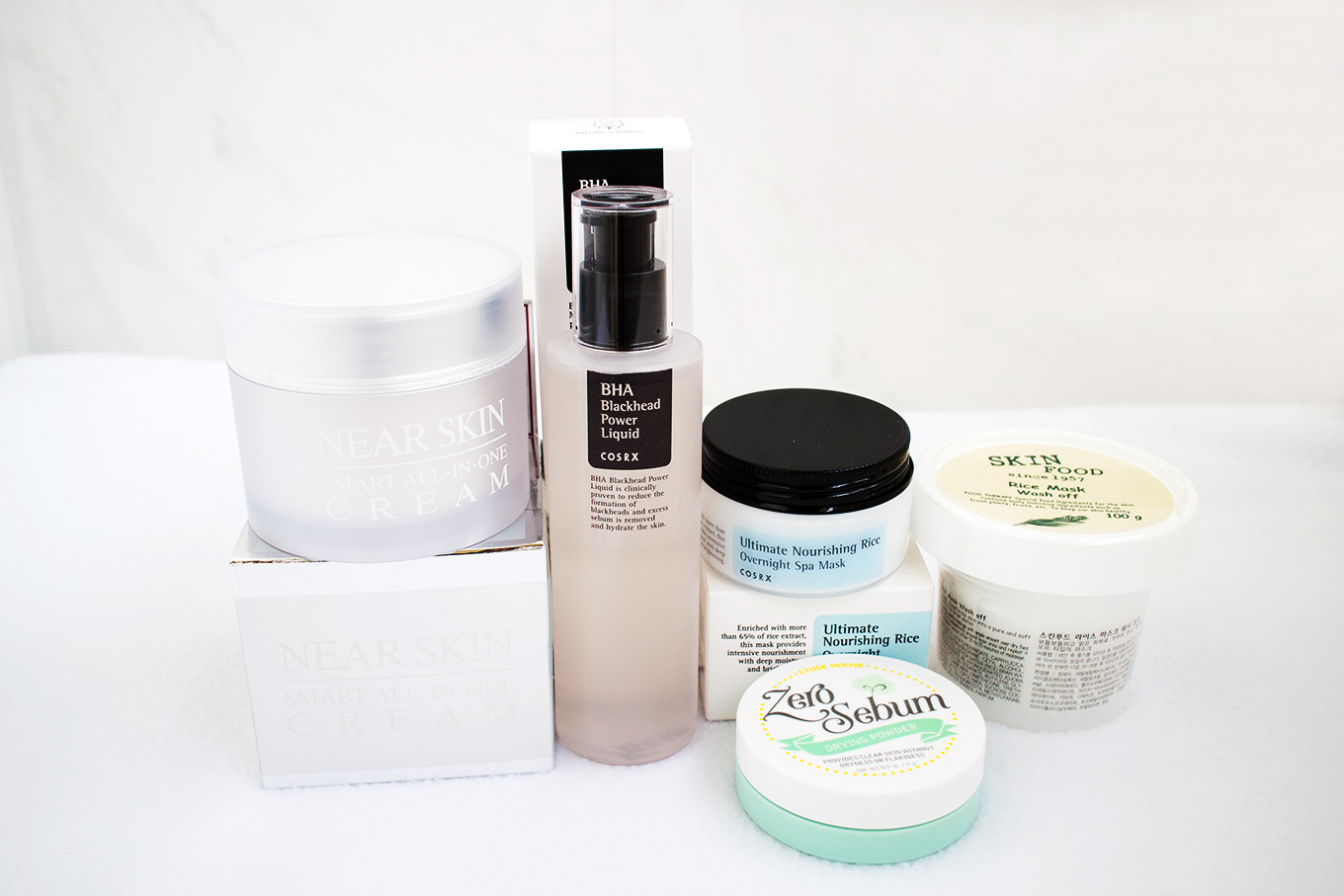 But the Mizon can only do so much without any support, so i created a new skincare routine with the new products i found during my korean skincare products for oily skin research. For cleansing, I still use my baby shower gel which washes off my makeup completely surprisingly. I've also been using Garnier micellar cleansing water for about 2 months for further cleansing as i haven't decided on the Korean cleansers to get yet though I've been looking into the popular Son & park beauty water sold on SokoGlam and also seriously considering this Innisfree superfood blueberry low ph cleanser mentioned by Amy in this Korean sheet masks experience guest Saturday post though.
  From my research, i found out that aqua(water)-based creams/lotions or gel creams/lotions are best for combination and oily skin. I chose the Missha Near Skin Smart All-In-One Cream which claims to solve various skin problems at once with 8 skin care functions as my daytime moisturizer.Aqua(water)-based creams/lotions or gel creams/lotions are best for combination and oily skin. Click To Tweet
  I went back to this Etude house wonder pore freshner (*reviewed) even though the all-in-one cream is supposed to serve as a toner + lotion + essence + moist primer + mask pack + moist cream and more. I'm also currently considering adding a hydrating toner like the Whamisa organic flowers deep rich essence toner because a hydrating toner is advised while using Aha, Bha or other acid products even if they aren't drying.
  For exfoliation, I'm trying out the Skinfood  rice wash off mask instead of my holy grail Skinfood black sugar mask wash off (*reviewed) because it isn't as gritty thereby minimizing any possible irritation to my recovering skin.
  I also started using the popular Cosrx Bha blackhead power liquid to alternate with the Mizon Aha. I just couldn't leave it out as there are a lot of positive reviews about this product.
  For the first time, i decided to try out a Korean makeup product that isn't a lipstick or similar. I added the Etude house zero sebum drying powder to see if it could help stop my makeup from getting so oily on my face within just 1-2 hours of wear.
  For my night routine, i added the Cosrx ultimate nourishing rice overnight spa mask as my sleeping mask/moisturizer.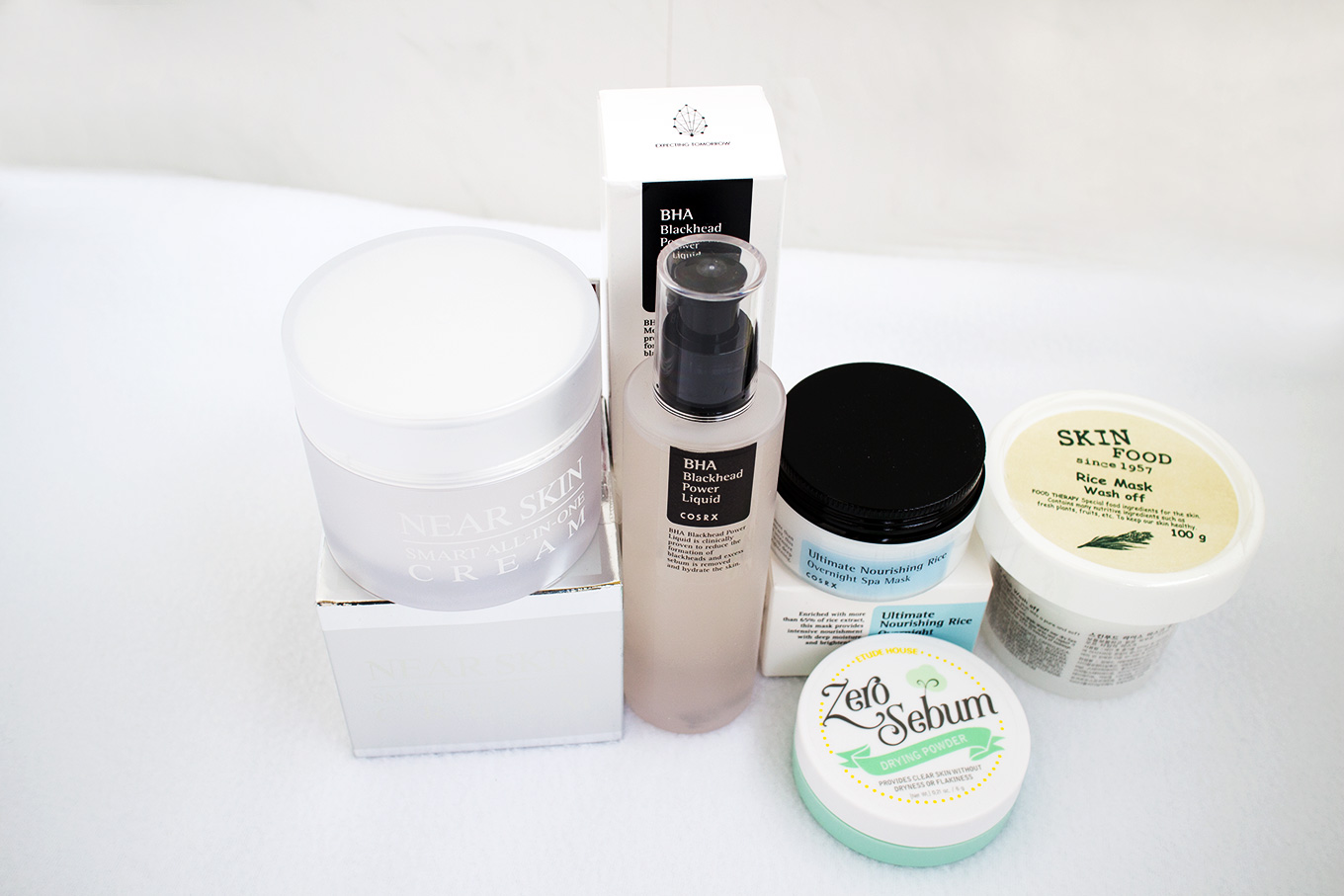 First Impression On These Korean Skincare Products For Oily Skin
  Moisturizer: The Missha Near Skin Smart All-In-One Cream feels great on the skin and absorbs well too without being sticky or leaving any film on the skin but i find that sometimes i need to use more or add a facial oil to make it more moisturizing. But this post is just about my first impression about the products based on just a few days use.
  Exfoliator: The Skinfood  rice wash off mask feels nice on the face and it's more gentle on the skin than the Skinfood black sugar mask wash off but result-wise the black sugar mask performed better on first use. My face didn't feel as clean and soft as the first time i used the black sugar but who knows maybe it will do better in future uses.
  Drying Powder: I've tried the Etude house zero sebum drying powder twice so far. Once, while wearing a primer under my foundation and powder and once without a primer. On the day i used it with my occassional primer (still looking for a great everyday primer), i used it only on my t-zone and my face remained completely oil free for the 6 hours i had my makeup on. On the second day without a primer, the powder managed to keep the oil off for about 4 hours (which is 2 hours extra from my normal) before i started seeing oil show up on my forehead and upper part of my cheeks.
  BHA: It's my first time using a BHA and i hear one might have to wait for up to 2 weeks to see very visible results so i can't really tell if the Cosrx Bha blackhead power liquid has had any significant effects yet. It feels good on my skin though and i let it absorb for up to 20 minutes before using any other product as advised. It's not drying on my face as some other users have pointed out either even after 20 minutes.
Sleeping Mask: The Cosrx ultimate nourishing rice overnight spa mask is non-sticky, absorbs properly and moisturizes my skin well whether used alone or with the all-in-one cream. My face always looks moist and fresh in the morning. I've always liked the sleeping masks I've used since my Korean skincare journey began anyways but this is the only one that is actually non-sticky on my face.
  My main target is to minimize my oiliness as my skin is recovering and doesn't need a lot of anti-trouble products right now and so far i would say these korean skincare products for oily skin haven't performed badly because my skin looks brighter, clearer and softer. With further use, i will be able to review them better.
  Have you used any of these products before? Which product would you like me to write a full review about first?
I bought all products from an Ebay store, you can search for more Korean skincare products for oily skin from more sellers and stores below.

*As it's a new month, I've started accepting posts for this month. Remember to get in touch if you'll like to be part of Guest Saturday.
Thanks for stopping by as always
xx!
Keep Up With All My Blog Posts