Style the trend, spring 2016 trends to try, spring/summer 2016 trends, etc. These are all topics we get to see on different fashion websites and blogs especially now that spring is upon us. Some of those trends are graphic stripes and off the shoulder a.k.a the cold shoulder.
As a regular reader of this blog, you would know i'm no stranger to stripes, my last outfit post was a striped kimono outfit with tassels. I'm also no stranger to off the shoulder tops, especially my favorite zara piece that I've worn about 3 times on the blog already. If you must wear stripes this spring, why not make it more fun? Click To Tweet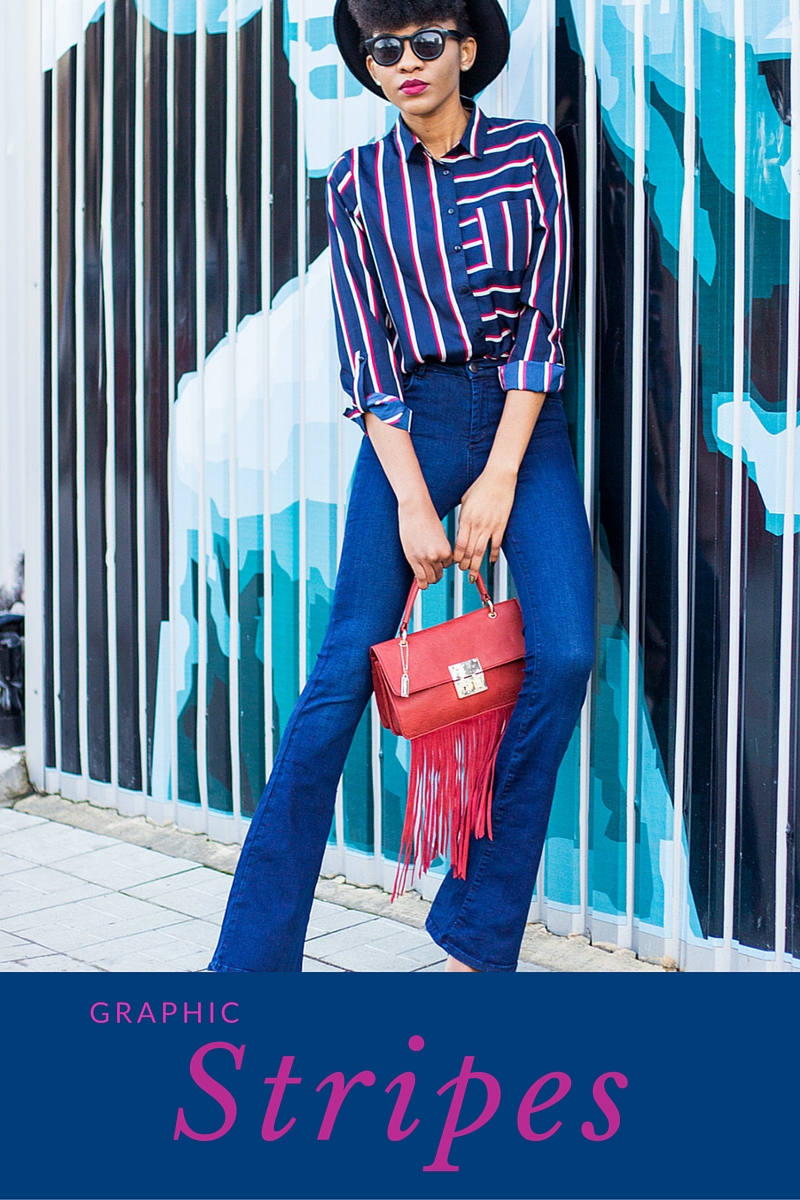 If you remember, the photo above is from when i wore a graphic striped shirt with flare jeans not too long ago in this outfit post. What got my attention the first time i saw it was the asymmetric stripes in vibrant colors. It looked different from the regular striped shirts which made it stand out. Loving the colors on this designer version too.
I know you've seen this my favorite off the shoulder top on the blog in different outfit posts with this 90s shorts look being the most recent. But the outfit in the photo above is my favorite of them all. I love how feminine it looks and how easy it is to transition from a day to night look with it.
For this style the trend post, I decided to combine the 2 trends into one outfit. Actually, how i would wear them if i were to wear the 2 trends in one outfit. I styled 2 different looks to show you with 1 off shoulder shirt. One look with this chevron jacquard flared trousers , this Medusa mules and Medusa shoulder bag. I chose chevron because chevron is actually an interesting stripe pattern and the yellow and black patterns makes the trousers look even more graphic.
For the 2nd look, i went full spring with the colors. Bold colors, bold style, bold prints, this '1973' chevron striped trousers has it all! While i kept the colors of the accessories minimal in the first one, i added a bit of color in this second look with this heart shaped shoulder bag and these 'Portofino' sandals.
For some people (by people, i mean me and other hat addicts :)) , a hat would be the perfect complementary accessory but i'll leave what to do to your hair to you. So, how would you style the trend?
*P.S. This is my entry for Farfetch's Style the trend competition.
Thanks for stopping by
xx.
Keep Up With All My Blog Posts
*If you liked this post, you will like….
Hot discussions on the blog right now!