This Missha near skin smart all in one cream review is the first facial cream review I've done on the blog so far. The reason for this is because i haven't been lucky with facial creams. They're all usually just "Ok", break me out or not moisturizing enough. There's always something missing, forcing me to continue my search.
  If you remember, this Missha near skin all in one cream was one of the items in my recently updated skincare routine for oily skin. I chose it after reading from different sources that gel and aqua-based creams were best for oily skin types.  I really wanted to love it, especially because of it's 8 in 1 description (Toner + Lotion + Essence + Moist Primer + Mask Pack + Moist Cream + Elastic Cream + Whitening Cream),  sadly my search continues.
Missha Near Skin Smart All In One Cream Review
Packaging

Ingredients

Consistency

Effect

Price

Availability
Summary
While its an okay face cream, i'm looking for a great face cream so i won't be repurchasing. I will continue my search. However, individual experiences vary so your experience might be different from mine.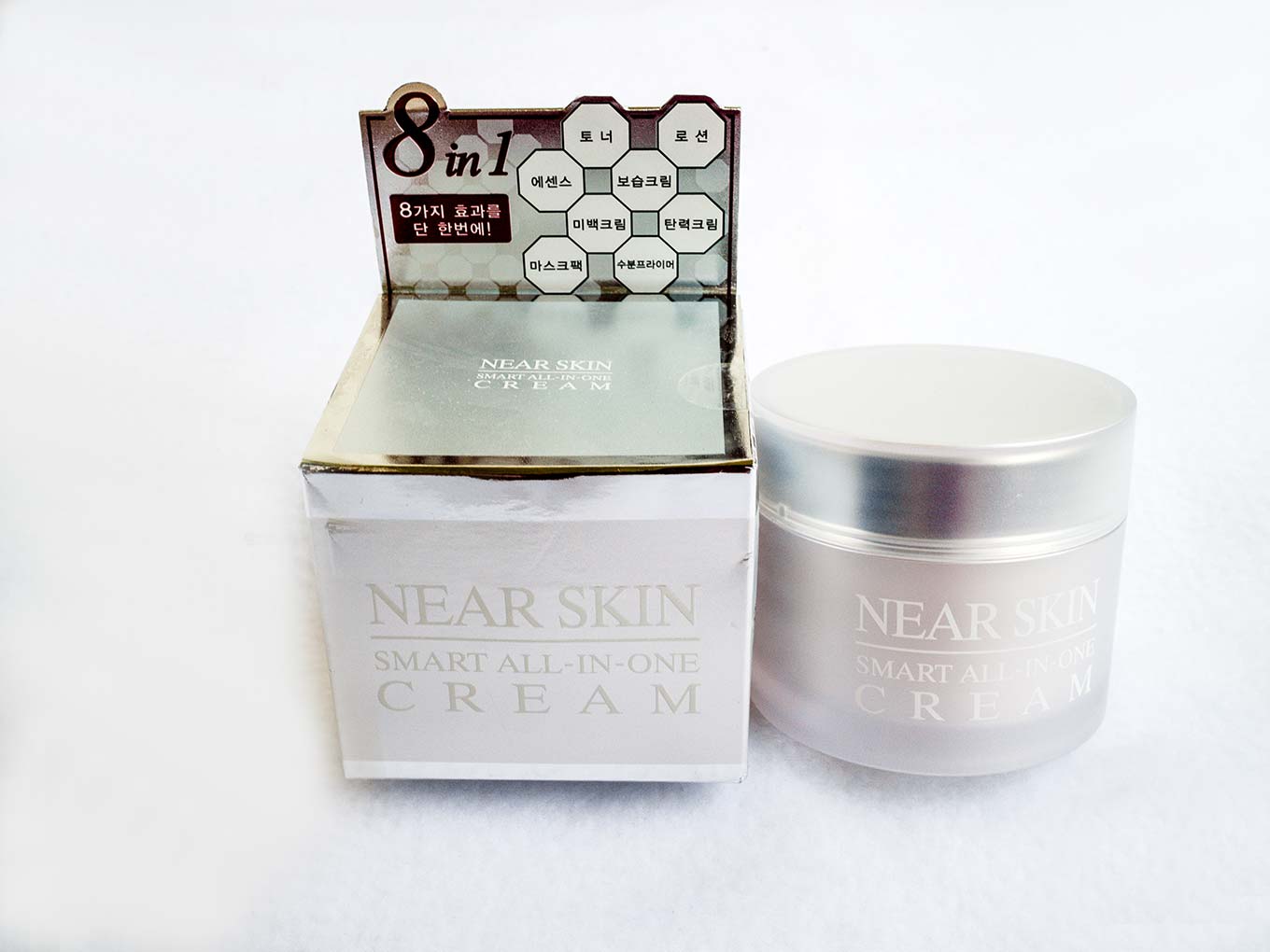 Packaging: As with many Korean products, it came in a shiny silver pack and matching jar. Just like my reviewed rice mask wash off, it requires dipping into the jar to get the product out. Surprisingly, it came with a spatula which makes using it hygienic and the reason i gave it complete 5 stars. This packaging is also one of the most difficult ones I've had to photograph with natural light because of the color and light reflections.
Ingredients: According to Cosdna, it contains more than 3 possible acne triggers, mostly 1s and 2s on a scale of 5. It also contains zinc oxide (sunscreen).
Consistency: It's very light and absorbs quickly. I like that it's cooling on the skin on application and non sticky, sadly it was too light for my skin. It looks a bit yellow inside the container in this photo but it's actually white in color.
Effect: It wasn't as moisturizing as i would have loved and also didn't break me out. Also there wasn't any visible change/improvement on my skin compared to when i didn't use it or when i use my overnight sleeping mask. With the overnight cream, my skin looks brighter and plump. The moisturizing effect is still seen in the morning after sleeping, while i barely notice the missha all in one cream on my skin after application.
Price and Availability: It costs $15 – $25 and available online on only some of the popular korean online stores
    I've almost run out of this product because sometimes i use double the amount required to try and increase the moisturizing effect. Since i'm really loving the Cosrx rice overnight spa mask, I bought the Cosrx advanced snail 92 all in one cream as a replacement for the Missha (to be reviewed later).
 Read: Benton snail bee high content essence review.
   So far, my skin has loved products containing rice and snail slime, henceforth i will be trying more of these products.
Where to buy: W2beauty (you can get $5 off your first order of $30 and above with my sponsor code 055355010 plus samples) || Ebay (exact store i bought from) || Amazon
  This missha near skin smart all in one cream review is based on my own experience, as results vary, your experience might be different. Have you used this face cream before? What is your favorite face cream at the moment and your skin type? Do share in the comments!
  Thanks for stopping by as always
xx!
*P.s. I'm still accepting Guest Saturday posts, get in touch if you will like to contribute.
Keep Up With All My Blog Posts