I used the Cosrx advanced snail 92 all in one cream for the first time at the end of spring 2016. The weather was just getting warmer then and i needed a lightweight moisturizer for my combination skin. After the success of my Cosrx ultimate nourishing rice overnight spa mask and my experience with snail filtrate starting from my Benton snail bee high content essence, i knew my skin loved snails. Since i was already in love with Cosrx and looking for a suitable day moisturizer, i decided to try their advanced snail 92 all in one cream.
This snail cream contains 92% snail filtrate making its consistency almost like a gel. So, you can call it a jelly cream. Snail filtrate contains hyaluronic acid, glycoprotein enzymes, proteoglycans, antimicrobial and copper peptides which provide many benefits to the skin. First, let's discuss some of the benefits of topical snail filtrate first.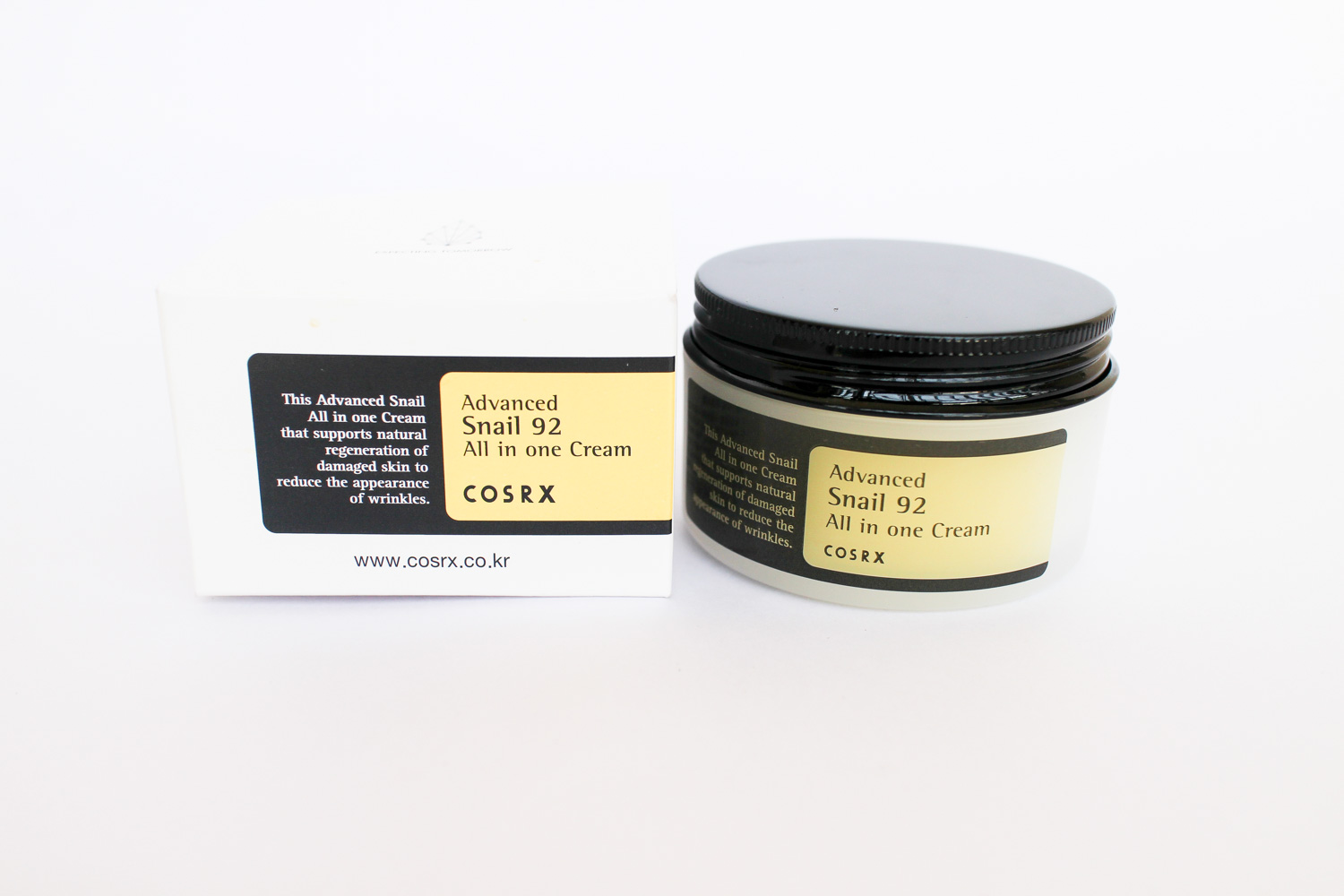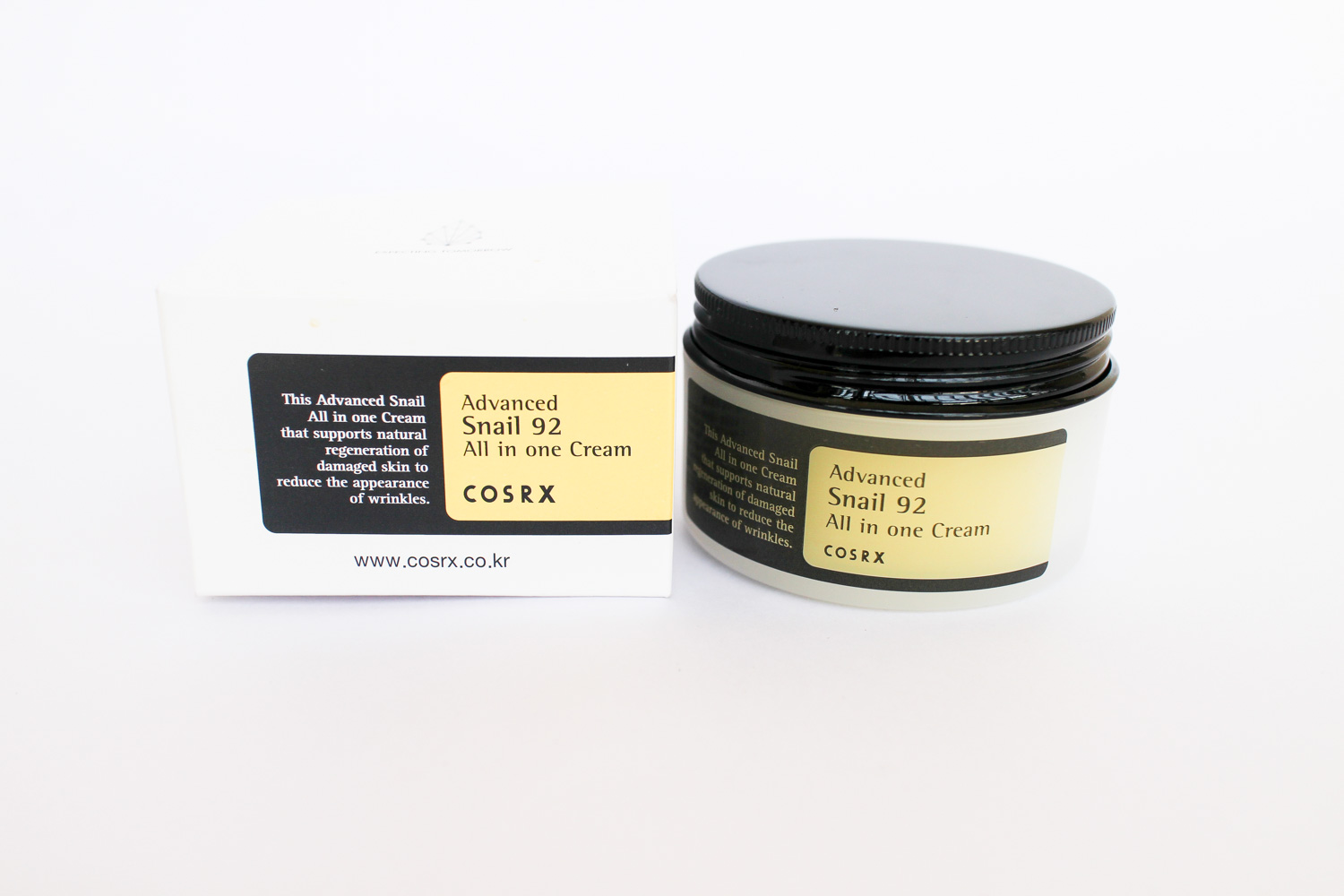 Benefits Of Snail Filtrate On Skin
Snail filtrate helps to stimulate the formation of collagen and elastin thereby reducing the appearance of wrinkles and premature aging.
It protects the skin from free radicals and repairs sun damage.
Snail filtrate soothes irritated and dry skin.
Repairs damaged skin by promoting skin cell regeneration.
Restores hydration to your skin.
Cosrx Advanced Snail 92 All In One Cream Review
Ingredients

Packaging

Effect

Availability

Price
Summary
Great lightweight moisturizer suitable for all skin types!
Ingredients: Some of the ingredients as analyzed on cosdna have 1-2 chances of irritating the skin or aggravating acne. I haven't gotten any irritation or acne aggravation while using this Cosrx advanced snail 92 all in one cream (I've used up to 4 containers already). So, be sure to check the complete ingredients list on cosdna to be sure you don't react to any of them.
Packaging: It came in a container and packaging very similar to the rice nourishing overnight mask but bigger (100ml) and with a spatula. I couldn't find it when i was taking these photos and was too impatient to search for it. A little of this product goes a long way so be careful not to waste the product. Tap or cover your face with your palms for a few seconds to aid faster absorption.
Effect: The Cosrx advanced snail 92 all in one cream is so soothing!! It's like applying a white gel on your skin in richer consistency than regular gels. My face used to get very oily after a few hours but i noticed after using the cream for a while, my oily parts started balancing out. My face no longer gets very oily anymore. The cream also leaves my skin soft and smooth. I didn't notice any change on my post-acne spots while using it. I like the feeling when I use it just after the Cosrx clarifying toner.
Availability and Price: It's available in most online stores that stock Cosrx products and also available on iHerb. It could cost you as low as $15 or as high as $21 depending on the store you buy from.
I have been using this as my daytime moisturizer for more than 6 months and i still love it, I'm thinking of trying the Mizon black snail all in one cream as I've been reading nice reviews about it as well and i really liked the only Mizon product that I've used so far. It was a great replacement for my Missha near skin all in one cream.
Where To Buy Cosrx advanced snail 92 all in one cream
Amazon || Ebay || iHerb || Yesstyle || Jolse (where I bought from)
If you were wondering how the snail filtrate is gotten, know that most are gotten from live snails in a laboratory setting without harming the snails.
Snail filtrate stimulates the formation of collagen which reduces the appearance of wrinkles #skincare Click To Tweet
Have you used any snail product in your skincare products before? Have you used the Cosrx advanced snail 92 all in one cream before? Share in the comments!
Have a great day and don't forget to check out my shop if you reside in Nigeria!
xx.
Keep Up With All Blog Posts