If you follow me on Instagram, you would have seen my posts lamenting about my lack of latest Ankara styles this 2016. I finally started adding ankara styles to my wardrobe again now that they're readily available to me. First is this long ankara jacket outfit. Initially, i wanted a midi sleeveless ankara jacket that looked just like this long ankara sleeveless jacket. The seamstress showed me a photo that looked like an Indian style so i went for elbow length sleeves instead of sleeveless.
I'm pretty sure if you search "ankara styles in vogue 2016" (the commonest way people describe trending ankara styles in Nigeria) or latest Ankara styles 2016 on google, you would find ankara jacket styles and ankara vest styles somewhere in the search results. Ankara jackets come in handy especially when you're not in the mood for the regular ankara dresses or other African print outfits. I like that you can style them with your regular denim and still look chic like i did.
It's beginning to feel like I've been wearing red a lot this month, my casual weekend shirt dress outfit with a red bag, a maxi dress outfit on my Instagram, my last outfit on the blog – improvised red lace dress for my MDCN induction and now this long ankara jacket outfit. I didn't plan to wear a lot of red this month if that's what you're thinking, i'm only just realizing how much red I've worn within a month as i'm creating this post.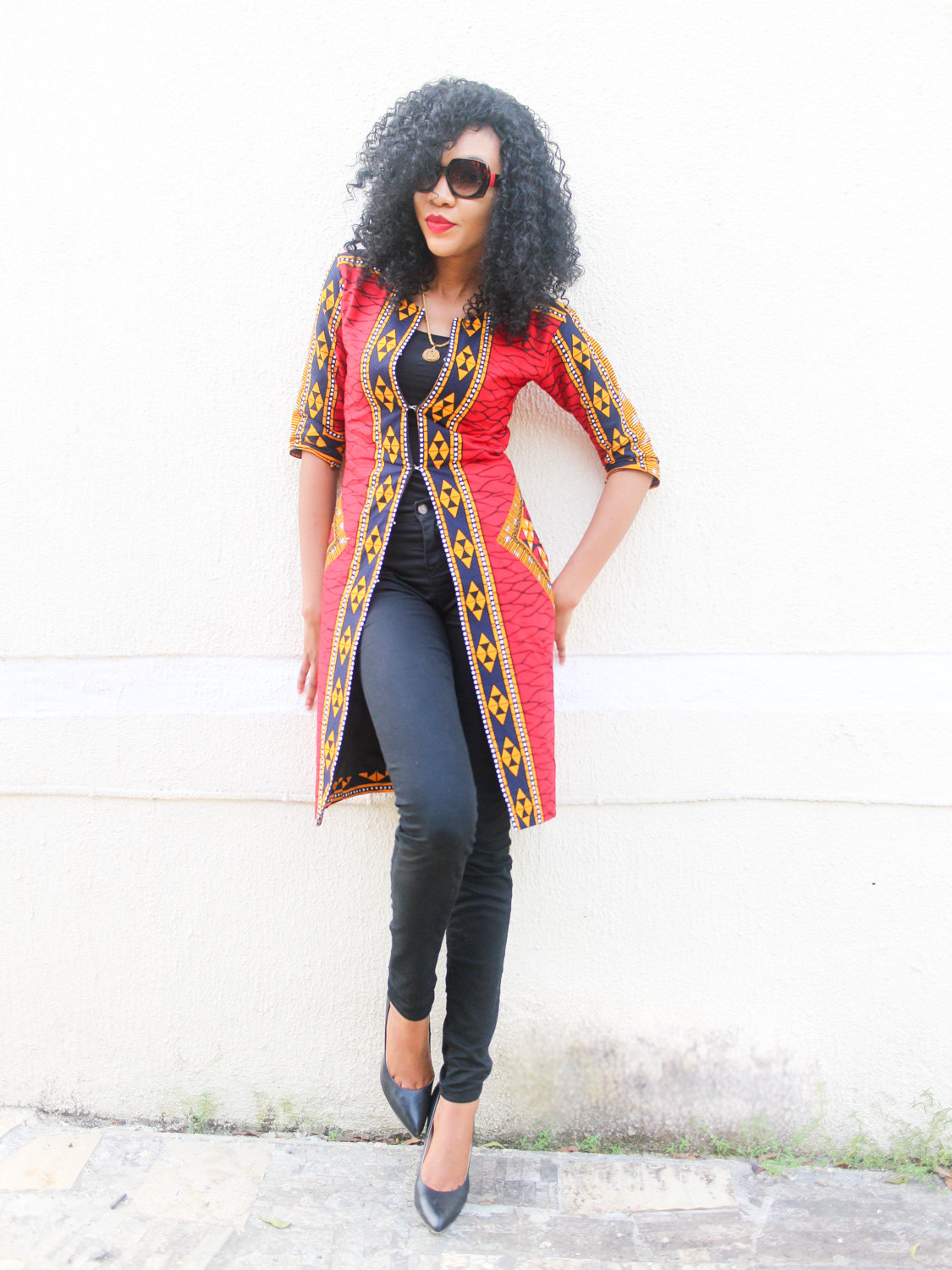 I like the versatility of jackets, you can wear them with any type of bottom. Look at this my long ankara jacket outfit for example, looking at the jacket you can see that it would be nice on a skirt and also on a short too. I kept the colors and accessories simple to appreciate the beauty of the prints better like I did in my red Ankara maxi skirt outfit. Yeah, you guessed right! it was my outfit to church yesterday.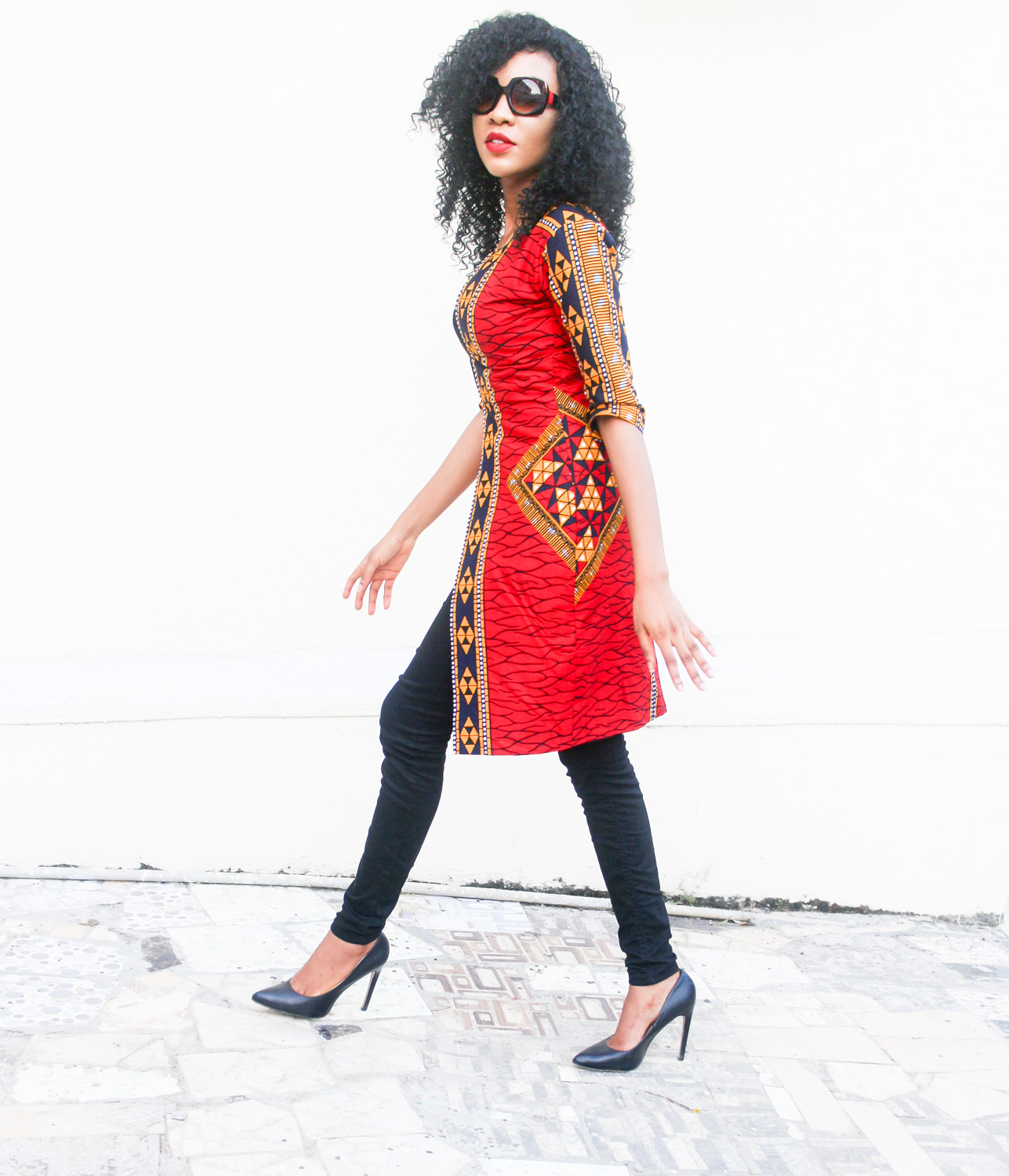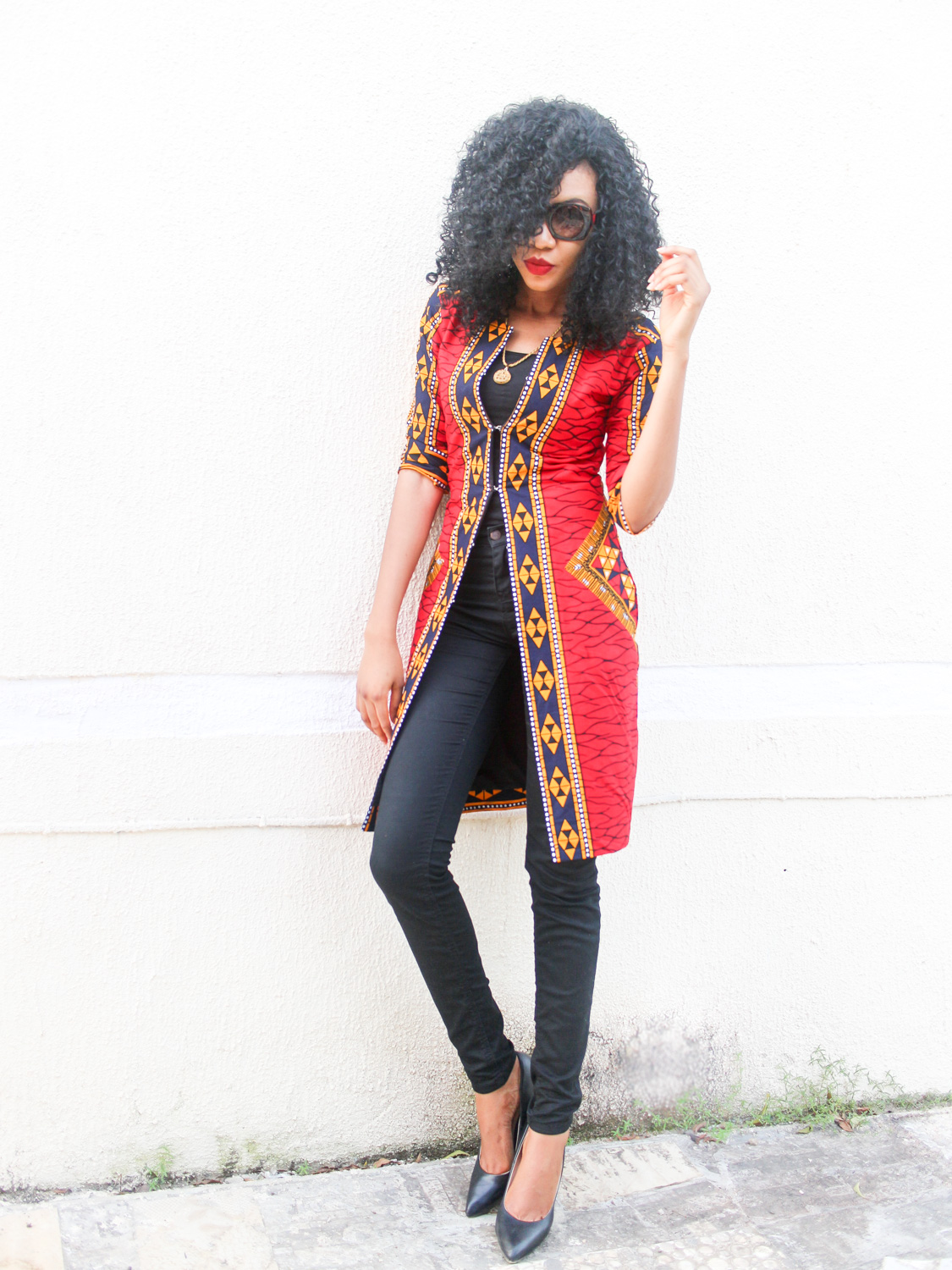 You've already seen my high waist black jeans on the blog several times but here's a similar pair of jeans if you're looking to buy online. My truffle heels are also becoming my most worn pair of shoes this year, here's a similar pair of black leather heels.
I have a crazier ankara floor length jacket outfit to share with you soon, i can't wait to rock it. I really wish i was still in a colder region to rock something like this ankara trench coat. Meanwhile, what do you think of this long ankara jacket outfit in this post?
Shop More Long Ankara Jacket Styles
Have a great day and don't forget to check out my shop if you reside in Nigeria!
xx.
Keep Up With All Blog Posts