I've been waiting to wear this pair of ankara flare trousers since i tried them on. After receiving them from the seamstress who also made this long ankara jacket, i thought of the one to wear first and eventually wore that jacket first. Looking at the length of that one and the length of the jacket in this ankara flare trousers outfit, i'm beginning to see that one as midi not long.
I wore this ankara flare trousers outfit to church yesterday and had plans to restyle the flare trousers for the Tracenaija afrobeat show that took place in Wuse, Abuja yesterday too. Last minute my partner cancelled on me and i had to cancel too, it's no fun going to a show or event alone. The flare trousers aren't just one of the latest ankara styles but also one of the hottest trends now.
Read: The 70s Flare Trend.

The jacket is definitely one the latest Ankara jacket styles as I've seen a couple of great designs. I wanted a little bit of 'this and that' so i paired the floor length ankara jacket and the ankara flare trousers in one outfit. The front looks slightly different from the initial design i sent to the seamstress but i guess this isn't bad either.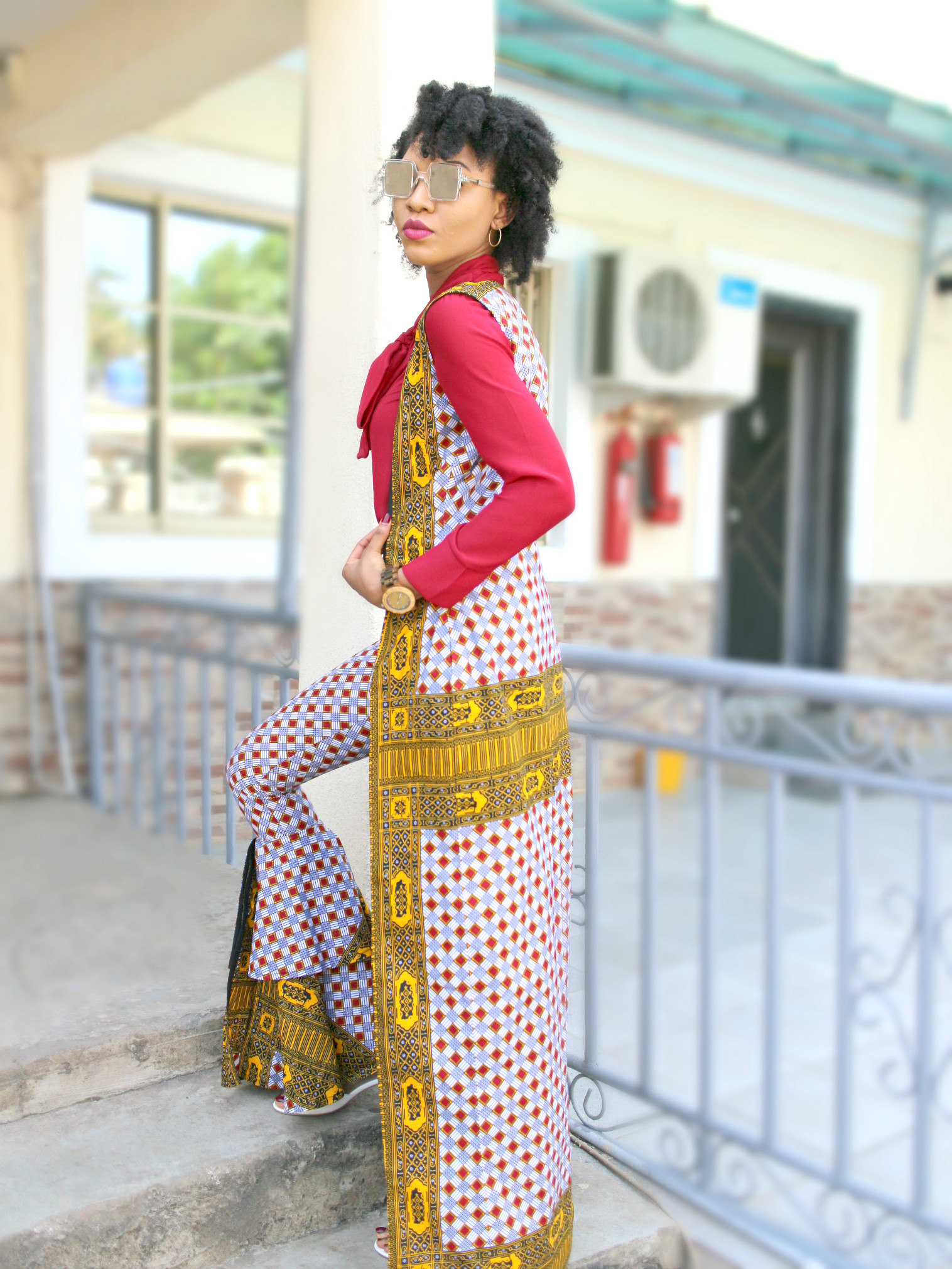 You can do a lot with Ankara materials as you can already see with latest ankara styles. 2 great places to see variety are Instagram and pinterest or you can totally draw inspiration from designs around you even non ankara wears.
Actually, the inspiration behind these slit style ankara flare trousers was a street style photo from one of the fashion weeks.
Ankara prints and styles are always so colorful and cute. I got a lot of compliments while wearing this Ankara flare trousers. Both while wearing the first style with the long Ankara blazer and the casual style.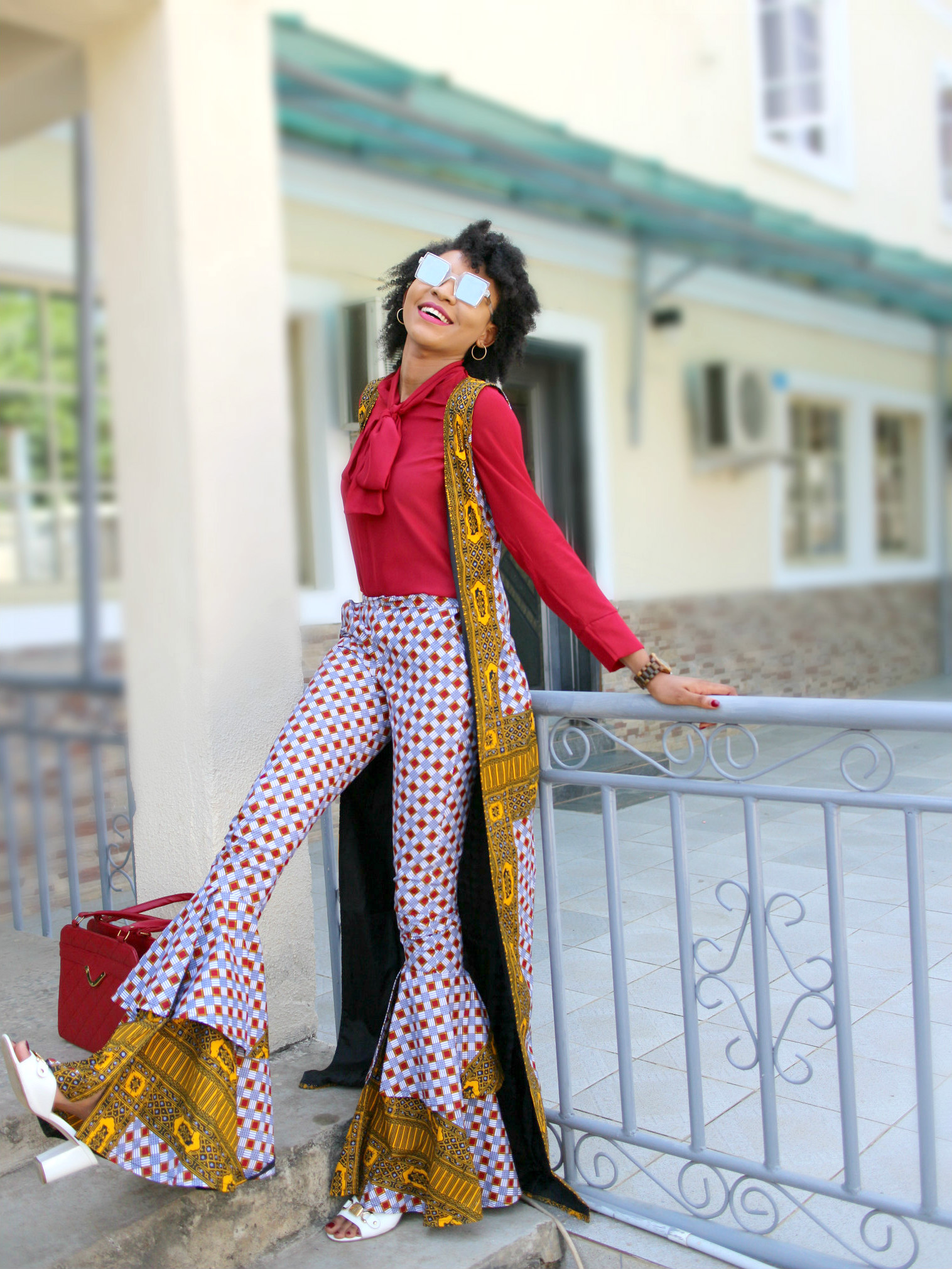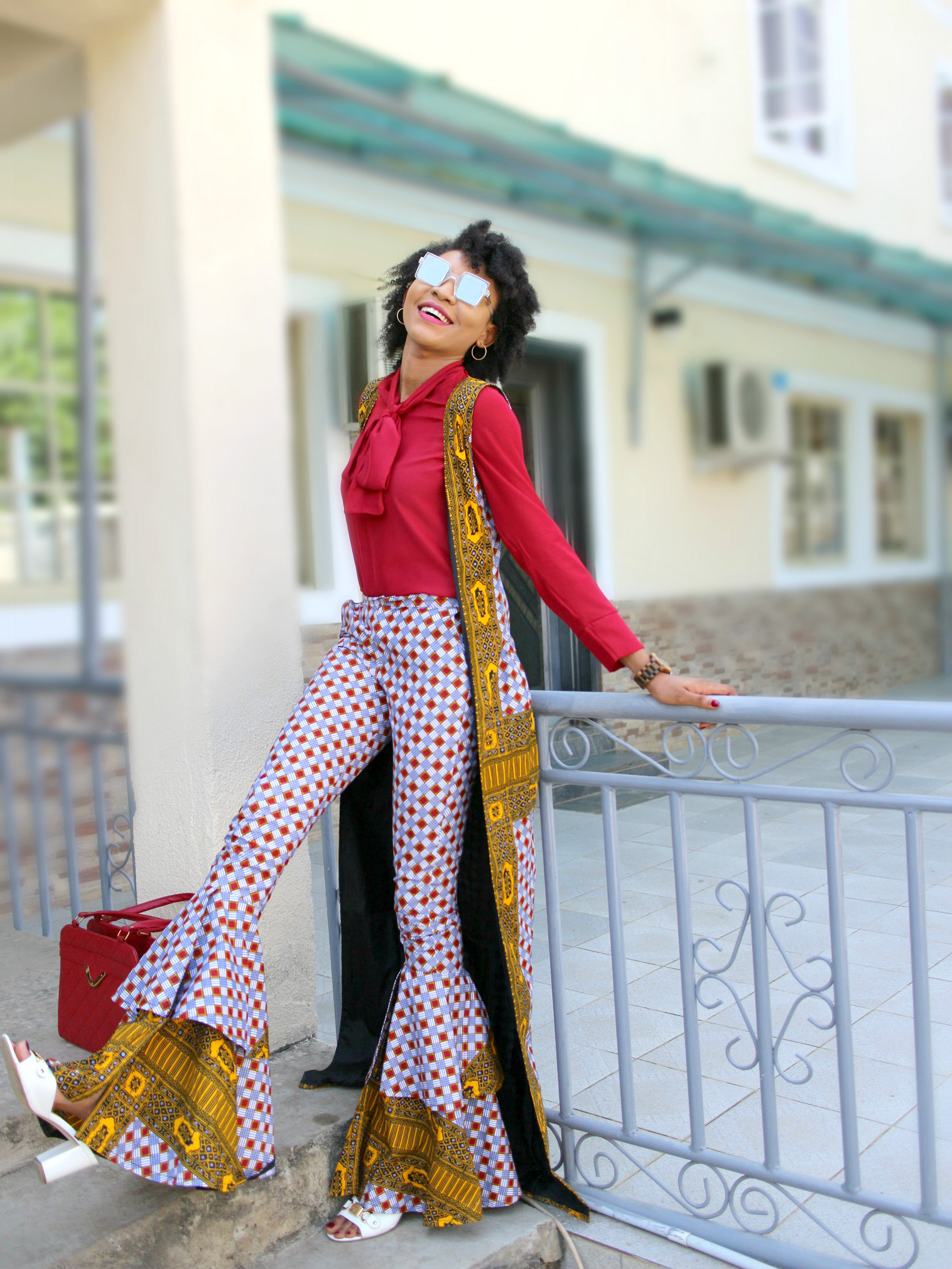 As i already canceled my plans of attending the afrobeat show, i relaxed at home after church but coincidentally Cassie and a couple of bloggers who were in Abuja over the weekend for an event were still around and not far from me. I used the opportunity to go meet them in the evening.
I switched my initial look with the long jacket and blouse to something more casual. Even though, she was the one i was going to meet, I met Akin Faminu as well.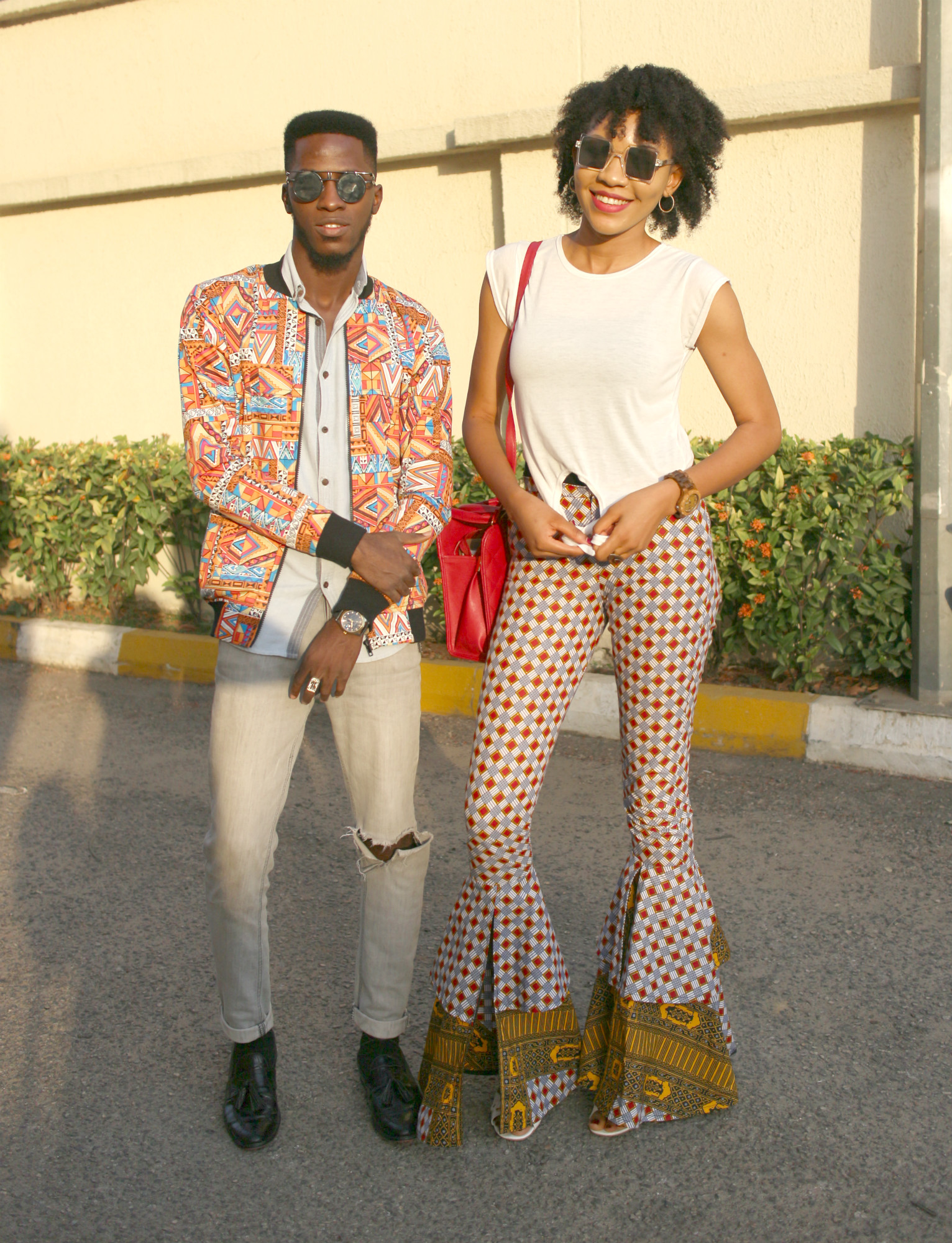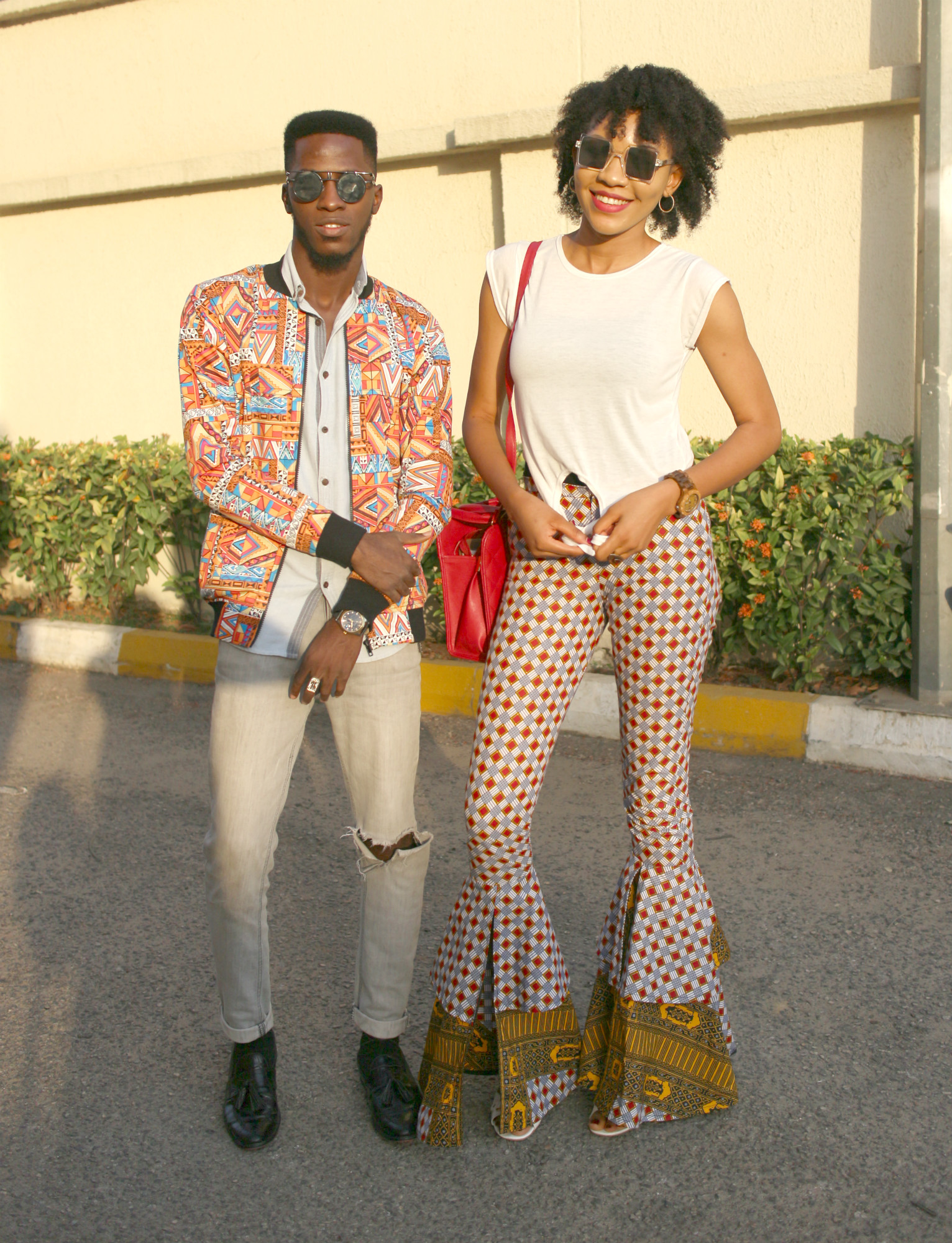 It was great meeting them, looking forward to meeting more bloggers. Have you rocked a pair of Ankara flare trousers recently? Or any latest Ankara style, share in the comments!
Wearing: Tie neck blouse c/o Sammydress | Ankara outfit made by a seamstress in Lagos (check my Instagram – @modavracha)
Have a great day and don't forget to check out my shop if you reside in Nigeria! Use code enjoy10 to get 10% off your order.
xx.
Keep Up With All Blog Posts