I've admired the flare sleeve tops for a while now, i even did a post on the fluted sleeves/bell sleeves trend. The same style of top in this my ruffles flare sleeve off shoulder top outfit was one of my recommendations but from a different store. When Zaful contacted me to collaborate on another post (see my previous outfit post collaboration with them), I picked this flounce sleeve top that I've admired on fellow bloggers for a long time
 Honestly, i initially had jeans outfit in mind but changed my mind last minute as i felt jeans were too cliche. I casually tried the top on with one of my Shop Modavracha trousers and liked the look. I don't know which decade the look falls into but i'm pretty sure it's retro. To complete the retro look, i let out my natural hair and styled it in my favorite hair and hat style.
  I've styled my hair with a hat previously in this striped shirt and flare jeans outfit, this pinafore dress and turtle neck outfit and this denim and knit on denim look. This ruffles flare sleeve off shoulder top outfit has now been added to my growing list of natural hair and hat outfits. It was my outfit to church yesterday by the way and something unexpected happened.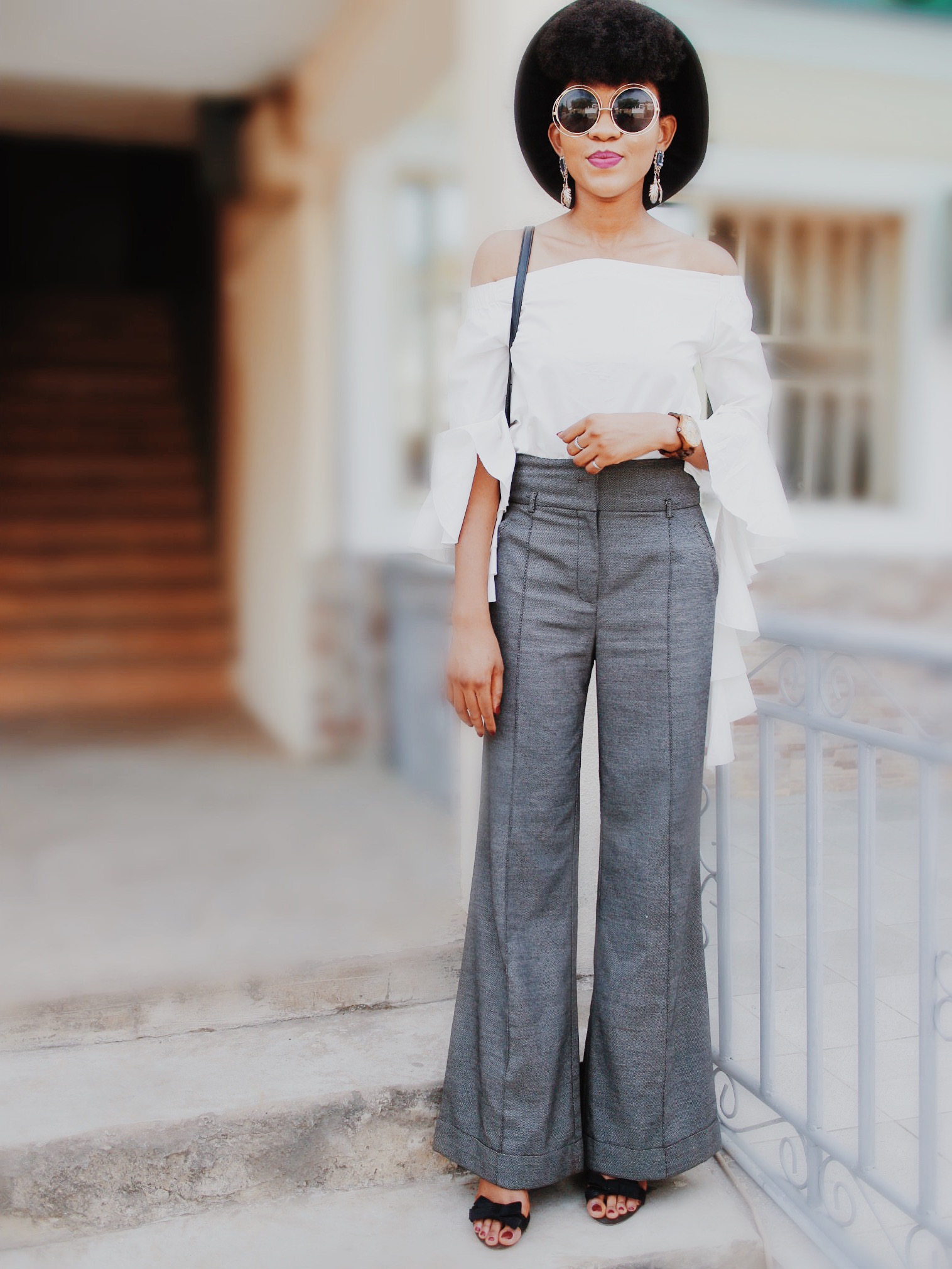 No, it wasn't about my ruffles flare sleeve off shoulder top outfit, just something that happened in Church. So, towards the end of the service, the ushers started taking seats to the pulpit and front of the church. I was thinking it was a second drama as some people had already acted drama earlier before the preaching.
  The senior Pastor announced that there was a wedding for one of the Ushers. Just like that, the wedding ceremony commenced.  Other pastors officiating came and said the usual wedding stuffs and everything was going fine till everyone was asked to relax as there were a few family issues to sort out while the choir members were to continue entertaining the congregation.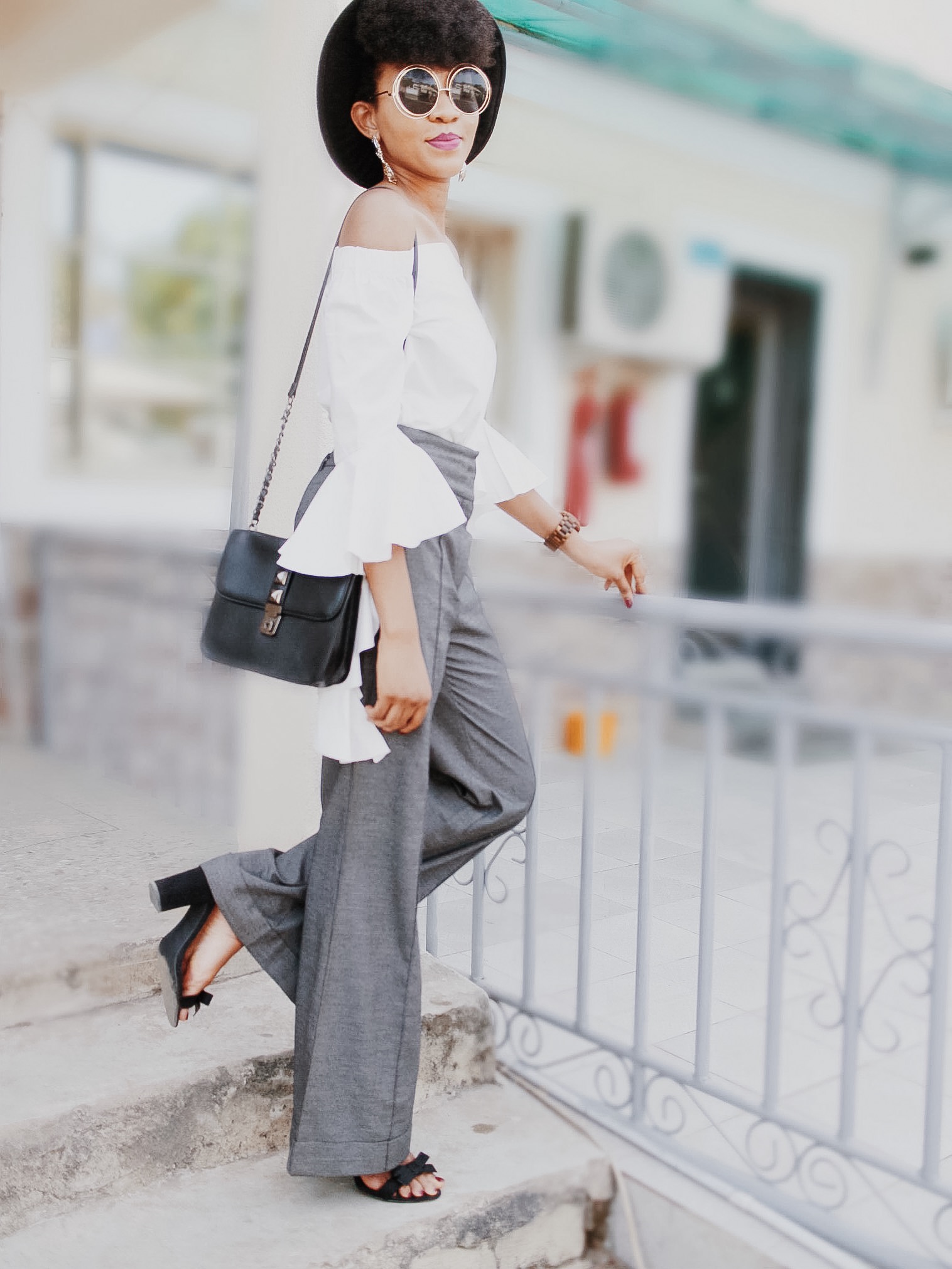 5 minutes passed, yet nothing changed. 10 minutes and people were still just walking in and out of the church without anyone saying anything. It was weird as we had already passed the "Does anyone have any objections as to why these 2 shouldn't get married?" stage. Then the senior pastor came back after more minutes had passed to announce that the father of the bride was having some issues about the wedding ceremony.
 We were asked to pray and commit everything happening into God's hands while waiting for the Father of the bride to come around as his blessings were sought so as to carry on with the ceremony. Apparently, he only recognizes traditional marriage which had already been done and couldn't understand why they needed a church wedding or what was even being done.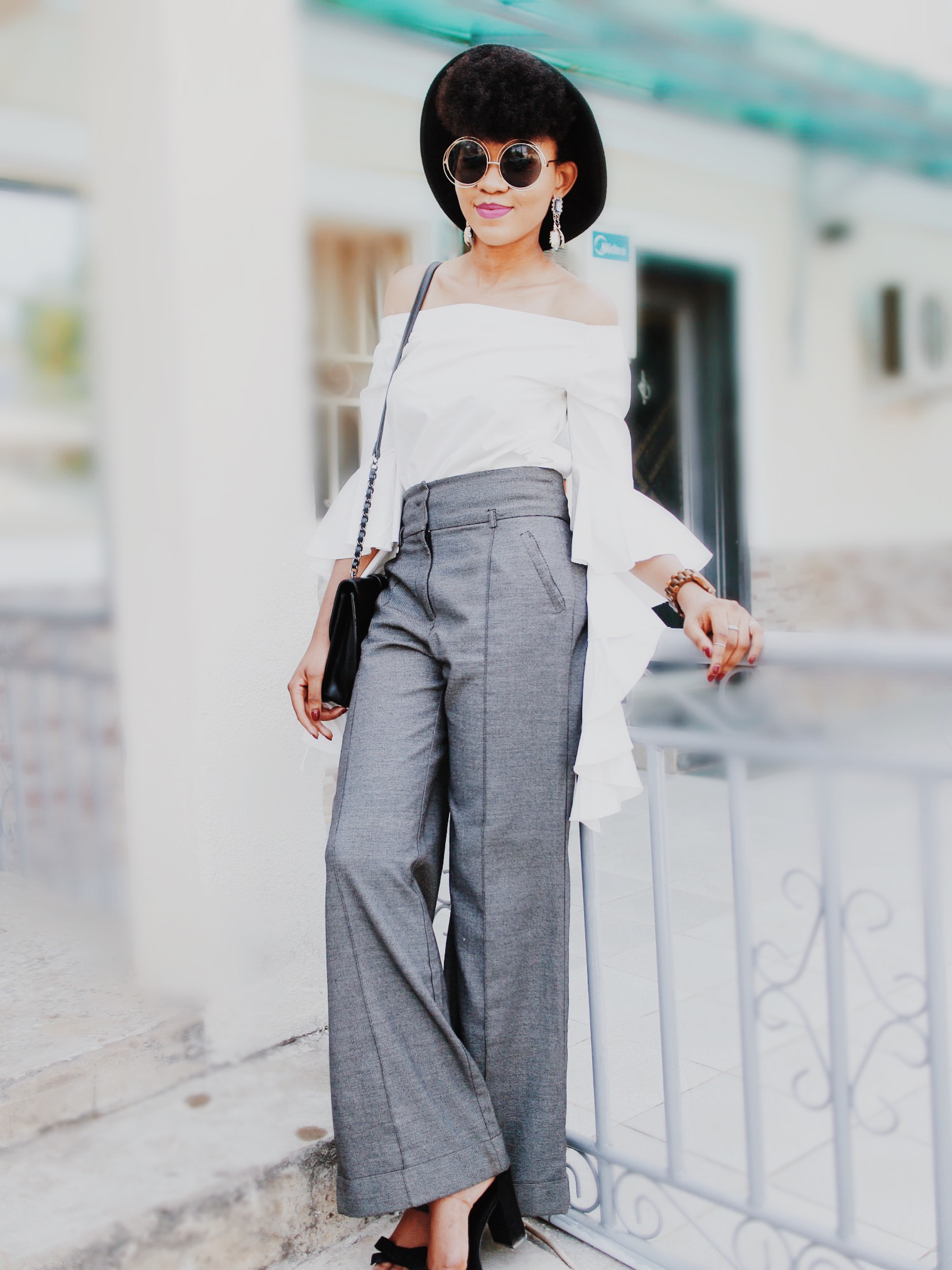 Finally, after about 30 minutes, he walked into the church with another younger man. Judging from his face, he wasn't too happy or convinced. Next thing, just a few seconds after he was helped to his seat, he was already up and raging towards the camera man that was trying to take photos of him, lol. I was sitting just across from his row.
 Amidst murmurs and mutterings from him even when asked if the wedding ceremony could continue, the ceremony was continued and everyone was singing, shouting and dancing. Well, lets just say we all got tired of his drama and everyone concentrated on the couple. I didn't even notice him leave as he wasn't around till the end of the service and marriage blessing.
 If i didn't witness this and read it somewhere like twitter, i would have probably thought there was an exaggeration somewhere. Lovelies, such things actually happen! Anyways, while this my wedding guest outfit would have been a perfect outfit for the ceremony,  I happened to be wearing this ruffles flare sleeve off shoulder top outfit instead.
Wearing: Ruffles sleeve Top c/o Zaful || Shop Modavracha Trousers || New Look Heels (love this gold version and floral version) || Shein Hat || Sammydress Sunglasses *c/o || Jord Wristwatch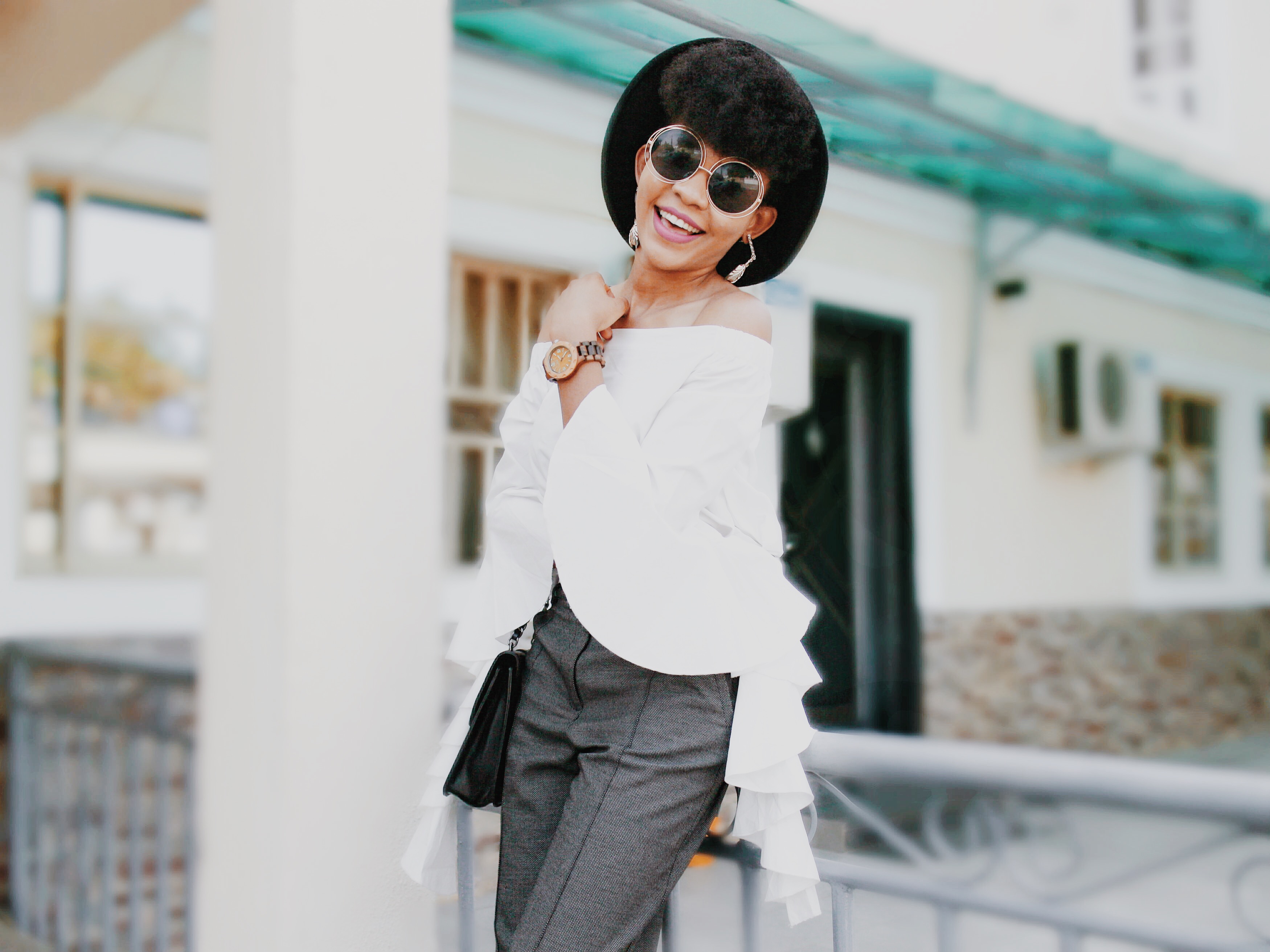 So what do you think of my outfit? Have you rocked a similar ruffles flare sleeve off shoulder top outfit, do share with us in the comments!
 Have a great day and don't forget to check out my shop if you reside in Nigeria! Use code enjoy10 to get 10% off your order till december 17, 2016
xx.
Keep Up With All Blog Posts