The embroidered denim trend is probably the denim trend you're going to be stuck with for the next couple of months or even years. This, we have already seen with the 70s flare trend.
 Be it flare or fitted, outerwear or bottom, the embroidered jeans and embroidered denim trend have been getting increasingly popular. You can't go a day on the 'fashion' Internet and social media without seeing at least one embroidered denim outfit.
 This biggest embroidery trend adds a personal touch to your favorite denim. There's no need to toss your old denim staples if you're good at hand embroidery and clothing DIY.
 Embroidery fashion trend has been all the rave since the past year till date. Do you know how to rock the embroidered denim trend? Do you want to rock the trend? Its high time you gave this denim trend a try.
Reasons To Rock The Embroidered Denim Trend
 Stylish: Style is a personal thing so, you can rock the embroidered denim trend your way with a personal touch.
 Affordable: With so many DIY options, there's no need to buy new jeans and denim to rock this hot new denim trend. A little cut and paste could be all that you need to get in on this embroidered denim trend.
 Unisex: Who said pretty things were only for girls. The embroidery trend is for men too. We saw a lot of them on the runways during fashion weeks and even Jay-Z and 2chainz concur.
 Expressive: You can literally wear your feelings or let the artistic part of you go crazy on your embroidered denim. The cool kids club.
 Variety: There are lots of options to choose from. You can rock the denim trend on bottoms, tops, outerwear, dresses or whatever clothing you wish.
 I could go on and on about reasons you need to rock the embroidered denim trend but with the few reasons above, I believe you'll make the right decision to give the fashion trend a try if you haven't.
The embroidered denim trend is the #denim trend you're going to be stuck with all year round. Click To Tweet
 In Nigeria and perhaps Africa in general, embroidery isn't new to us. There has always been Ankara wears, African prints clothing and traditional attires completed with beautiful embroidery. Check out this one.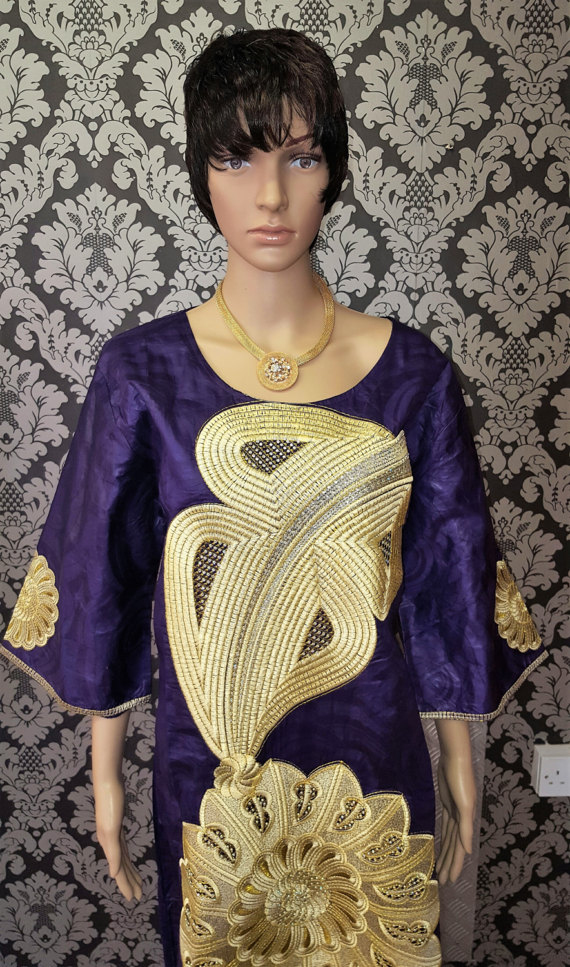 I remember some years back when the only thing that kept me from getting my clothes back from the tailor was the undone neck line embroidery. Thank God for more Ankara styles.
 This new embroidered denim trend is simply one of the fun ways to wear denim and other non-traditional clothing now. As with other fashion trends and denim trends we've had in the past, this is another denim trend to try.
If you're looking for more inspiration and ways to rock the new embroidered denim trend, I've got you covered. I can't leave you hanging right now, can I?
How To Wear: Embroidered Denim Trend
 Top: The embroidered denim shirts are popular but you can pick any style of top and you'll be just fine. A simple embroidered flower motif can make all the difference. 
 Outerwear: There's absolutely no reason your denim jacket or coat has to be boring or ordinary. Remember the days of stacking lapel pins to create a unique denim jacket look? Now you get embroidery and different designs to choose from.
 Bottom: Embroidered jeans are probably the most common type of embroidered denim trend worn as bottom. Yes they're cute but there are embroidered skirts and shorts too. 
 Accessory: Skip the embroidered jeans or embroidery on clothing, keep the trend exclusive to denim accessories. For example, a denim bag like the Valentino Rockstud denim tote. 
 Footwear: Denim shoes have been around since forever. With the embroidered denim trend getting increasingly popular daily, it's only fair that you up your shoe game as well.
 I haven't rocked the embroidered denim trend yet but I've seen a couple of outfits featuring embroidered denim that I loved. If you've rocked one, drop your link in the comments.
 There are so many styles to draw inspiration from when I'm ready to wear mine, it could be a bit overwhelming but I'll find my way around it.
Shop The Embroidered Denim Trend
 If you are yet to wear the latest denim trends like me, how would you rock this embroidered denim trend?
Thanks for stopping by as always
xx!
Keep Up With All Blog Posts