Before you go congratulating me, I'm not getting married o! Or preparing to as at the time of publishing this post, lol. This is simply a post on how to style bridal natural hair. I'm glad more Nigerian natural brides are embracing their natural hair for their bridal hair.
I did this shoot weeks ago with a fellow Abuja blogger babe and a team.  Initially, I didn't want to share it because everything didn't turn out as we had expected. Another lesson learnt from working with an unserious Nigerian brand who doesn't know the value of bloggers.
To encourage fellow naturalistas to rock their natural hair on their wedding day, I'm sharing few ideas on how to style bridal natural hair rather than let the photos waste. Really, these photos can't waste!. Below, You will see how my natural hair was styled for bridal hair inspiration.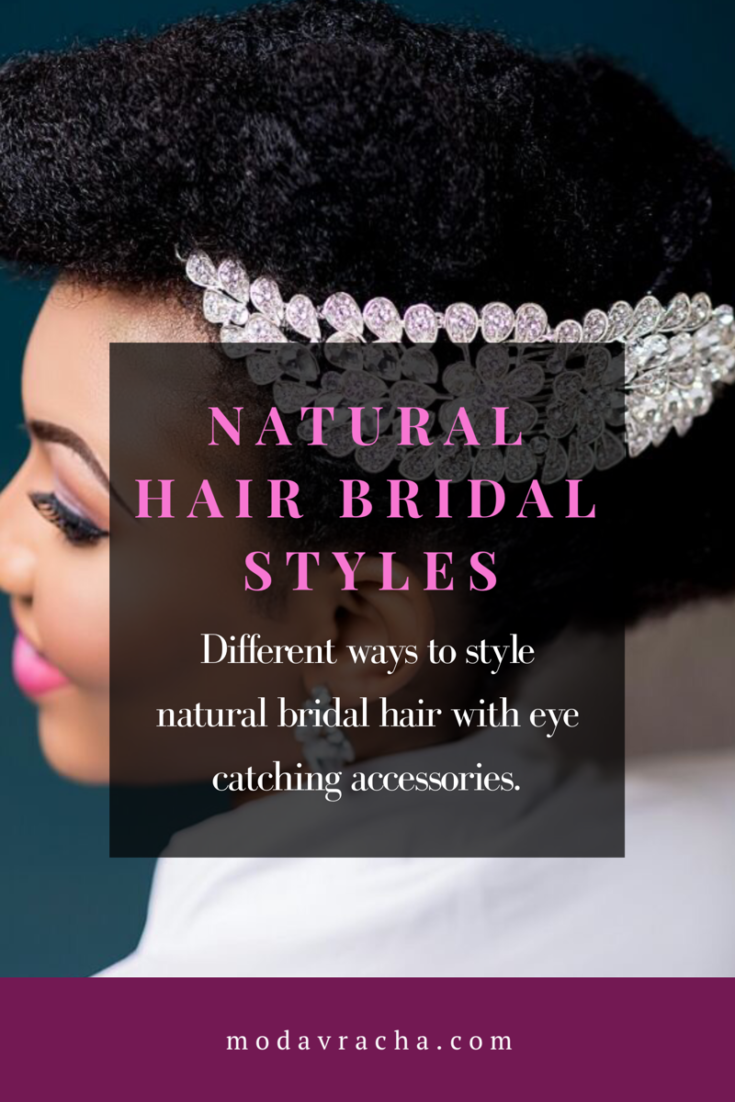 One of the major hair decisions you will make beside deciding to rock your natural hair on your wedding day will be bridal accessories. The accessories you select will determine the type of bridal natural hairstyles you'll choose.
Below, I've given examples using the typical ways a Nigerian bride can tell you to style her bridal hair when asked 'how do you want it?. I've used a mix of pidgin english and english for humor, lol.
Which #naturalhairbride are you? The 'I no send', the side chic' or the 'put everything inside'?
Click To Tweet
How To Style Bridal Natural Hair According To Accessories
 The 'I no send bride' : This is the bride who doesn't care how big or long her bridal accessories are. She would go for long bridal earrings like the type below. In this case, there's no need to add another accessory to the front or side of the hair. Show off the bridal natural hairstyle in all its glory without additional distractions. That's what I would do.
 'Put everything inside bride' : This is the bride who wants to add all the accessories she picked. If using long bridal earrings like the ones above, a smaller accessory at the back of the hair will suffice. The hair won't look busy because the accessory will be completely out of the way. It would beautify the hair without causing distractions from the hair or the long bridal earrings. 
 'They need to really see my accessories bride' : This is the bride who is also a fascinator lover. She will love the big bridal hair accessory on the front or side of her hair. Whichever style of bold hair accessories you choose can be totally incorporated into your bridal natural hairstyle.  To be honest, this is probably the type of bridal natural hairstyle I'll go for. I've always loved styling my natural hair forward if you remember from my outfit posts with natural hair. I can't explain why but I just like seeing my natural hair in the mirror, so styling it forward gives me a good view, lol.
 The side chic: Side chics get some love too. You can keep things interesting on the side while giving everyone the side eye. Did you see what I did there? Haha. 
 'Just pack my hair and be going' bride: This used to be me. I didn't like any hairstyle stressing me. After getting a fine hairstyle done, I'll tell the hairdresser 'just pack it and leave it like that'.  The minimalistic naturalista would love the bridal updo hairstyles. If you prefer your natural bridal hair totally out of your face unlike me. You can have your natural hair in an updo and wrap the accessory round it.
More Tips On Natural Bridal Hair and Maintenance?
As a naturalista hoping to be a natural hair bride in Nigeria, it's important you grow and maintain your natural hair. Here's how I maintain my natural hair without spending a lot of money in Nigeria. If you have other noteworthy ways of cheap natural hair maintenance, please share in the comments.
For more inspiration on how to style bridal natural hair, follow my African wedding – bridal inspiration board on Pinterest.
Finally, are you a single naturalista? Share with us how you will style your bridal hair on the big day. Married naturalistas, tell us how you styled your bridal natural hair in the comments!
Are you a Nigerian #naturalhairbride to be? here are some ways to style your #bridalhair
Click To Tweet
Thanks for stopping by as always!
xx.
Keep Up With All Blog Posts