Here's a brief story on how my Ankara shift dress came about. I went fabric shopping with Portia of Justporsh because I wanted to buy Ankara fabric. While choosing from different fabrics, she suggested I try a certain fabric (non-Ankara print fabric) for a shift dress.
Ankara shift dress wasn't part of my Ankara styles initially.  So, I told her I would rather use Ankara for the shift dress than the fabric we were looking at. She was like, "Okay, I can make it for you in addition to your other Ankara styles". 
That was how I bought the Ankara fabric used to make this Ankara shift dress. I like blue color a lot, all shades of blue. I chose 2 different shades of blue Ankara prints fabric that day. You would have seen one (the Kente) in a selfie, if you follow me on Instagram.
All my recent Ankara styles were actually made by Portia via her tailoring service – Porshher. Porshher has ready to wear fashion items, closet resale option, fashion and styling services.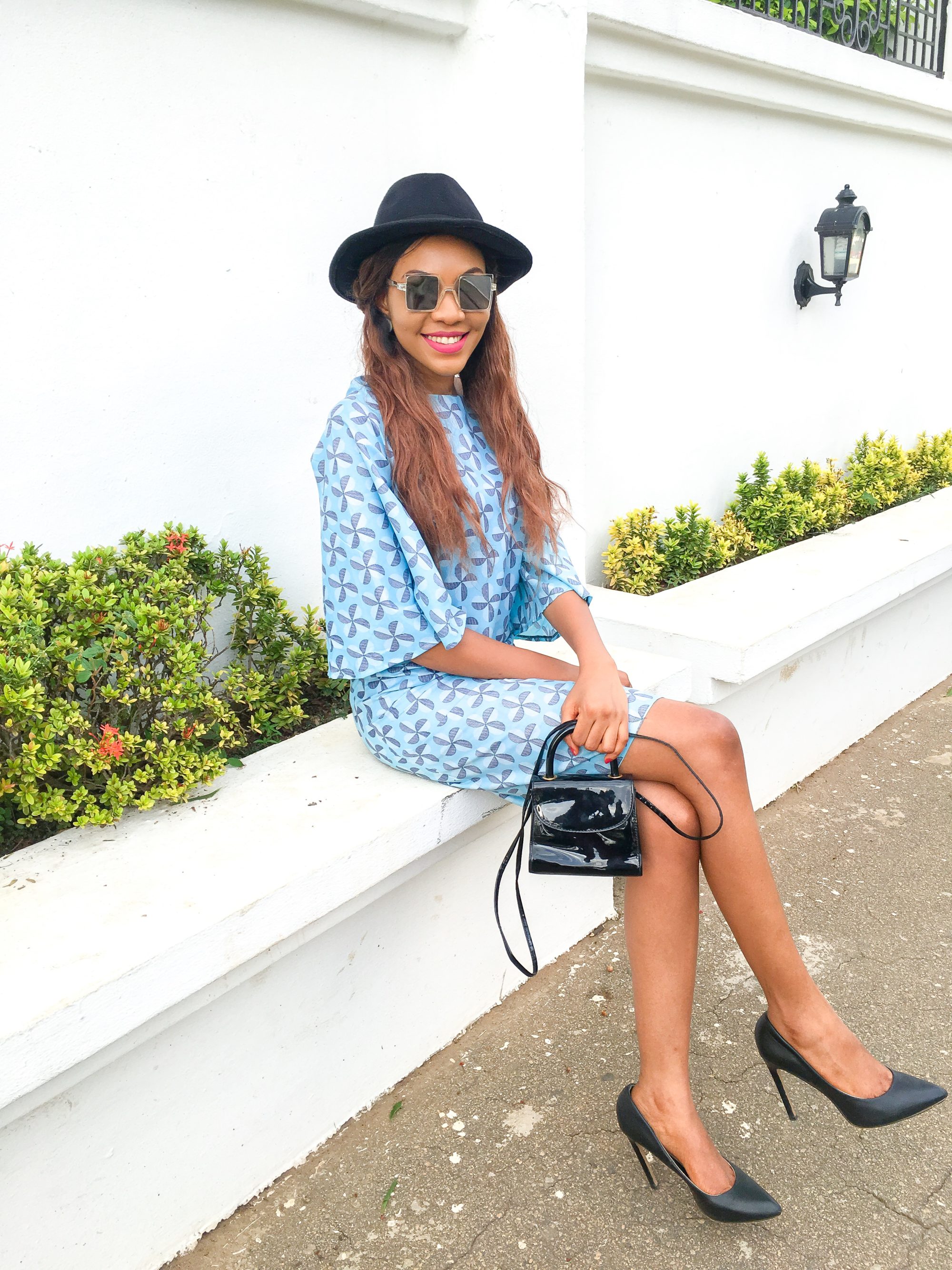 I was a bit skeptical about letting her sew a lot of Ankara styles for me at once. This was because at that time, I hadn't seen many items she made for other people. Being in the blogging world isn't easy and I'm all for supporting bloggerpreneurs whenever I can.
*I offer blog services (blogger to WordPress migration, Theme installations – Blogger and WordPress) and blog consultations, please support me!
My Ankara shift dress and the other Ankara styles arrived within a week and I was happy. This wasn't like the typical Nigerian tailor/seamstress stories I hear about. Giving fabrics and receiving them 100 years later.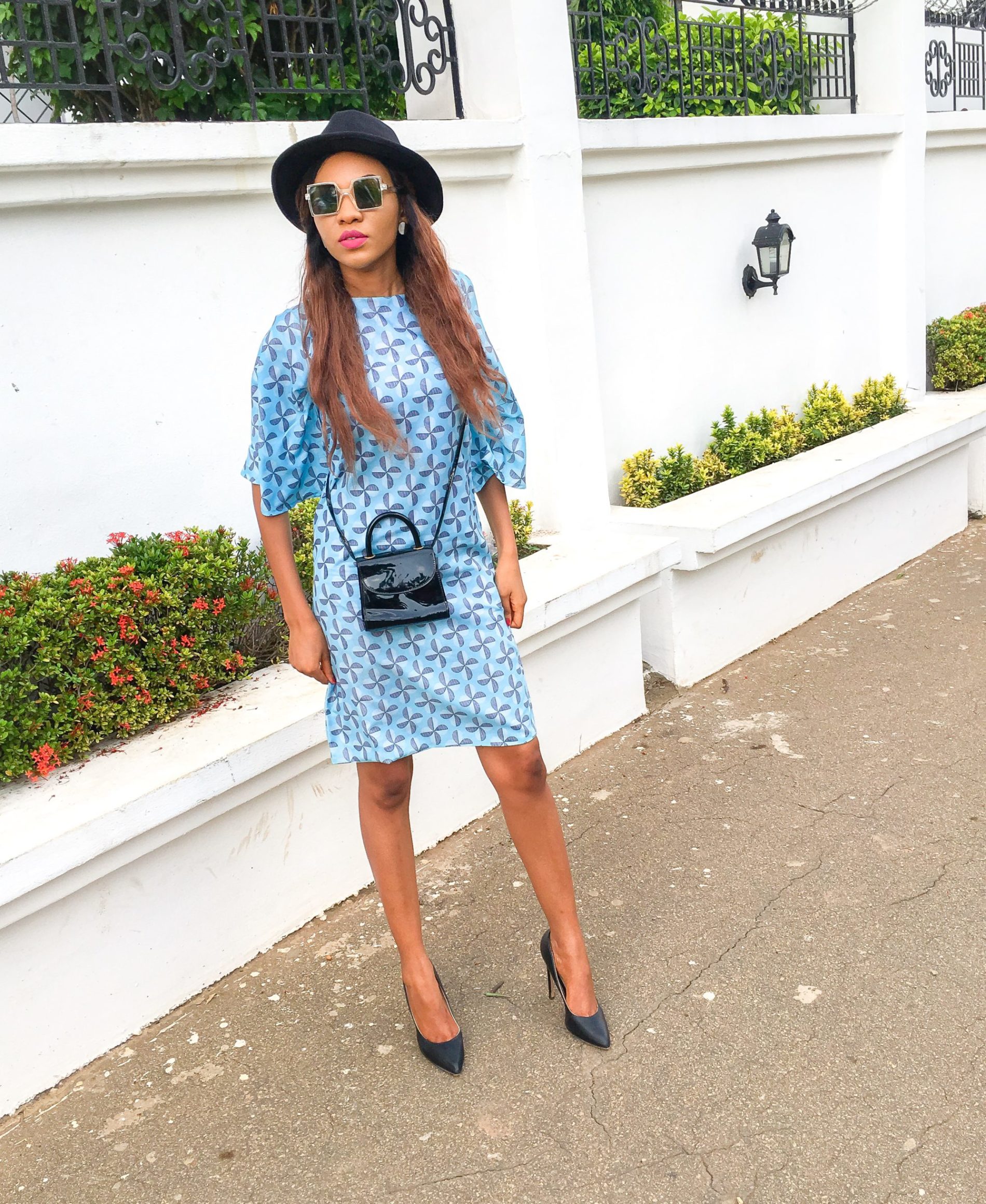 Anyways, I thought of the simplest way to style an Ankara shift dress and came up with this outfit. I chose a hat, a mini bag and heels to go with my shift dress while still leaving the Ankara dress as simple as it was intended.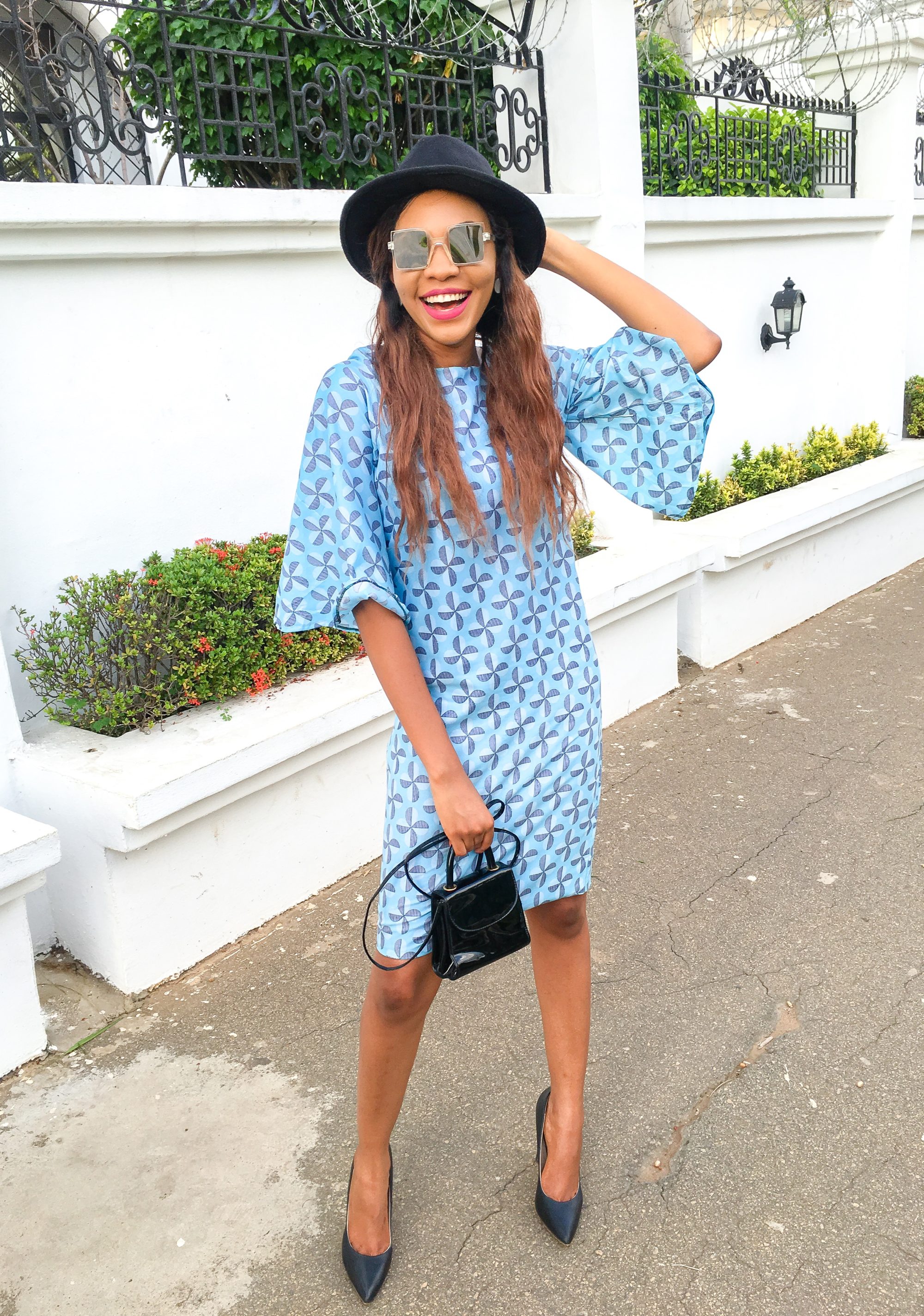 Can you imagine that this is my second mini bag since I wrote about the mini bag trend? I always write about trends with the hope of trying them 'soon'. These things happen! You plan outfits in your head, your bank account tells you otherwise.
I bought this mini bag with handle the same day I bought the Ankara fabric for my shift dress. While searching stores for beautiful Ankara fabric prints, we passed a woman selling lovely thrift bags and this caught my eyes. I paid about 1200 – 1500 naira for it. If only Dutse market was very close to me, I'll be a regular there.
This is how to make the most of an Ankara shift dress for a chic look!
Click To Tweet
I think adding a hat, a unique bag and stiletto heels to your Ankara shift dress outfit is the simplest way to make the most of your Ankara shift dress styles. What do you think? 
*P.S. All photos were taken on my iPhone after I struggled to set up my new Olympus camera correctly.
Wearing: Porshher Ankara shift dress || Truffle Heels || Thrifted Mini Bag (love this blue mini bag) || Polette Sunglasses (seen in this grey outfit and fall outfit)
Shop Your Ankara Shift Dress Online
Thanks for stopping by as always!
xx.
Keep Up With All Blog Posts