Whenever I go searching for moisturizing and anti aging skincare ingredients, Hyaluronic acid often pops up in most lists. It was only natural to try the Cosrx Hyaluronic acid intensive cream as I've confirmed that my skin loves Cosrx products.
After my success with the Cosrx all in one snail cream which still sits pretty in my 2017 skincare routine for combination skin by the way, I wanted something a bit more moisturizing. Actually, I wanted something slightly heavier than the snail cream for the days my skin feels very dry. 
I didn't want to go for just any heavier moisturizer as I already had the Diana Gen gold caviar cream. A worthwile ingredient targeting a skin concern was my aim. Even though I'm not in my 30s yet, being above 25 makes me feel like I'm ready to start preventing premature aging.
Hyaluronic acid is a natural substance produced by the body. It's widely distributed throughout connective, epithelial and neural tissues making it an important ingredient when treating joint issues. It is also a major component of skin where it is involved in tissue repair, reduction of wrinkles and other age-related signs.
Don't get me wrong! Using skincare products with particular ingredients alone isn't the only way to prevent or treat premature aging. Lifestyle modifications are necessary too (Read: The Red We Eat, What You Should Know). While using skincare products, it's also  very important to know the pH of skin and pH of your skincare products.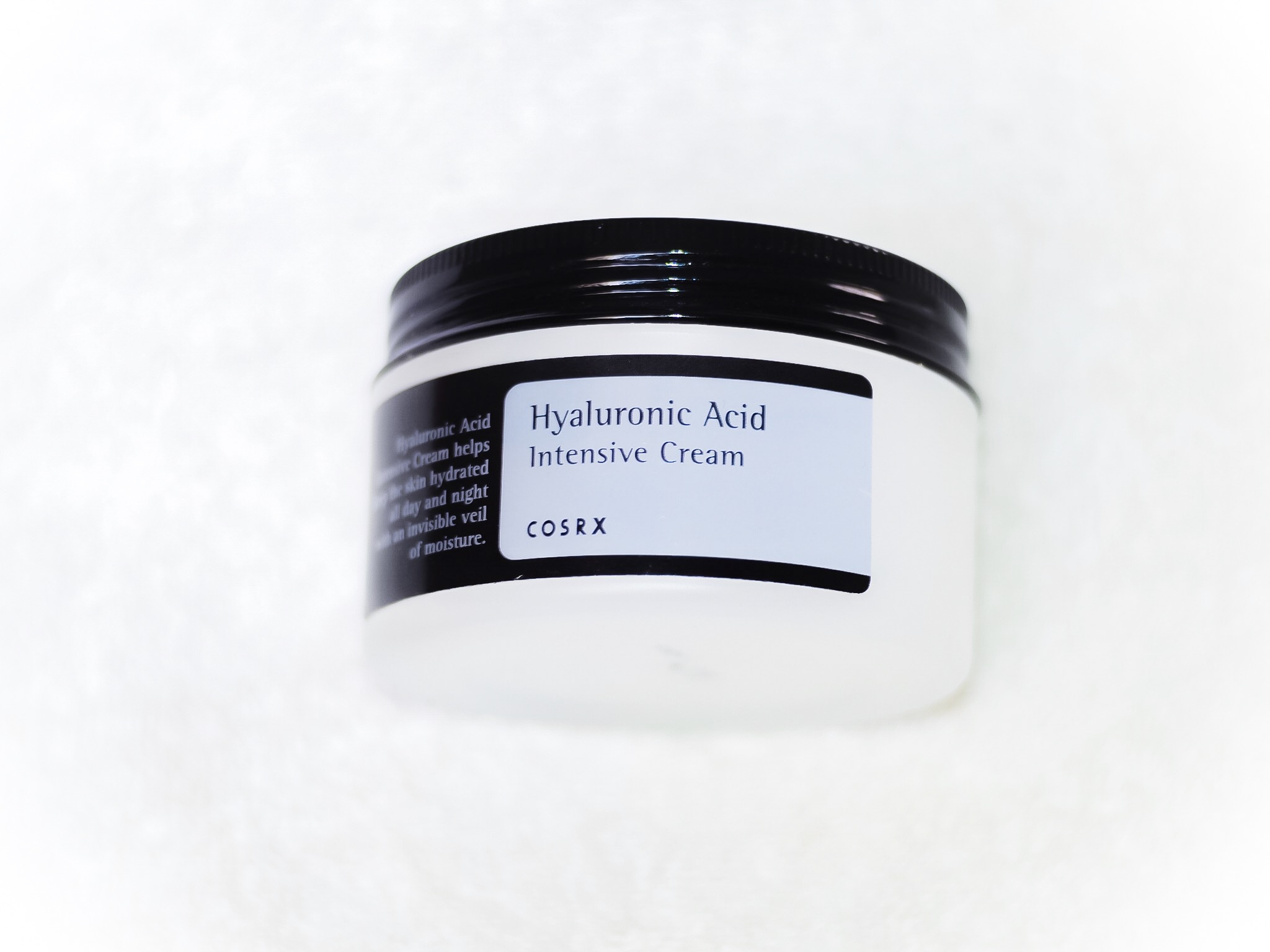 I tend to choose Cosrx products not only because of low pH levels (Read: Cosrx low ph gel cleanser review) but because they've gained a worldwide reputation for using safe ingredients in their products. Human beings tend to stick to their tried and trusted brands especially when it comes to skincare. I'm no exception.
Occasionally, I try other brands if their product description looks promising. Example is the Vprove rhodiola power cream intended for treating effects of temperature difference on skin. The end result of my trial can either be positive or negative which is fine and expected when a product is being tried for the first time.
Cosrx Hyaluronic acid intensive cream helps keep the skin hydrated all day and night with an invisible veil of moisture.
I wasn't sure what to expect from the Cosrx Hyaluronic acid intensive cream because it was a new product to me despite having tried other products from the brand. It didn't perform badly, so I'll be sharing my thoughts in this review.
This face cream completes moisture formula and let's your skin drink up vitamin tree water and hyaluronic acid. #skincare
Click To Tweet
Cosrx Hyaluronic Acid Intensive Cream Review
Packaging

Ingredients

Effect

Price

Availability
Summary
This is a nice moisturizing face product that I'll gladly repurchase. The trick is to use very little of it to avoid heaviness on the skin.
Packaging: the Cosrx hyaluronic acid intensive cream packaging is exactly like the all in one snail cream. The difference is their colors. Simple and hygienic. Sorry, I didn't get a photo with the spatula.
Ingredients: the list of ingredients are written in English on the pack. Main marketing ingredient is sodium hyaluronate but it also contains vitamin tree (Hippophae Rhamnoides water), glycerin and other moisture-retention ingredients. Cosdna full ingredients analysis shows 1-2 chances of triggering acne and/or irritation. 
Effect: it's really moisturizing. A little goes a long way. It has a thick white gel consistency that leaves a slippery feel for the first few seconds to minutes depending on the quantity applied. It takes more time to absorb than the lighter snail gel cream.
On first application, I took more than required and my skin felt greasy for some minutes. I had to share some of it with my shoulders and hands. With subsequent applications, I noticed a plump looking skin but I try not to use too much so as not to be too heavy for my skin.
If possible, I'll suggest you apply very little in the morning/daytime and increase amount in the night. This is because the Cosrx Hyaluronic acid intensive cream might be too heavy for your skin in combination with other products like spf and your makeup.
Price: this Cosrx Hyaluronic acid intensive cream is relatively affordable like the other products from the company. It costs $15 – $21 for 100ml. If you're using it as morning face cream, it should last a long time. I use it as night cream sometimes in place of the Cosrx nourishing rice overnight cream. 
Availability: When I said Cosrx has gone worldwide, I wasn't joking. It's available on most online Korean skincare stores and even available in-store in many cosmetic shops in different countries. Cosrx products are even available on forever21 and urban outfitters online fashion stores.
This Hyaluronic acid cream transfers abundant moisture and suppleness to flaky face. #kbeauty
Click To Tweet
Shop Cosrx Hyaluronic Acid Products Online
Amazon || EBay || Sokoglam || Jolse
Shop Other Cosrx Products Online
Have you used the Cosrx Hyaluronic acid intensive cream before? What about other Hyaluronic acid skincare products? Share with us in the comments.
Have a nice day and thanks for stopping by as always.
xx!
Keep Up With All Blog Posts