New month, new blog theme! I was casually discussing with a blogger friend recently about changing my blog theme for the year. Luckily for me few days after, the same theme provider of my previous theme – Schema released my new blog theme – feminine WordPress theme.
If you remember, I mentioned some of the reasons I chose Schema theme in my post on how to move from blogger to WordPress despite other fashion looking WordPress themes out there. I was excited to try out this new feminine WordPress theme because it was built for specific niches (fashion, beauty, lifestyle bloggers).
The theme comes with a lot of benefits, features and six predefined layouts to choose from. They include:
Default Layout – This is the basic layout that fits a wide range of feminine niches. The multipurpose layout is ideal for bloggers who want a beautiful, minimalist and uncluttered blog.
Fashion Layout – This layout is uniquely designed to impress every fashion lover out there with its simple elegance perfectly blended with classy matching fonts that redefine style
Trendy Layout – This layout is for bloggers who want to have a socially viral-looking feminine blog. The layout's look is aimed at connecting with the social media audience through blog content shares and likes.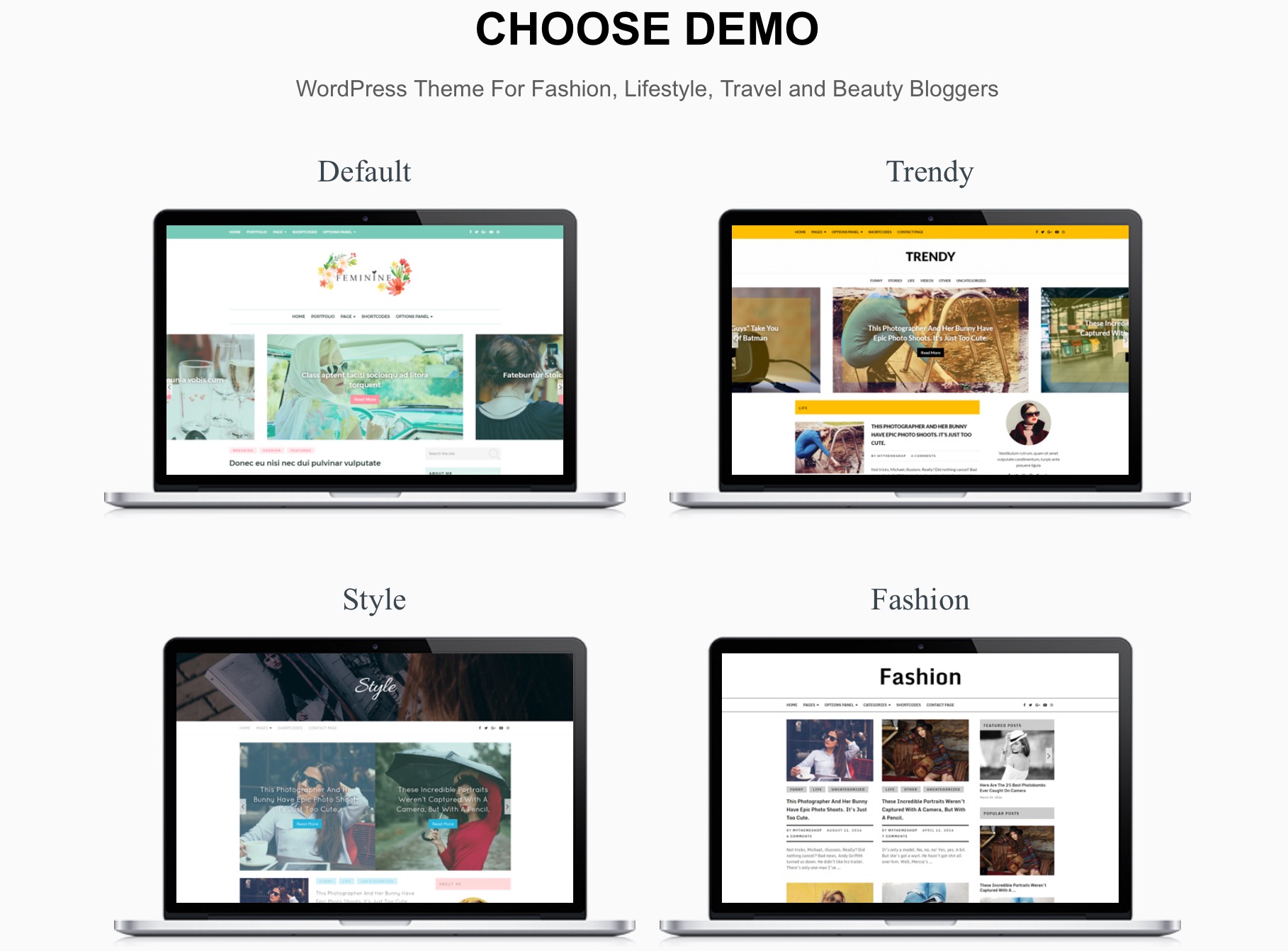 Style Layout – This one is polished and pristine with every pixel perfectly placed with a stylish finish. The layout is suitable for bloggers in style, beauty and showbiz blogging niches.
Gossip Layout – A clean layout that lets you establish a high-end gossip site which commands influence. This layout is packed with the necessary features to grow your popularity in the gossip industry.
Portfolio Layout – This is a creative layout ideal for professional portfolios but with a feminine touch. It is easy to use and visually appealing to use for a unique portfolio blog/website.
You can totally customize the feminine WordPress theme to look the way you want. Look at how mine looks on my blog after my customizations below. I couldn't fit in the homepage slider in this screenshot, so visit my homepage to see the slider in action.
Some Features Of Feminine WordPress Theme
Unique Theme Design: For your unique style and preferences.
3 Slider Layouts: Full width, boxed and carousel types of front page/home slider.
3 Post Layouts Options: 3 different post layout styles to choose from.
Instagram Feed Widget: To display your beautiful Instagram feed making it easier for readers to follow you. You just need to put your username.
About Me Widget: A quick introduction of the person behind the blog.
Signature Support: To sign off your blog posts with your unique signature.
Unique Portfolio Page: To display your creative and unique works.
Header Ad: To display ads from your ad networks.
Drag and Drop Header Sections: To easily customize your header section.
Show Single Post Views: To show how much people enjoy reading your content.
SEO Ready: To bring in more readers via search engine searches.
AdSense Optimized: To display your Adsense or other PPC ads.
Speed Optimized: To ensure fast loading of your blog content.
Off-Canvas Mobile Menu: To ensure mobile menu with a smooth slide allowing mobile visitors to navigate with ease.
Unlimited Color Options: To choose your preferred blog colors.
Ajax Loading: To ensure user friendly loading of your content.
Parallax Effect: To showcase images in an eye catching manner.
1 Click Installations: Easy installation to import the demo content and build your blog to look like the demo theme.
Author Box: To display author details below each blog post.
Woocommerce compatible: The ability to add a fully functional online shop to your blog.
See all features here.
My Feminine WordPress Theme Review
What I like: the additional features like Author box and show single post views that came with this theme. In my previous theme, I had to use the simple author plugin I mentioned in my list of must have WordPress plugins to display optional author box especially for my guest bloggers.
If you have lots of views on certain types of blog posts, turning on the show single post views would help brands to easily see your post reach and place you higher for possible brand collaborations with brands. It will also give you a quick report of how your post is doing before using advanced analytics to study your audience.
What I don't like: Absence of read more link on posts on the front page and the arrangement of post contents. I prefer the post title, post meta info, featured image, post excerpt and read more link in that order. These weren't included in the theme's core files but can be done by changing some codes on a child theme.
The support for this feminine WordPress theme gave me the codes to use and told me how to fix them using the codes on a child theme. I hope they include them in their next update or at least the option to select them if one wants. See the customized look below.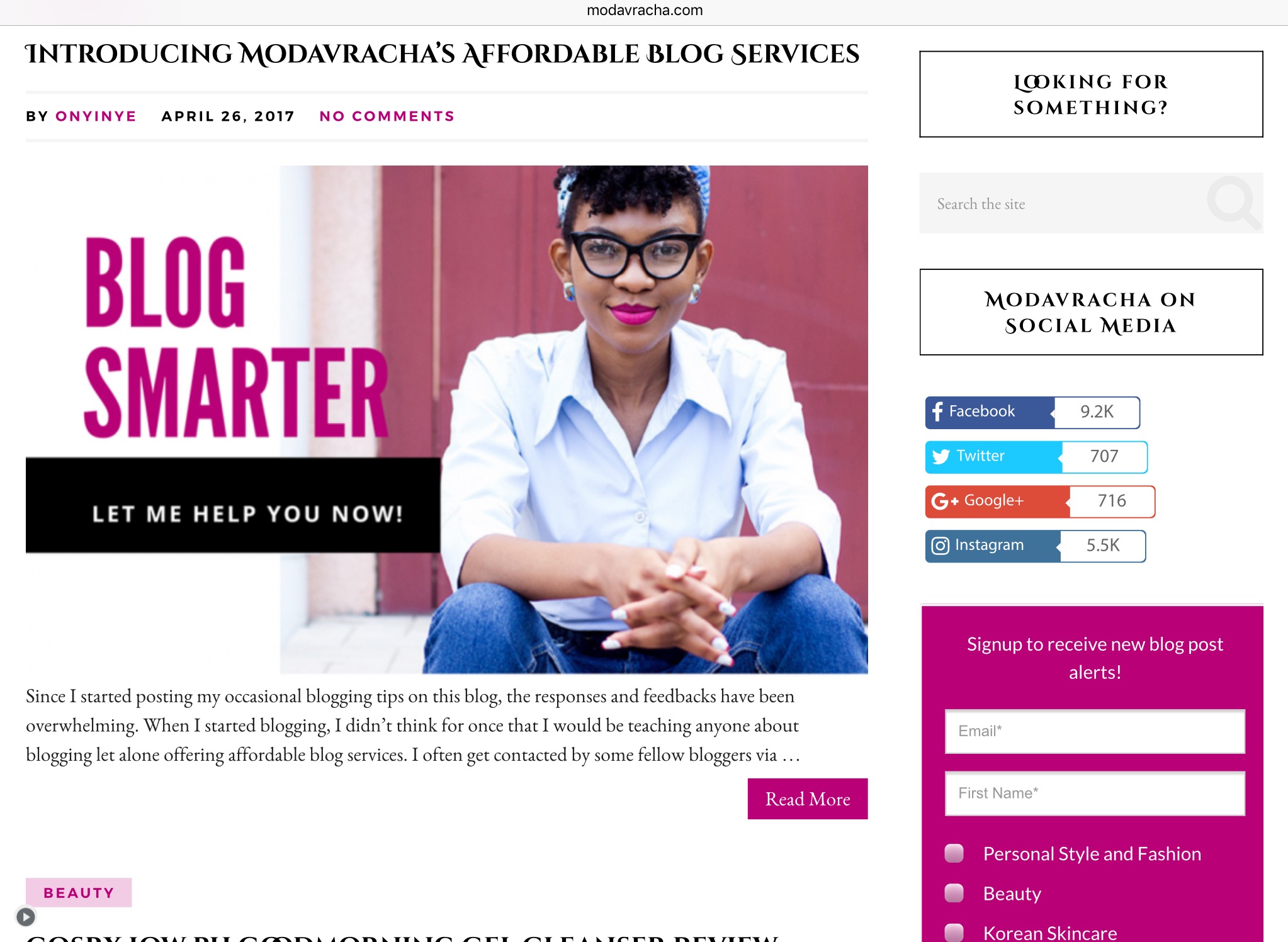 This theme is new and currently on sale for only $19. A steal if you ask me because the regular price is $59. Imagine buying a fashion and beauty WordPress theme that is Woocommerce compatible, SEO ready, Adsense optimized and more for only $19 plus 1 year free theme support.
I didn't waste time to try it out when i found out about it. Don't you just like this new blog look? Big changes happening on the blog, first was the addition of my blog services and now a new look, what's next?
Now will be a good time to buy this new premium and well built fashion WordPress theme even if you're not sure of changing themes. It costs only $19 with coupon: "Feminine19" till May 6, 2017. This is $40 cheaper than you'll get it later or any other well built premium WordPress themes really.
This feminine WordPress theme is Woocommerce compatible, SEO ready and Adsense optimized.
Click To Tweet
*P.S. This is a collaborative post. This feminine WordPress theme was provided to me for use and review purposes but all opinions remain 100% mine.
Do you like my new feminine and more fashion looking blog? Let me know what you think in the comments.
Thanks for stopping by as always!
xx.
Keep Up With All Blog Posts