During my stay in Lagos, I visited the Lekki conservation centre. This is a very popular destination in Lagos and Nigeria amongst visitors. Adventurous tourists would love the conservation especially because of the canopy walkway and the swampy forest around.
Getting to the lekki conservation centre was easy for me because I was staying in Lekki. Blogger babe Cassie came around and we took an Uber there (you can use my code for your first free uber ride – onyinyei71ui). The ride took about 10-15 minutes with minimal traffic. We got there around 4.00pm, note that – the center closes at 5.00pm.
On getting to the reception, we were told we had to wait for 30 minutes after payment to be led into the conservation by a guide. There were some foreign guys present when we got there who seemed displeased at something. We got to find out they were told the same rule. Cassie confirmed it was a new development too, the rule wasn't there in her last 4 visits.
We didn't have much of a choice than to wait for our turn. The lady at the reception told us that since we came close to their closing time, we wouldn't have to wait up to 30 mins. After about 10 minutes, a guide came to take us in.
We walked through the boardwalk for what seemed like an endless journey till we got to the beginning of the canopy walkway.
Cassie had to go wait for me at the end of the canopy walkway because she wasn't interested in doing the walk again. According to her, 'once is enough for a lifetime'. This was also her conclusion after experiencing Erin ijesha waterfalls few days to this day too. It was my first time visiting Lekki conservation centre and the canopy walkway was one of the reasons I visited.
What's the fun in visiting a conservation centre with the longest canopy walk in Africa 22.5 feet above ground level and not trying it? Being a lover of adventure while traveling, I couldn't wait to begin the canopy walk, well that was until I got to the 3rd one and was told 4 more left to go!
I stopped to take some photos and the others in the group (the foreigners we met earlier) left me and continued. They were with the guide (Moyo) too so, I had to climb the first level alone. I didn't know what to feel the moment I started the walk. Being alone made it kind of easy as there was no other weight to sway the canopy more than the wind was already doing.
After I managed to get to the resting point (a tower), I saw Moyo waiting for me to complete that level. It felt good having a resting point, somewhere to catch your breath and ask yourself why you were doing it in the first place or cry as the case may be. This walk isn't for the faint of heart! Don't even bother if you're acrophobic, this isn't the walk to conquer your fears. Luckily for me, he was good with cameras and wanted to keep taking different shots of me. I gladly left my camera on his neck so as to get enough nice shots from my experience at the lekki conservation centre.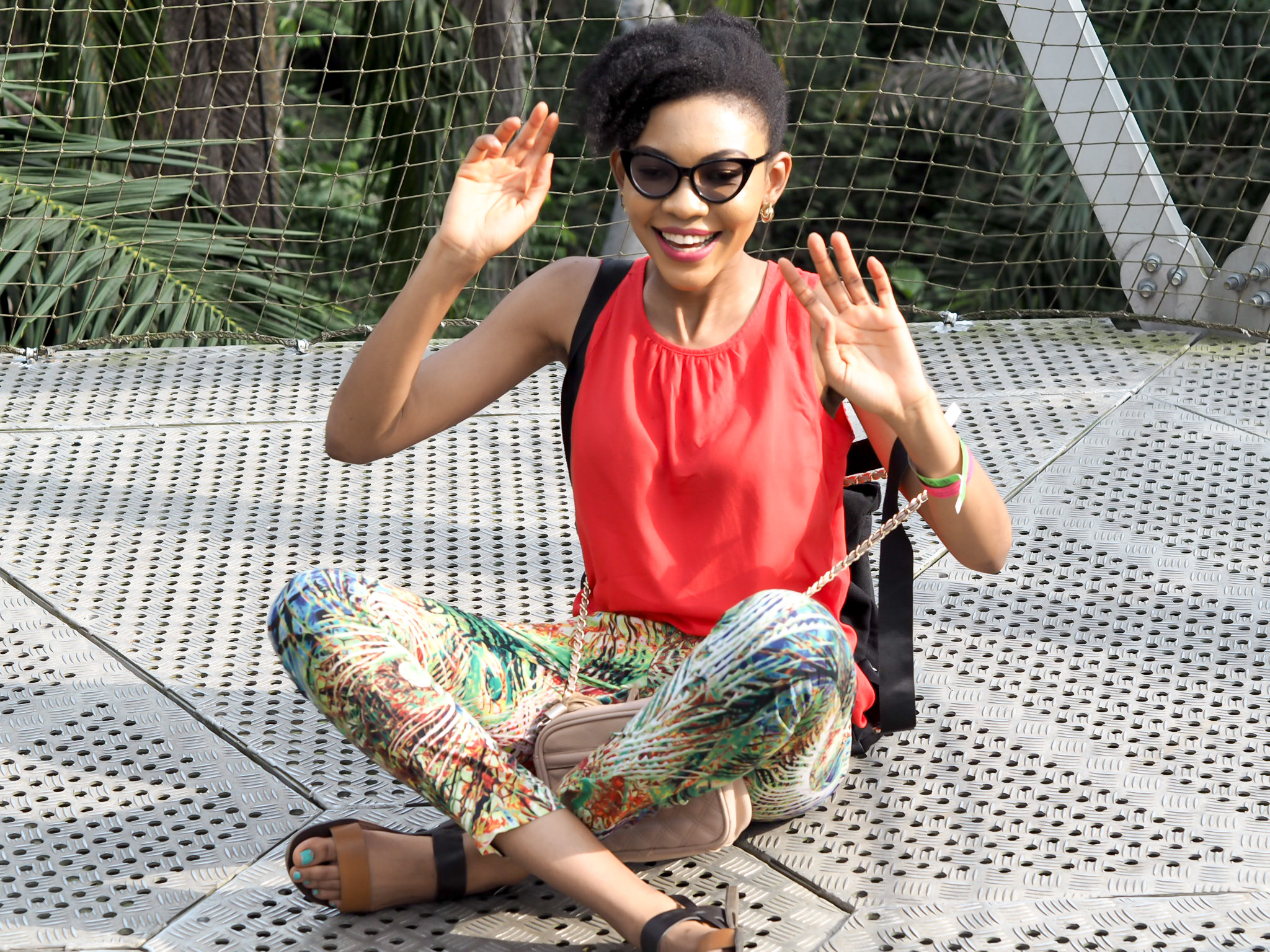 Some Things To Know About Lekki Conservation Centre
Open between 8.30am – 5.00pm daily including weekends and public holidays.
Has a canopy walkway reputed to be the longest canopy walkway in Africa which is 401 meters long, 0.6 meters wide and suspended 22.5 feet above ground level.
The area covers 2km, offering nature walks , family huts, floor games like chess and draught, tree houses and swamp look out areas.
There are fish ponds with koi and tilapia fish, barbecue joints and serene environment.
Admission into the conservation center is 1000 naira per adult, 200 naira per child 1-10years old and 300 naira for 11-17 year olds.
Use of the canopy walkway costs an additional 1000 naira for ages 14-65 year olds per head.
Group visits of 30 individuals costs 25,000 naira.
There are a lot of other information on their website. Some that I didn't even get to see in almost 2 hours that we spent there. Back to my experience at this popular conservation centre in Nigeria. After about 2 or 3 levels on the canopy walkway, we (the guide and I) saw a chic making her way towards us alone. We waited and she turned out to be good company.
At the topmost level on the canopy walkway, you can see a beach. I'm not sure which beach it is but the view from the top looks good.
After successfully making it down, we met up with cassie and continued towards the other parts of the conservation centre. It turned out our new companion's name was Sandra. Cassie found another namesake besides me (Onyinye). Our guide Moyo continued with us, very nice guy! shout out to him for taking almost all my photos.
The longest canopy walkway in #Africa is in Lagos Nigeria! Find out more! #travel #nature
Click To Tweet
We passed through the boardwalk and some footpaths till we got to the area with the huts, floor games and so on. The first thing that caught our attention was a wooden chair in the middle of what looked like a grazing field. Cassie and I immediately asked what it was for and informed moyo that we would like to get there. He assured us the place was safe enough for us to go in and take photos on the chair.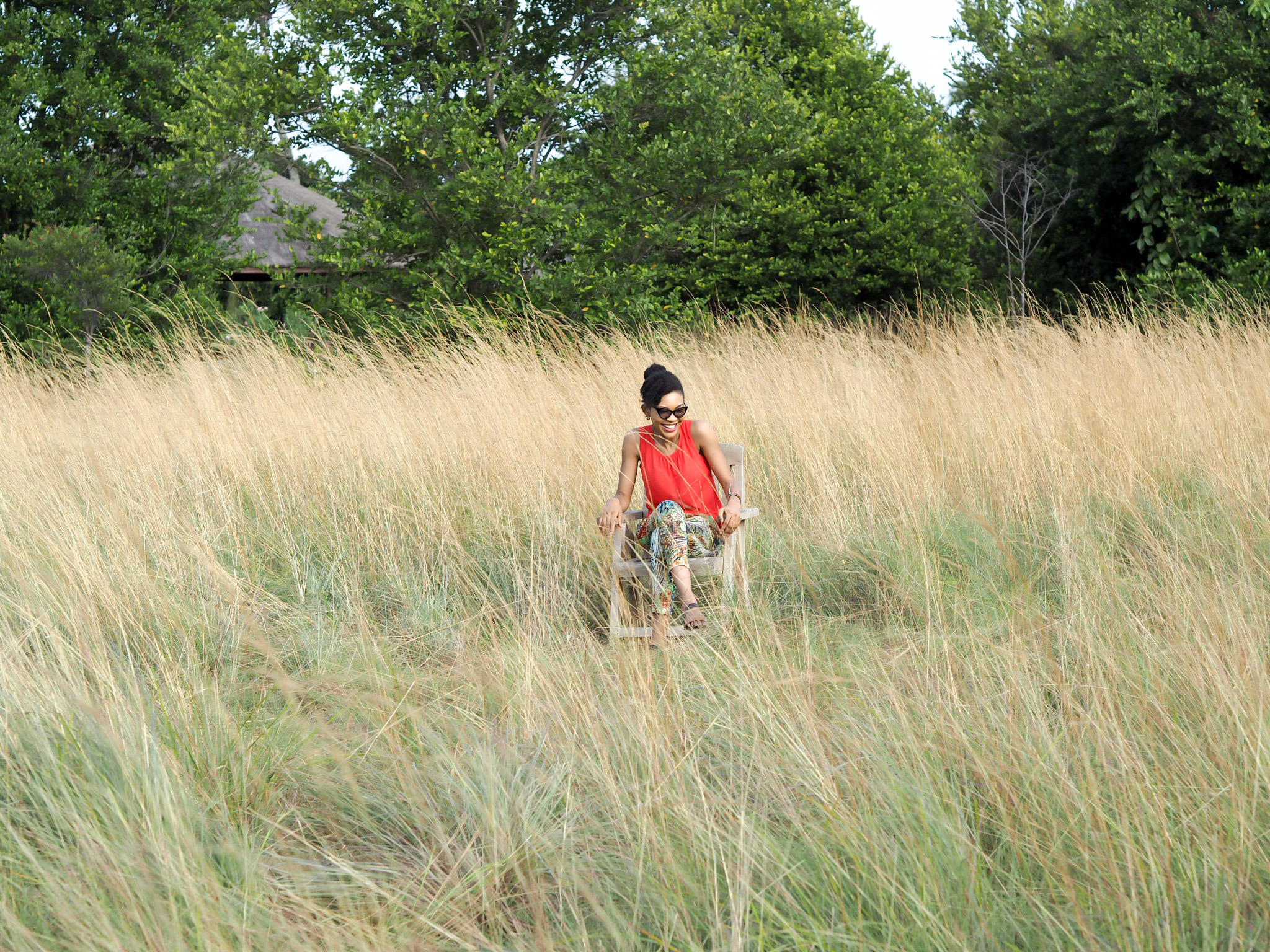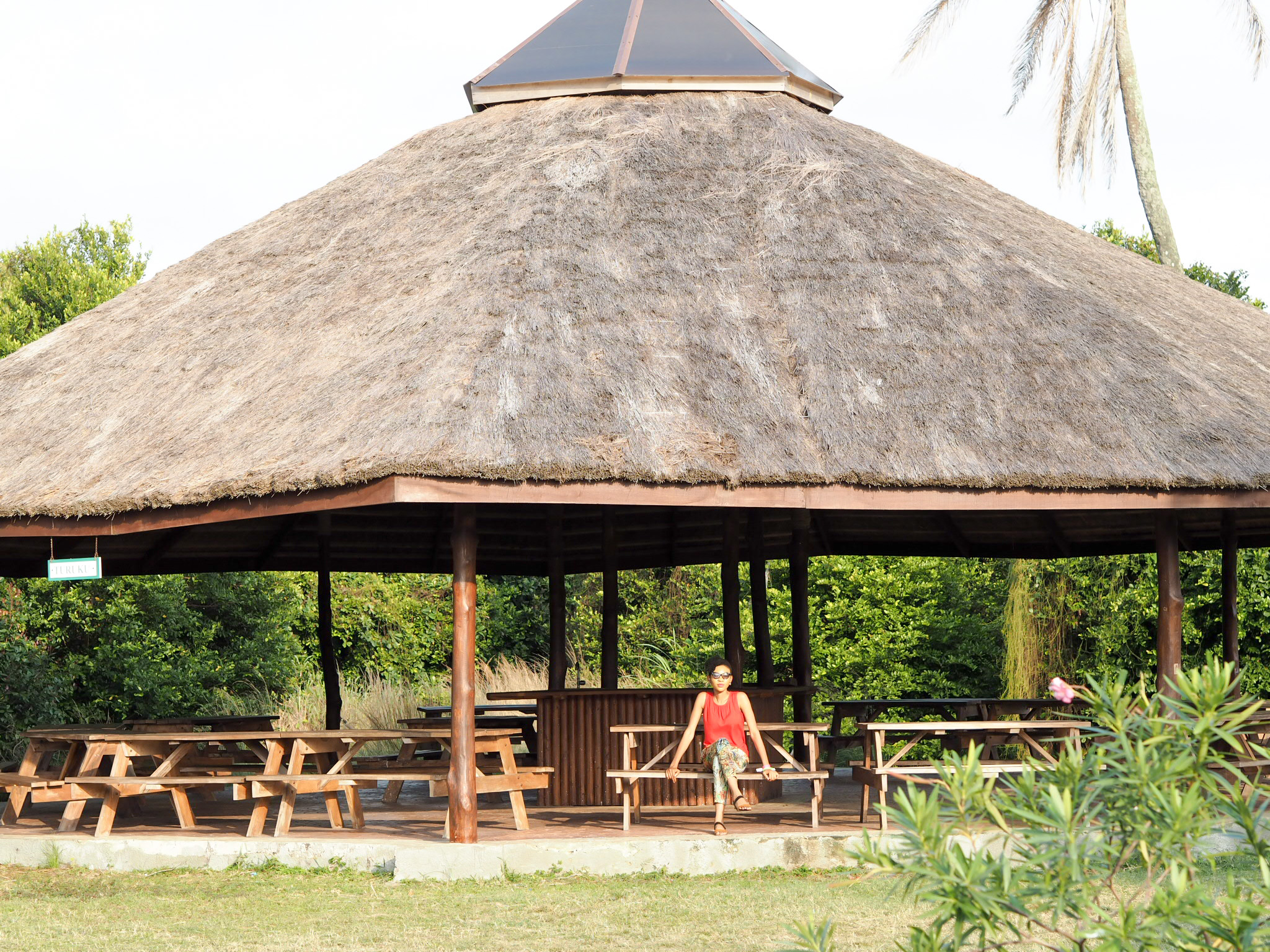 Turning to my right, I saw a suya guy. Best moment! I didn't expect to see any sellers inside the conservation centre especially as we visited close to the closing time. I checked out the meat and jokingly asked if the meat being sold was caught in the conservation. He served me my order and we continued our tour while enjoying the suya.
We were rounding up the tour so, there wasn't a lot to do anymore. We walked around the floor games area, the fish ponds and the huts. Some looked more like they were made for 2 people only. So, if you fancy such dates, lekki conservation centre would be an ideal place for your date. Just go with what you will eat though.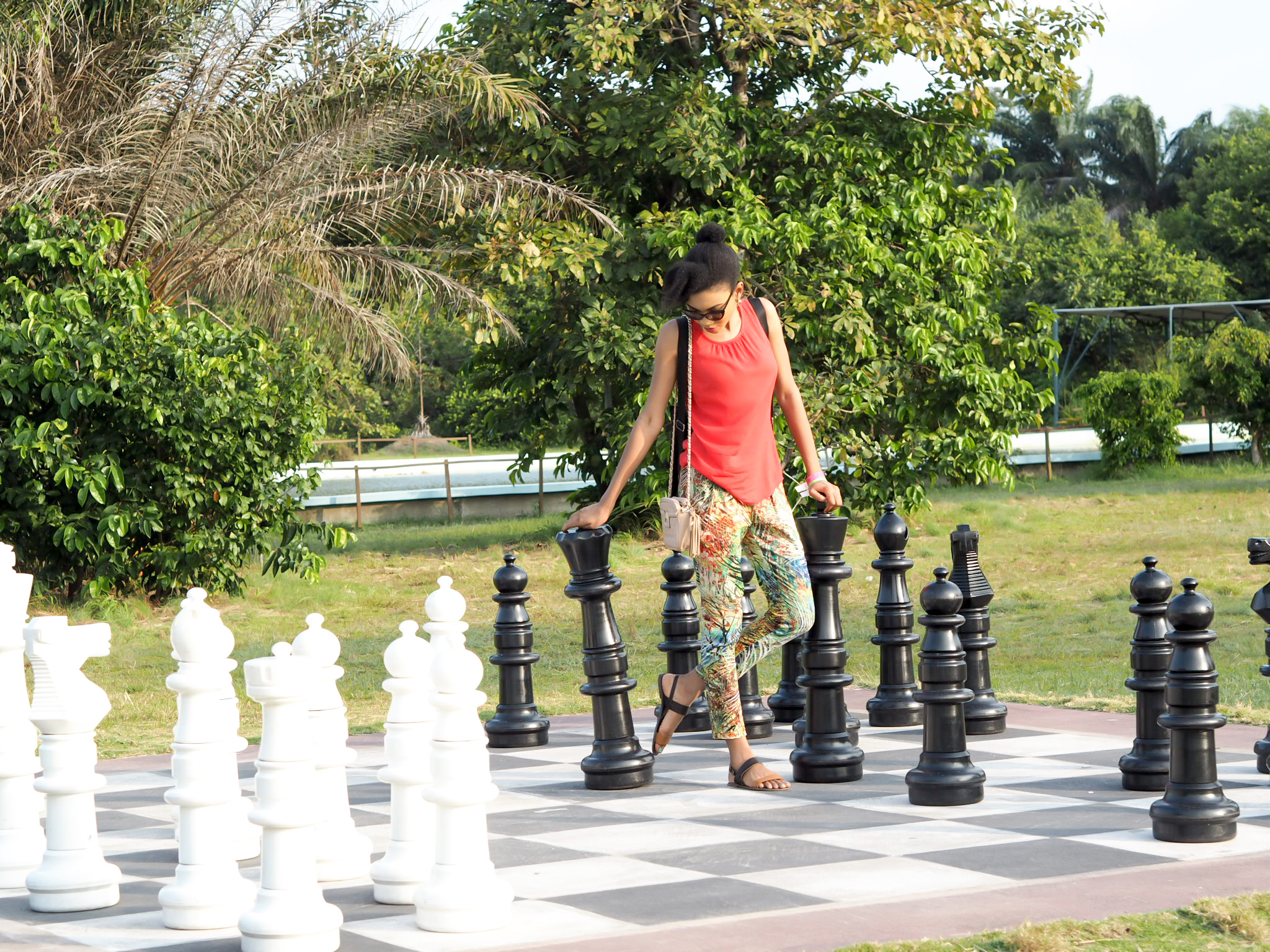 During the walk back, I was feeling fulfilled…George or perhaps Georgina of the jungle now. I made it through a 401 meter canopy walkway which was 22.5 feet above ground level and walked through swampy areas with a stretch of trees with animals obviously living in there and monkeys swinging from tree to tree.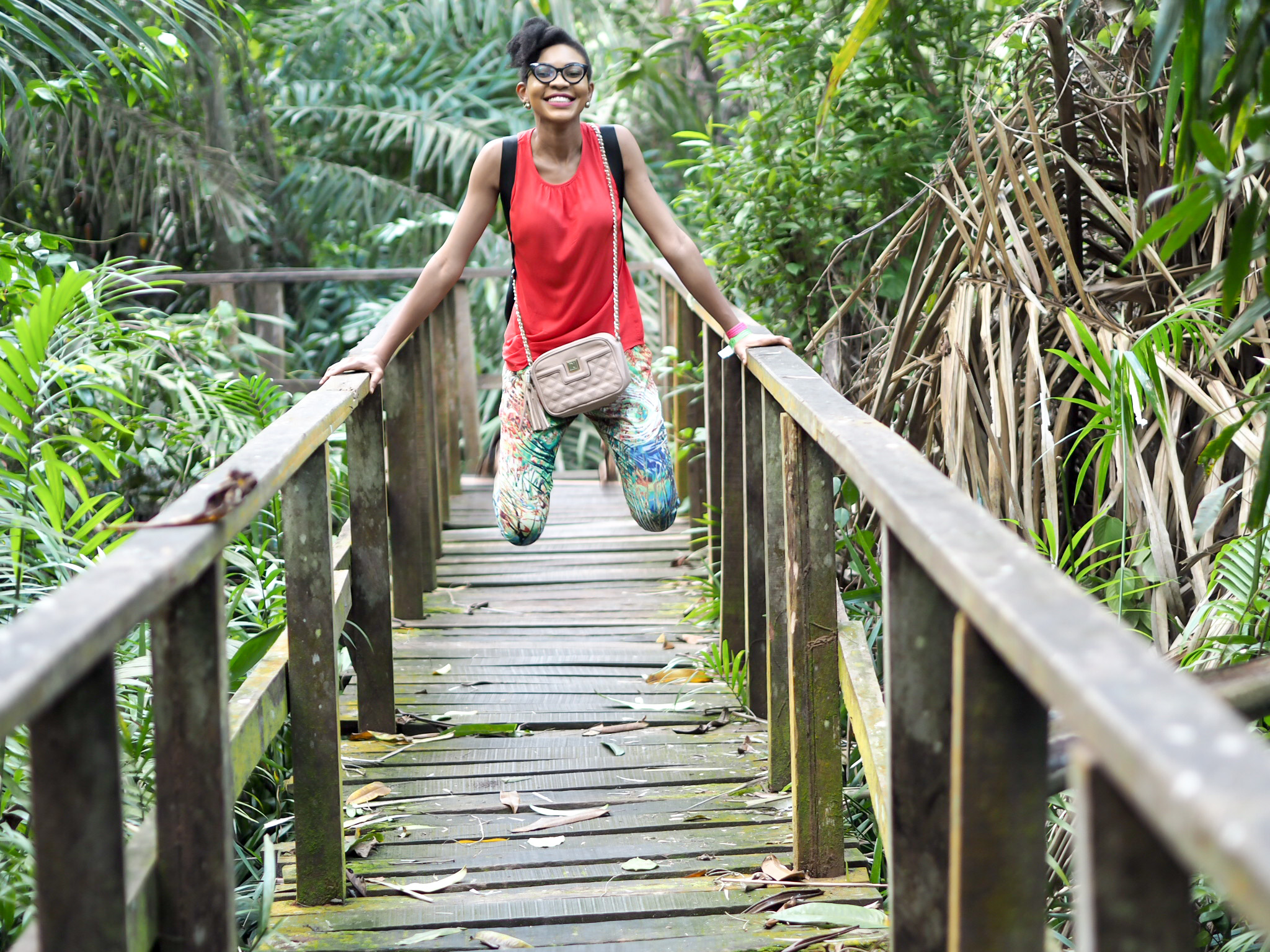 Free Tips For Lekki Conservation Centre
Go when there's little or no sun to properly enjoy walking about.
Leave your camera with a guide if possible (show him how to use it if need be), you'll get better and more photos this way.
Go with a backpack and put some snacks and water inside. If you must go with any other type of bag, make sure its a cross body so that it would be easier for you to walk around freely.
Wear comfortable footwear.
Go with at least 1 friend for laughs. Interact with people you meet there.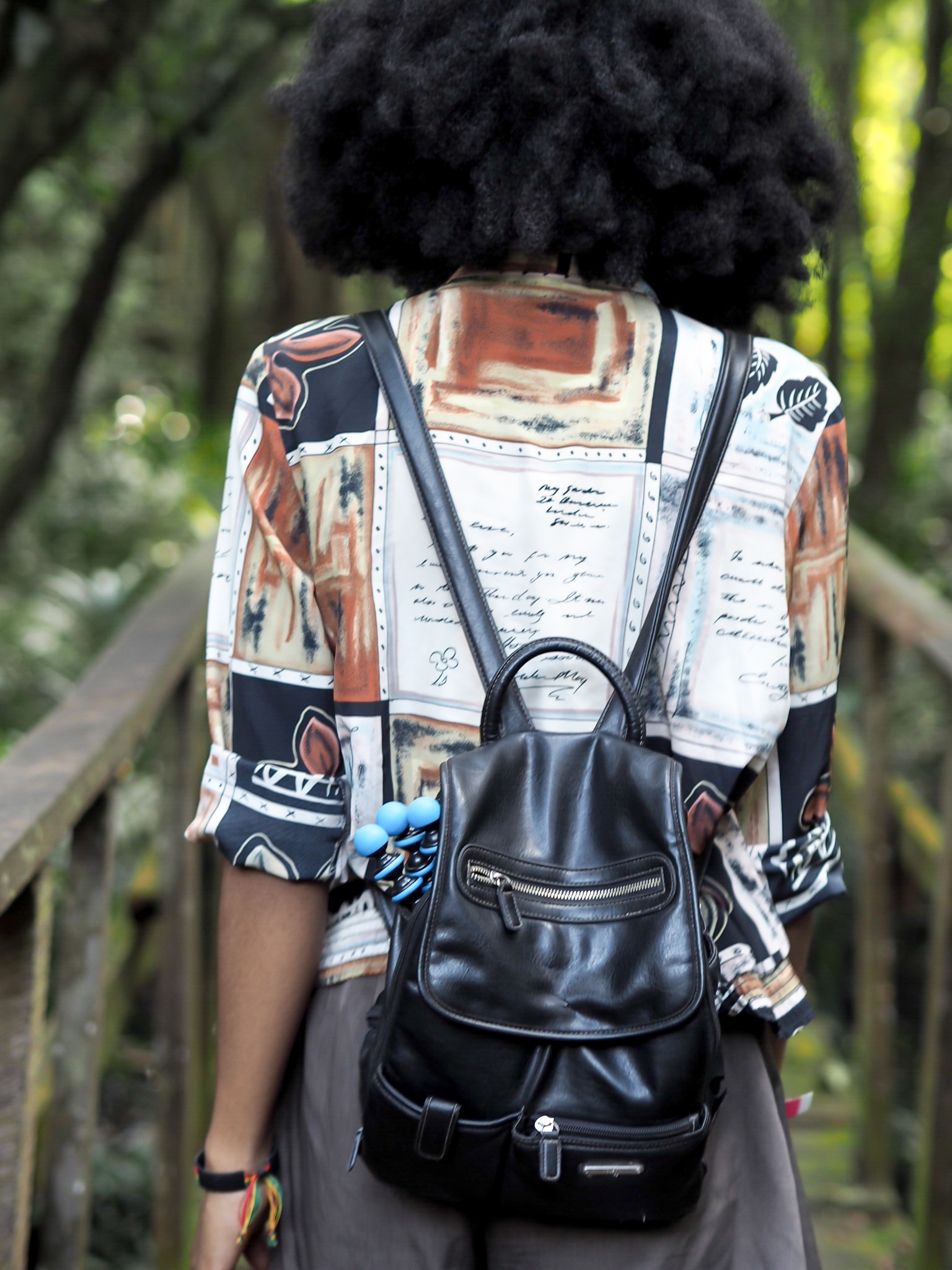 Looking for where to visit in #Lagos #Nigeria this week, head to lekki conservation centre. #Travel
Click To Tweet
Shop My Look To Lekki Conservation Centre

Have you visited lekki conservation centre before? What was your experience like? Dear Lagosians, What are other fun places to visit in Lagos?
Keep Up With All Blog Posts