Do you live in Abuja? What are some things to do in Abuja you do for a change? For me, going to sunset drive, an outdoor cinema in Abuja is definitely a new way to hang out in Abuja.
During weekends, what to do in Abuja especially for students and workers wouldn't be complete without a visit to the cinema. So, why not visit an outdoor cinema in Abuja for a different cinema experience.
If you're the type that never find people to go with you to the cinema and you feel awkward sitting alone, you can drive to Sunset drive outdoor cinema in abuja and you won't even notice that you're alone.
Sunset drive is the latest cinema in Abuja. They opened to the public on October 13, 2017. Since then, it's been one interesting movie after another.
About Sunset Drive Outdoor Cinema in Abuja
It is a newly opened drive-in cinema otherwise known as an open-air cinema or outdoor cinema in Abuja.
Location: Unique world, Accra street, Wuse Zone 5, Abuja. Behind Grand Ibro Hotel.
Opening Days: Wednesday, Friday, Saturday and Sunday.
Price: 1000 – 1500 naira per car or 500 naira per person (pedestrian). Free entry on Wednesdays. Tickets are available on site.
Movie Time: 7.00pm prompt.
Food Availability: You can buy snacks and drinks in the premises. No alcohol.
How To Watch Movies From The Car
Drive in and park at a good spot for you and your car.
Turn off your lights.
Tune your car's radio to 96.5 fm for audio.
Enjoy your movie.
It's really that simple. If you don't have a car, just show up and you'll be hooked up with one. Having a foldable chair and a radio device can work too. If you prefer to sit outside a car, you can tune in to 96.5 on any radio device you have.
Fumigation is done regularly but be sure to wear appropriate clothes or bring a cover up if you will sit outside a car. Same with other parks and outdoor places with grass.
Since the opening of this open-air cinema in Abuja, they've screened a lot of 2017 movies: Girls trip, The house, Girls night out, hitman's bodyguard and a lot more. To know the movies screening for the weekend, follow them- @sunsetdriveng on Instagram .
Wouldn't you rather do something different in #Abuja over the weekend? #outdoorcinema
Click To Tweet
My Abuja people like 'coded places', lol. Not having to get down or walk about is an added advantage for people looking for privacy. Except for maybe the person selling ticket at the gate and security men, no one else might even see people in the cars. So, if you're hiding from prying eyes and monitoring spirits, go to this cinema.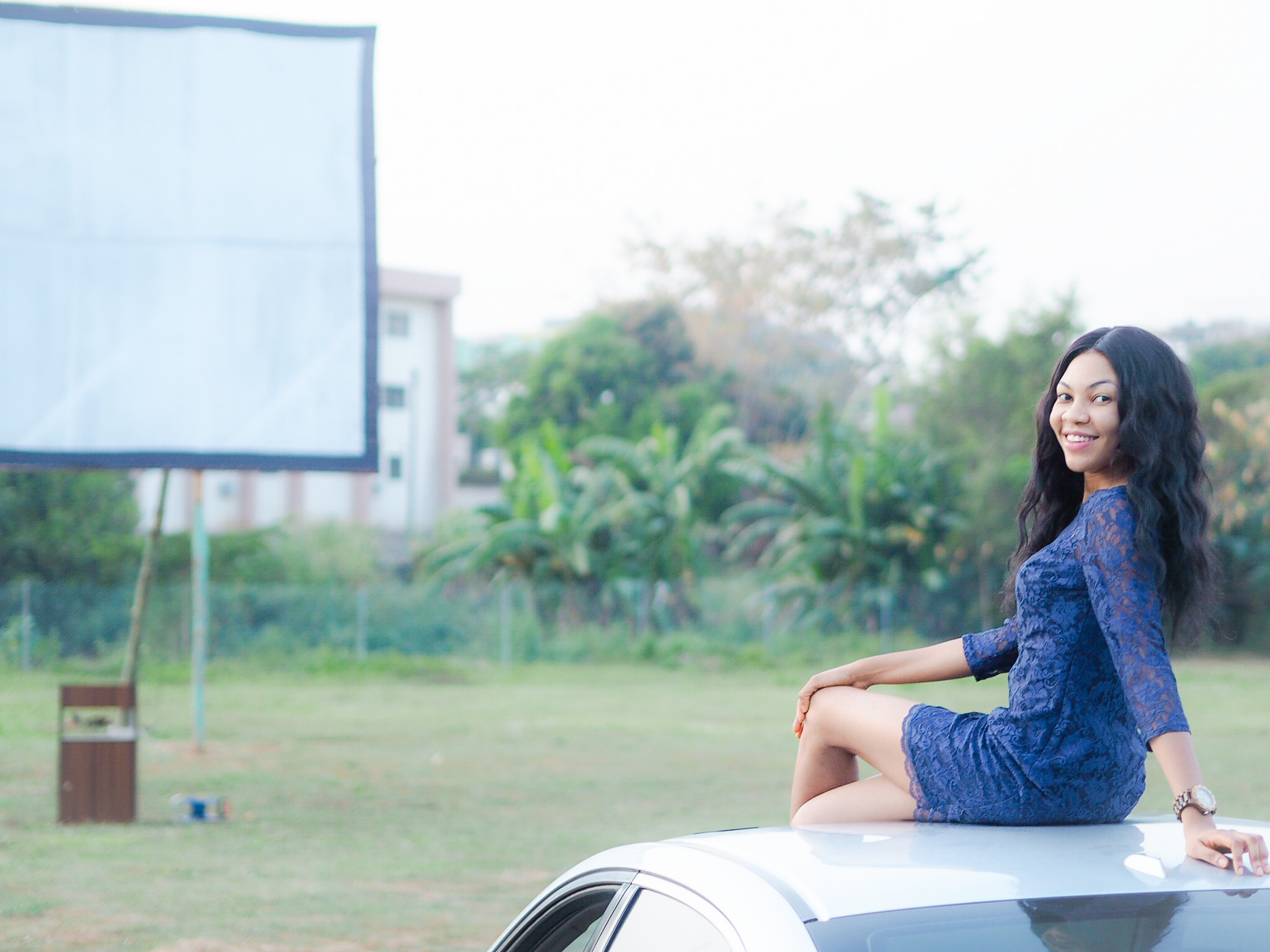 While I was there to see the 2017 American comedy film, The house last Wednesday, I took these photos to share with you. I couldn't take photos after bowling at Trukadero place the 1st time I was there.
What I Thought About This Outdoor Cinema In Abuja
It's so easy for unusual businesses like this to pack up because it's difficult to keep Nigerians entertained. I love the concept of an outdoor cinema in Abuja and will keep rooting for them.
Have you been to this outdoor cinema in Abuja? What did you think? Any suggestions of what they need to improve, add or subtract?
I'll love for them to get colorful mats with atleast one radio device so that friends can have mini picnics while enjoying the movie without the confinement of a car.
Here's a great outdoor cinema in #Abuja for a different cinema experience. #driveincinema
Click To Tweet
Your feedback will be greatly appreciated. Let's discuss this outdoor cinema in Abuja 👇🏿.
Keep Up With All Blog Posts