It's my first outfit post in 2018, yay me! I'm proud of myself for finally putting together an outfit post. This is because I actually wore this yellow ankara outfit to Jazz night with Camille Thurman in January.
The Jazz night was organized by the American Embassy in Abuja & Play Network. It took place at the pool side of Transcorp Hilton on January 25, 2018.
Jessica Bongos opened and then Camille Thurman and the Darrell Green Trio continued to treat everyone to good jazz music. This was part of their African tour courtesy of the American Music Abroad program (AMA) and U.S. Mission Nigeria. 
You know how it can be with night events, get all dressed up, plan to take bomb photos and you get there, voila! poor lighting or no one else is taking photos of themselves. That was my story that day.
I went with my friend/colleague @zeezeecruise (on Instagram). We were happy it was the last day because we were getting a short break due to fumigation of the hospital. Any house officer will understand the joy that comes with even 1 day off work and we got 4.
I think I left work that last day at 12.30pm after the last patient in the ward had been referred. So, the time for the event (7pm) starts approaching and I'm checking up on her and she says, 'I'm having some car trouble but let's see what happens'.
In my mind I'm like, 'really though, the one day i get dressed (in this beautiful yellow ankara outfit) to go out and just destress from all of the work shenanigans?
I just said 'okay, I'll be waiting to hear from you' and remained calm. Some minutes later she tells me she's on her way.
Yellow and blue outfit never looked better, check out this chic ensemble.
Click To Tweet
Finally! I took my stuffs (purse and camera) and we headed to the jazz night. On getting there, it was as though the whole Abuja was in Transcorp (for different reasons). 
To make matters worse, the ongoing renovations or additions, can't even remember which they're doing made the entrance into the compound look so busy with no proper road directions especially at night. Impatient drivers expecting you to fly or disappear with your car because you can't find a parking spot and where they're going is more important than where you're goin.
After about 2 or 3 U-turns, we finally started going from one part of the car park to another, looking for a parking spot. It was so bad that we considered leaving, I mean, after showing up in my clorful yellow ankara outfit? That would have been sad. We eventually saw a security guy who helped us to find a spot away from the main car park.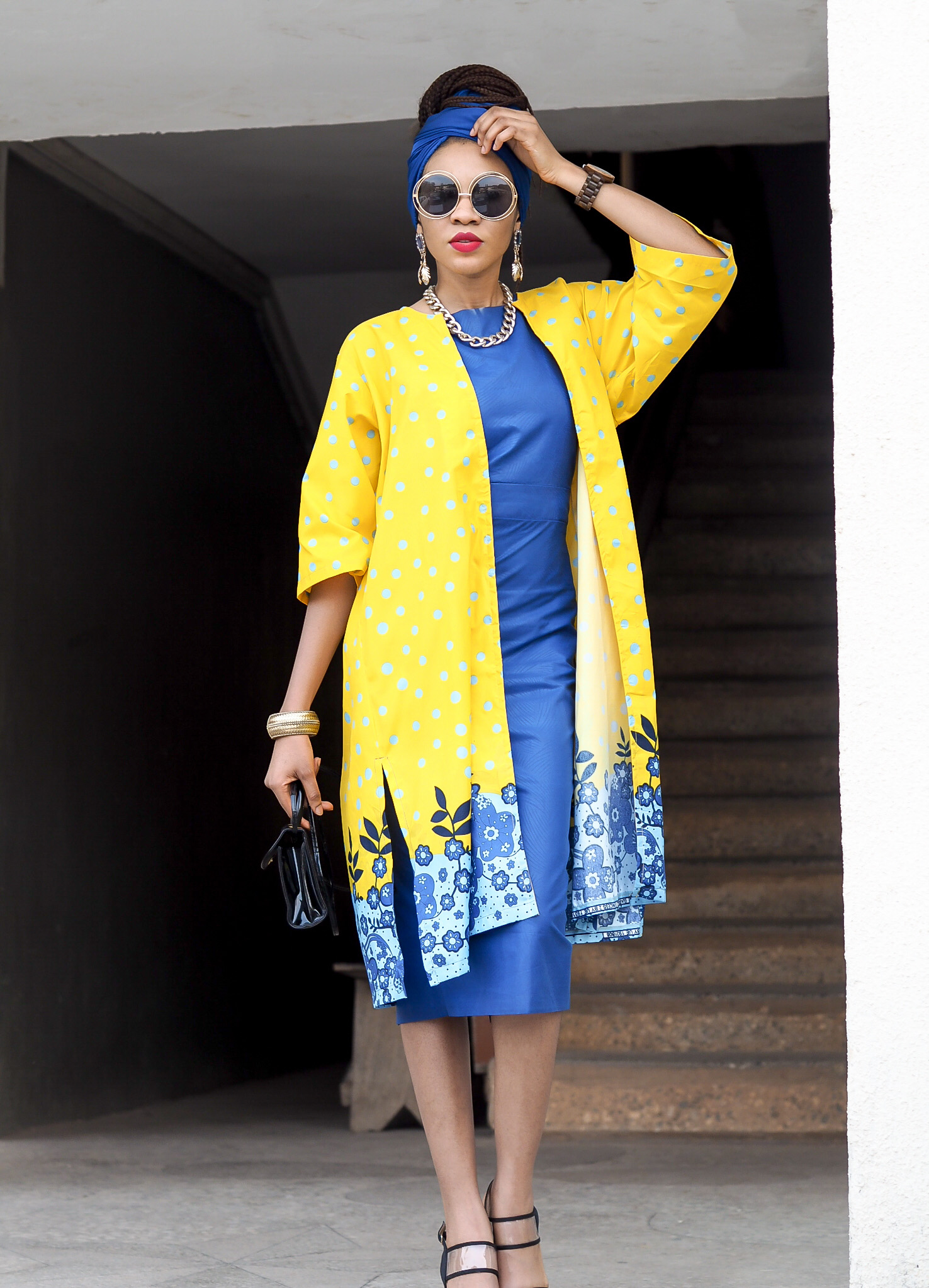 Thankfully, we made it at last. We channeled our anger away from the event by discussing some of our work moments (the good, the sad and the downright ugly) while walking in. On getting to the pool side, we were told the tables were occupied, only single seats remaining.
In my mind I was thinking, all these stress just to destress? Plus they hadn't even paid salaries at that time, well, good thing there were no more tables to tempt me into buying unnecessary food or drinks, lol. Anyways, we had a nice time and left after about 2 or 3 hours to finally start the 4 days off work.
For the jazz night, I didn't have my sunnies on and my earrings were large colorful hoop earrings not the one in this photos. I looked good if I do say so myself and couldn't afford not to take photos. Some days later, I got the time to take these long awaited photos.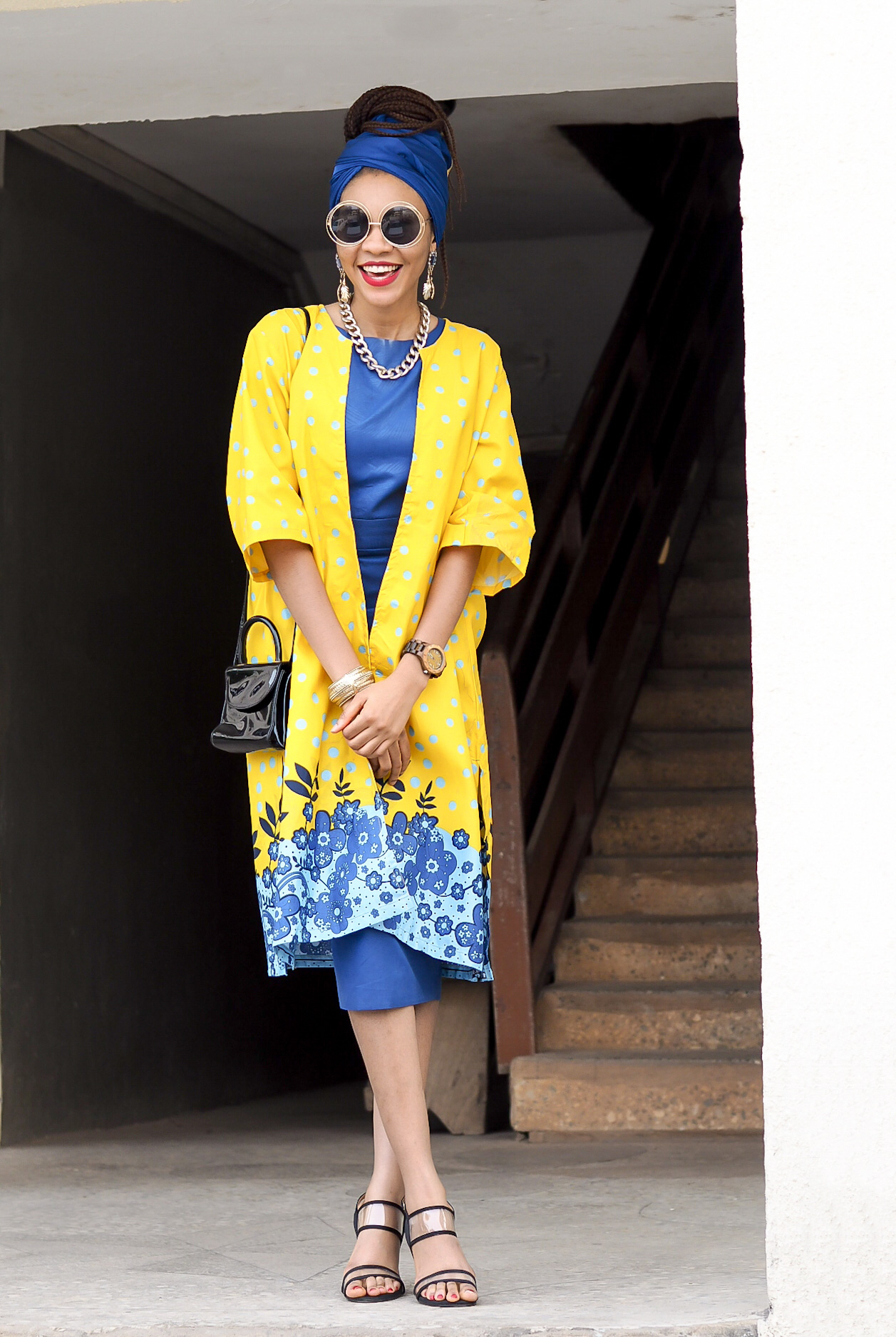 This blue dress is actually the same blue dress from my kente cape outfit. I loved how it matched the yellow Ankara kimono perfectly. I was going for urban chic with an African twist, do you think I did well?
This is not an outfit inspiration for what to wear to a jazz night in Nigeria. Honestly, my yellow ankara outfit was more of me trying to dress up and have a classy hang out because it was beginning to feel like my social life was inexistant despite having different casual outings almost weekly.
Get the look:  Sunglasses | Earrings | Necklace | Dress | Kimono | Shoes | Bag
I really want to go out more this year, meet new people, network, attend fashion events, create more, collaborate more, make money moves and just live life as it should be lived. Who else is with me on this?
If you must wear yellow and blue, this is how to do it right! 🙌🏿
Click To Tweet
Thanks for stopping by as usual, till my next post.
xx
Keep Up With All Blog Posts