Yesterday, I attended Shop & Play's Art Lovers event wearing a gorgeous 2 piece trouser set from Precieux By Chinnie. I thought I already had the 2 piece outfit trend on lockdown after rocking these (convertible denim dress outfit, two piece trouser set outfit, kimono shorts outfit and kimono trouser outfit) back to back.
This 2 piece trouser set might have easily become my favorite. Surprisingly, when Elizabeth from The PR Boy set up a fitting with the creative director of the brand. I thought the top was too big for me and that was the smallest size (UK 10) on the rack at that time. It was also the only look that fit right into my personal style. 
I was going to adjust the top to make it a bit more fitted but changed my mind after being convinced by everyone that saw the outfit on me. Looking at the photos now, I'm glad I left it free as was intended by the designer.
The Arrival
Just like most Abuja events, I wasn't expecting it to start at the stated time, 4pm. However, on a second thought after remembering what happened at the leading ladies in business summit, I decided to go a bit earlier than I would have.
Secondly, I wanted to get nice outfit photos with natural light before dark. I prefer to take outfit photos with natural light and this 2 piece trouser set outfit definitely deserves natural light photos.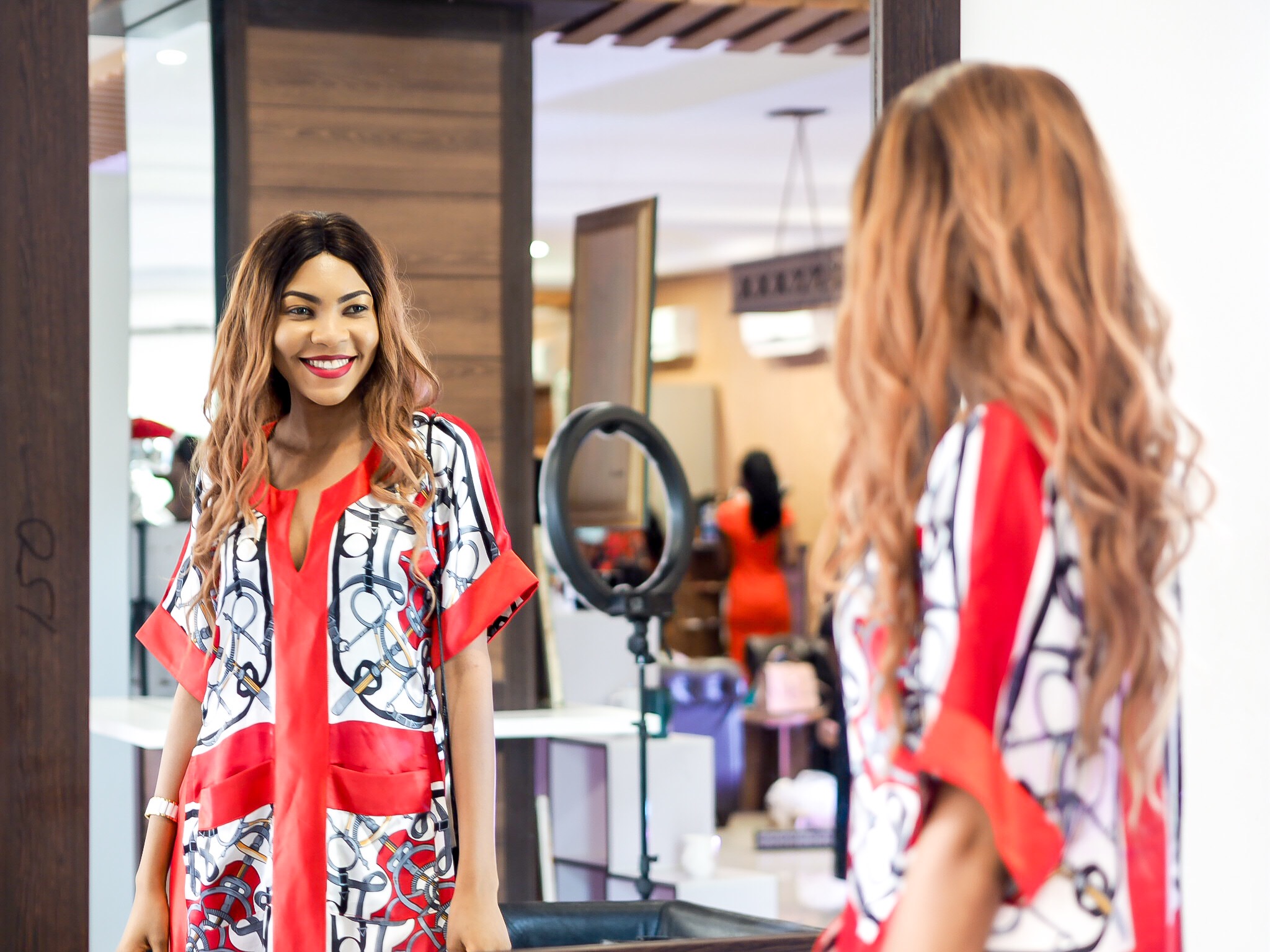 I got to the event a few minutes to 5pm (during half time of the World Cup final between France and Croatia). Few people were there, the artists and other vendors. Most were setting up while others were making themselves comfortable. After exchanging pleasantries with Precieux by Chinnie's creative director and Aisha from the PR Boy, I spotted bloggers Sarah Audu and Funke Olotu. 
We took turns taking a couple of photos for each other before the place got crowded. After a while, blogger Demi Akin arrived. Funke, Demi and I rocked outfits from Precieux by Chinnie. As you can see in the photos below, she designs other nice pieces and styles different from my 2 piece set.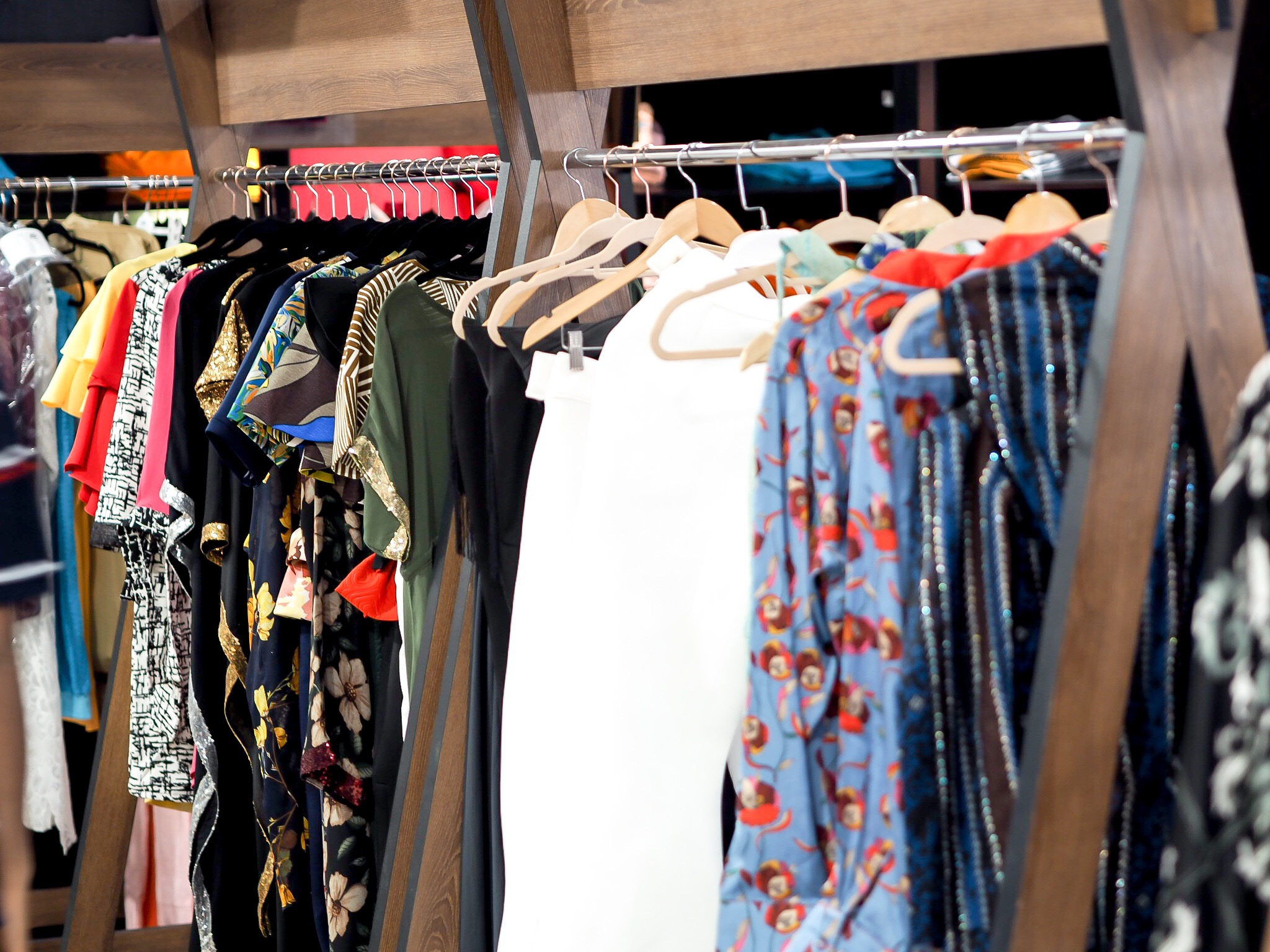 Sarah left after a while as she was only passing by and it was time for me to really meet and talk to new people. There's this thing about meeting someone you already know at an event. It makes you more comfortable that if you don't realize on time, you might not actually socialize with a lot of new people.
First time I met Sarah was at Lafiya lifestyle expo and since then, we've had a blog collaboration with 3 other Abuja-based bloggers. Blog post, coming soon. Anticipate!
The Outfit
I got a lot of compliments for this 2 piece trouser set outfit. I love that it's both stylish and comfortable. If you've been reading my blog, you'd know how I value comfort in my outfits regardless of what's trending. 
The Event – Art Lovers
There was no particular announcement to commence the event, it sort of started on its own as more people walked into Shop & Play. A lot of people were intrigued by the artists doing live paintings and drawings. 
I forgot to charge my camera's battery but I was lucky to take a couple of photos before it eventually died. Below are some of the pieces that were on display from different artists. If you're following me on Instagram, you'd have seen more art works I couldn't photograph on my Insta story.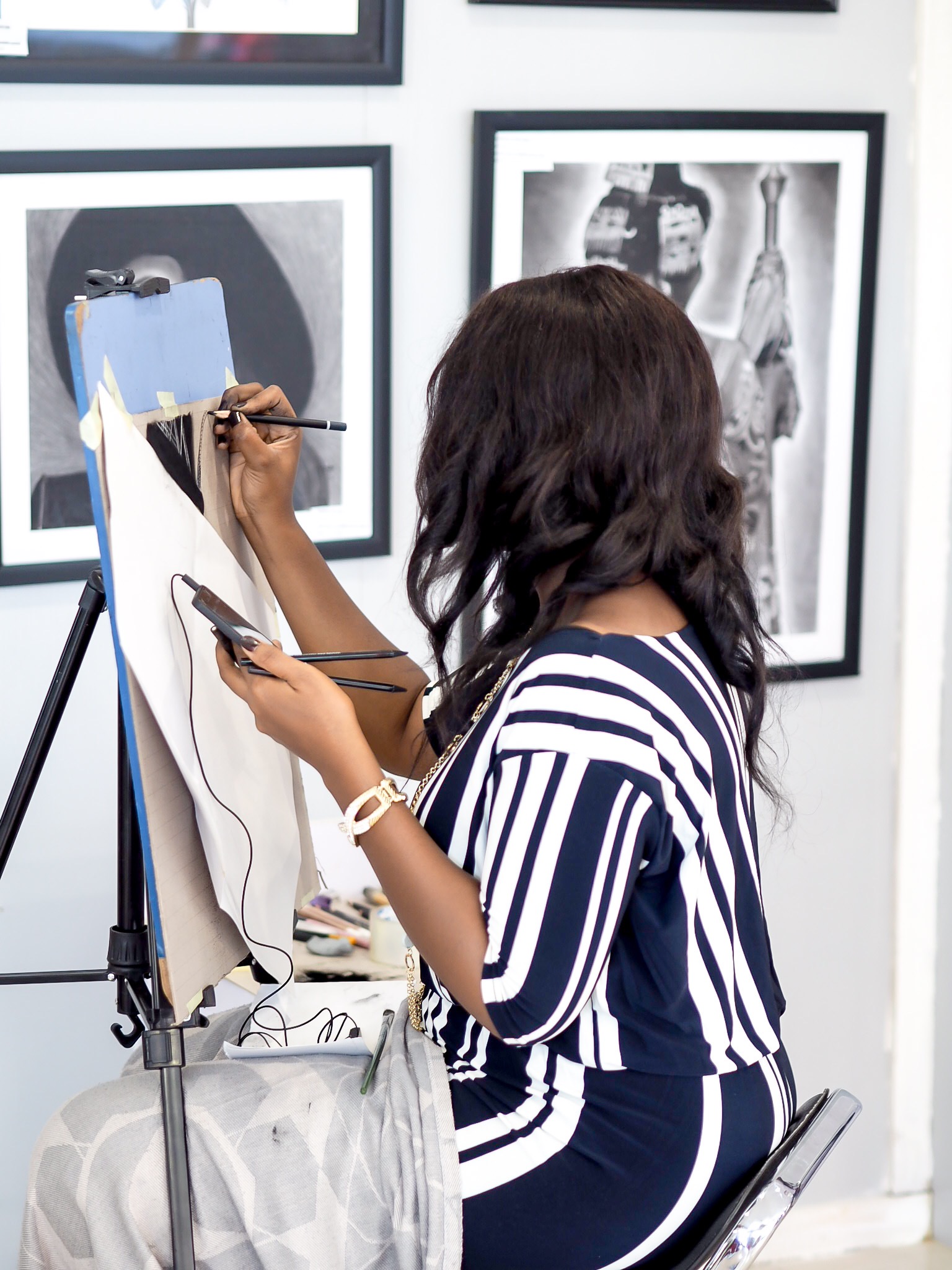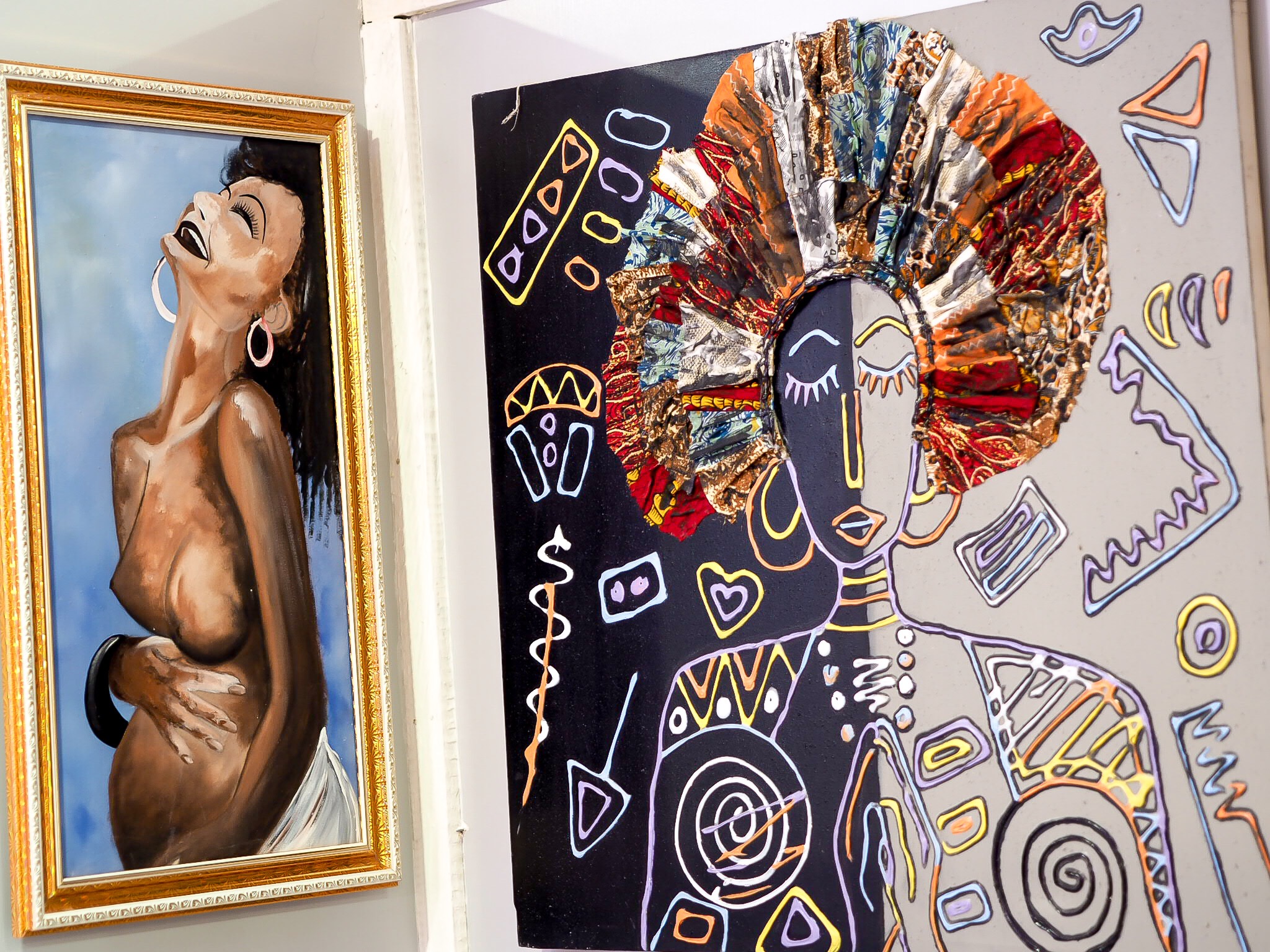 The real shoppers picked up items they liked while other window shoppers like me, checked out prices of items on display and networked. Friends and cheerleaders of vendors did their thing and the rest of the attendees took photos and made videos to mark attendance for Instagram.
I loved most of the art works and photos on display. They were different from the regular.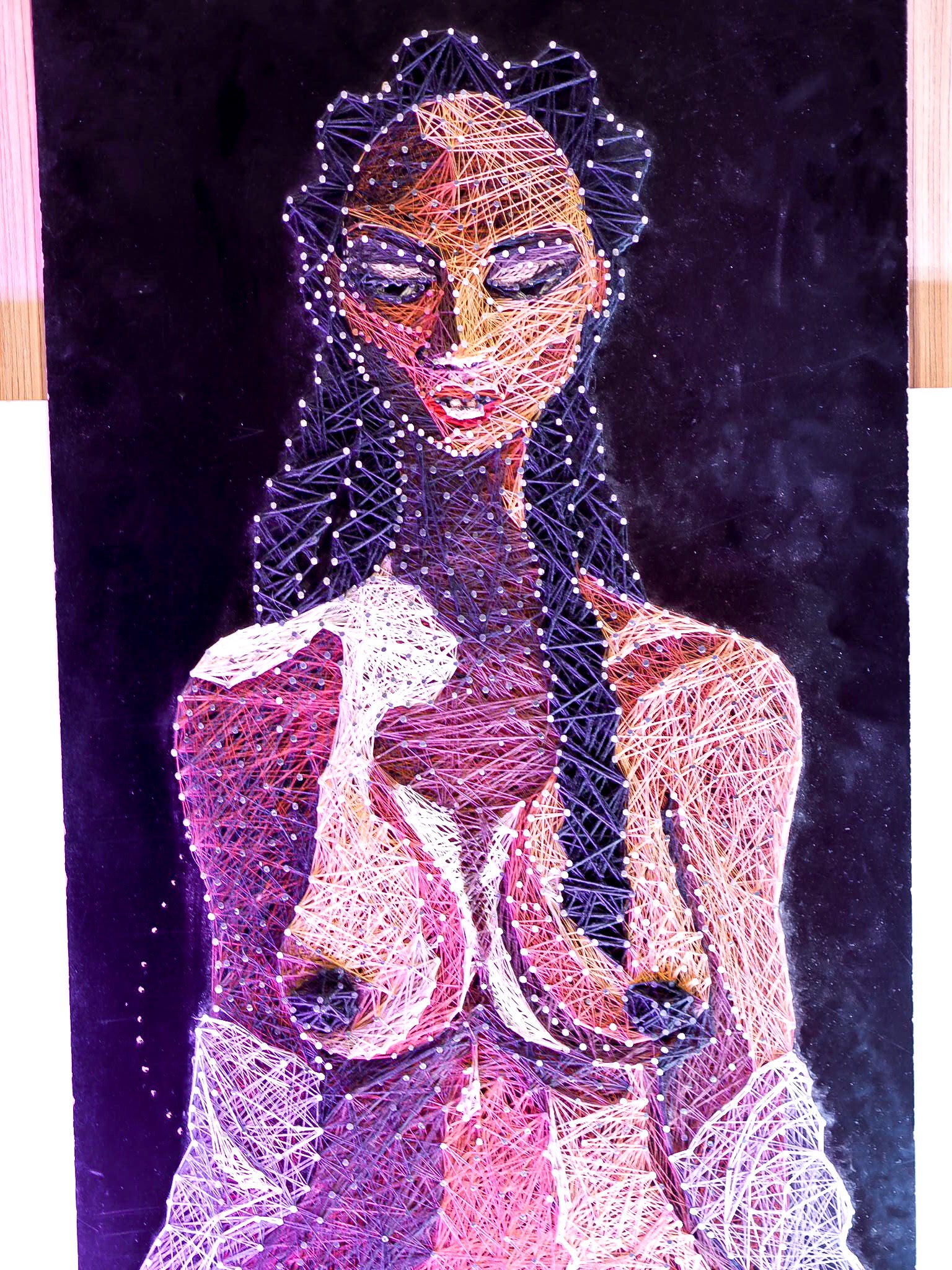 The embellished denim and berets from the brand 'Bayi' intrigued me and possibly everyone else who came close. It was a breath of fresh air seeing the embellished denim skirts for 5000 naira in a room filled with mostly expensive fashion pieces. I say 'expensive' because close to where she set up, there was a top (crop top I think) by one of the popular Abuja fashion brands being sold for 60,000+ naira.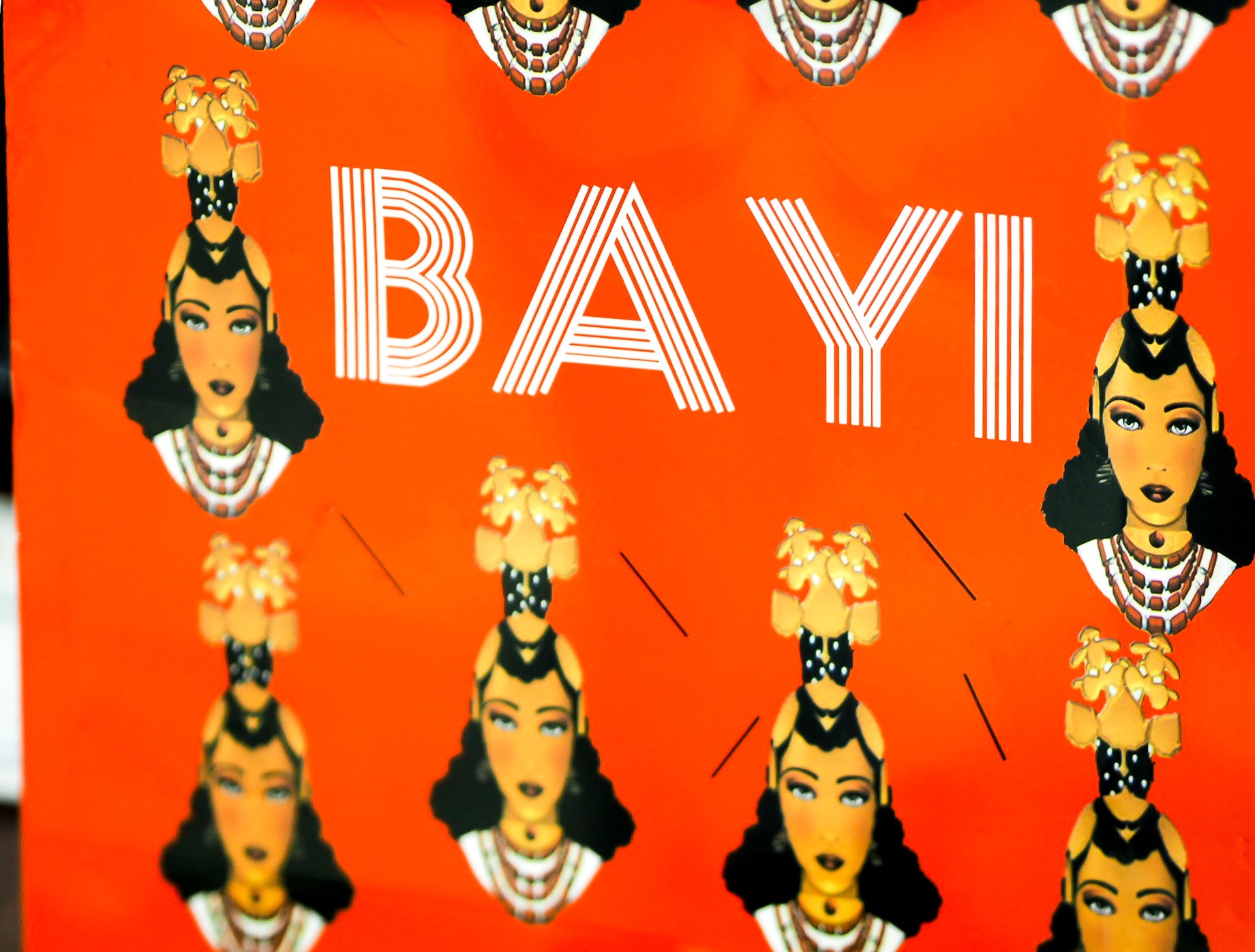 On taking a closer look with 2 other bloggers, we couldn't figure out why the top and rest of the collection were so expensive. The seam finish was tacky although the print and sleeves were attention-drawing. Sadly, nobody from the brand was available to describe the collection or better explain it's uniqueness to us.
The brand wasn't part of the Art Lovers event, just an observation because they stock in Shop & Play. Sure, everyone has their clientele but it would be nice for Nigerian brands to match their price tags with quality and/or uniqueness.
I might not know much about fabrics because I usually just go for fine fabrics that won't stress me out (ironing and long-term maintenance) but the one thing I can always recognize, is a great seam finish especially if the piece of clothing is marketed as 'luxury' or it has an interesting price tag.
Blogger babe, Dupe of Gingerlie Lifestyle (also wearing Precieux by Chinnie) came a bit later. We hung for the remaining part of the event with the occasional circling to check out what's new. This was our 2nd time meeting, the first was during the fitting. Her pants were my favorite piece in her ensemble. 
Spoken Words
The open mic session started with spoken words just before I left. The session was for sharing poetry, short stories and everything else anyone wanted to share. I listened to the first speakers before leaving as I was already tired. 
Overall, It was a nice get together. Actually better than I expected, glad I decided to attend. Coincidentally, a visiting pastor preached on "not writing people off" during service. Plus, I've also learnt over the years to draw my own conclusions. Perhaps, I'll attend more Abuja events this year. 
One thing still stands though. Abuja still has some catching up to do with our neighbors in Lagos when it comes to collaborating/working with bloggers. Let's not even go abroad yet. However, I've seen improvement in the last 1 year and I hope it continues.
The made-in-Nigeria 2 piece trouser set outfit that will totally make you fall in love with bold prints and colors all over again!
Click To Tweet
Outfit: c/o Precieux By Chinnie (Hit her up on Instagram for your fix or visit Shop & Play to see her new RTW collection currently in-stock). 
What do you think of this 2 piece trouser set outfit? How's this compared to my previous 2 piece set outfits? Would you rock this? Let me know your thoughts in the comments.
Thanks for stopping by
xx!
Keep Up With All Blog Posts