Few months ago, I was searching for an alternative to my favorite vitamin C serum, a product that I could easily find in Nigerian stores. I came across a product from Lavyanna on Instagram and remembered a blogger review I read about Lavyanna skincare products.
The brand being new to me, I reached out to them via Instagram and asked about their vitamin C serum especially. My concerns were: storage, efficacy and oxidation time. I also asked if they were open to working with me on a review post. Surprisingly, I got a reply to contact another person and subsequently received some of their products to try and review.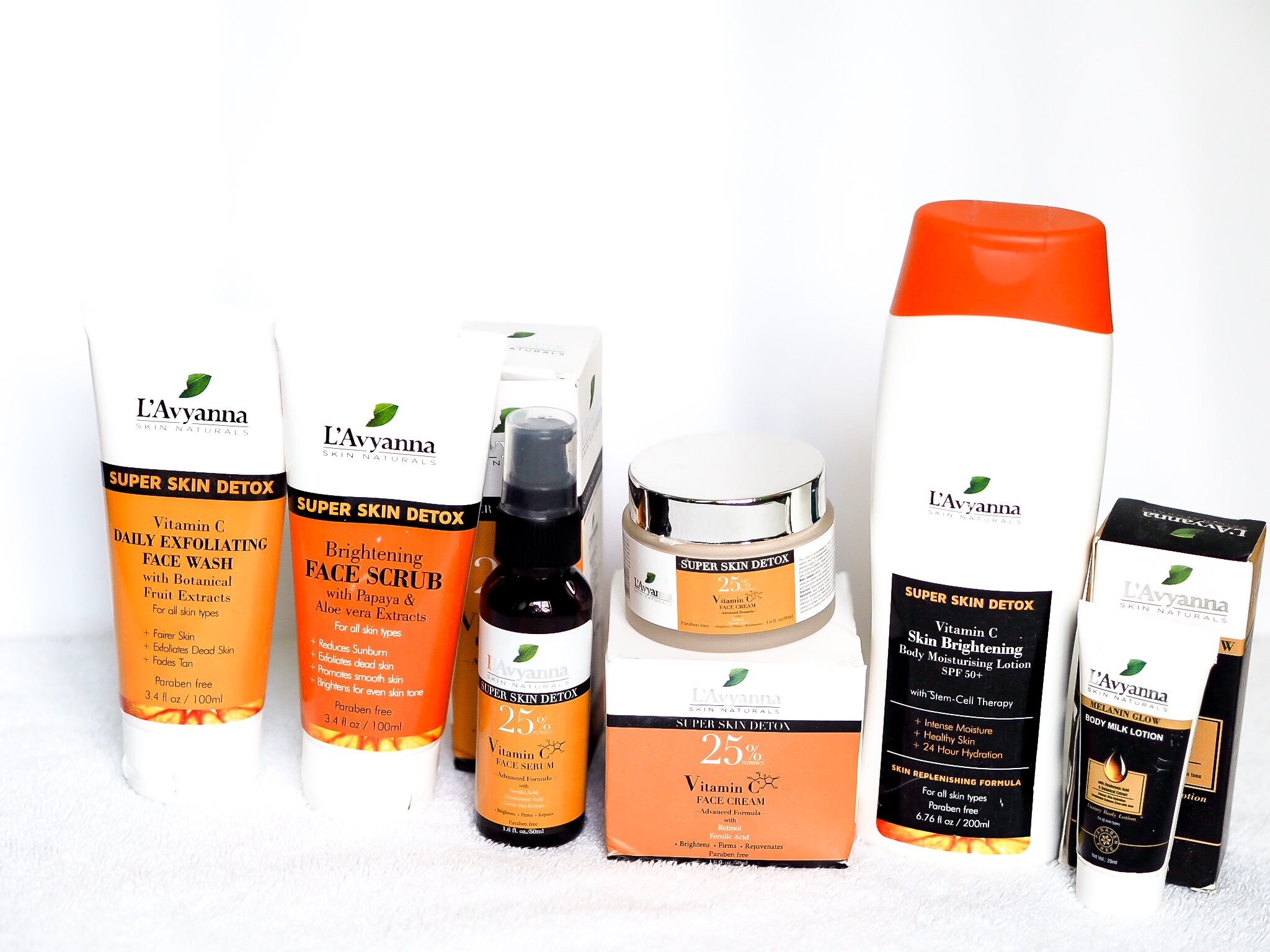 The lavyanna skincare products I received were enough for a basic skincare routine especially if you're not using the full Korean step routines whereby you'll need more products. Continue reading to find out what I thought after using them for 3 weeks +.
Lavyanna Skincare Products – First Impression + Review
Lavyanna Vitamin C Daily Exfoliating Face Wash (with botanical fruit extracts)
The face wash was described by the company as paraben free and suitable for all skin types. It has a gel-like consistency and contains gritty particles which aren't harsh on the skin on application. The instruction on the back says to work up lather and massage for 1-2 minutes before washing off.
Lavyanna Facial Scrub (with Papaya & aloe vera extracts)
This facial scrub was described as being able to clear built up dirt, dry and rough skin. Further description on the back says it deep cleanses and washes away excess sebum. It has a creamy consistency with very fine particles.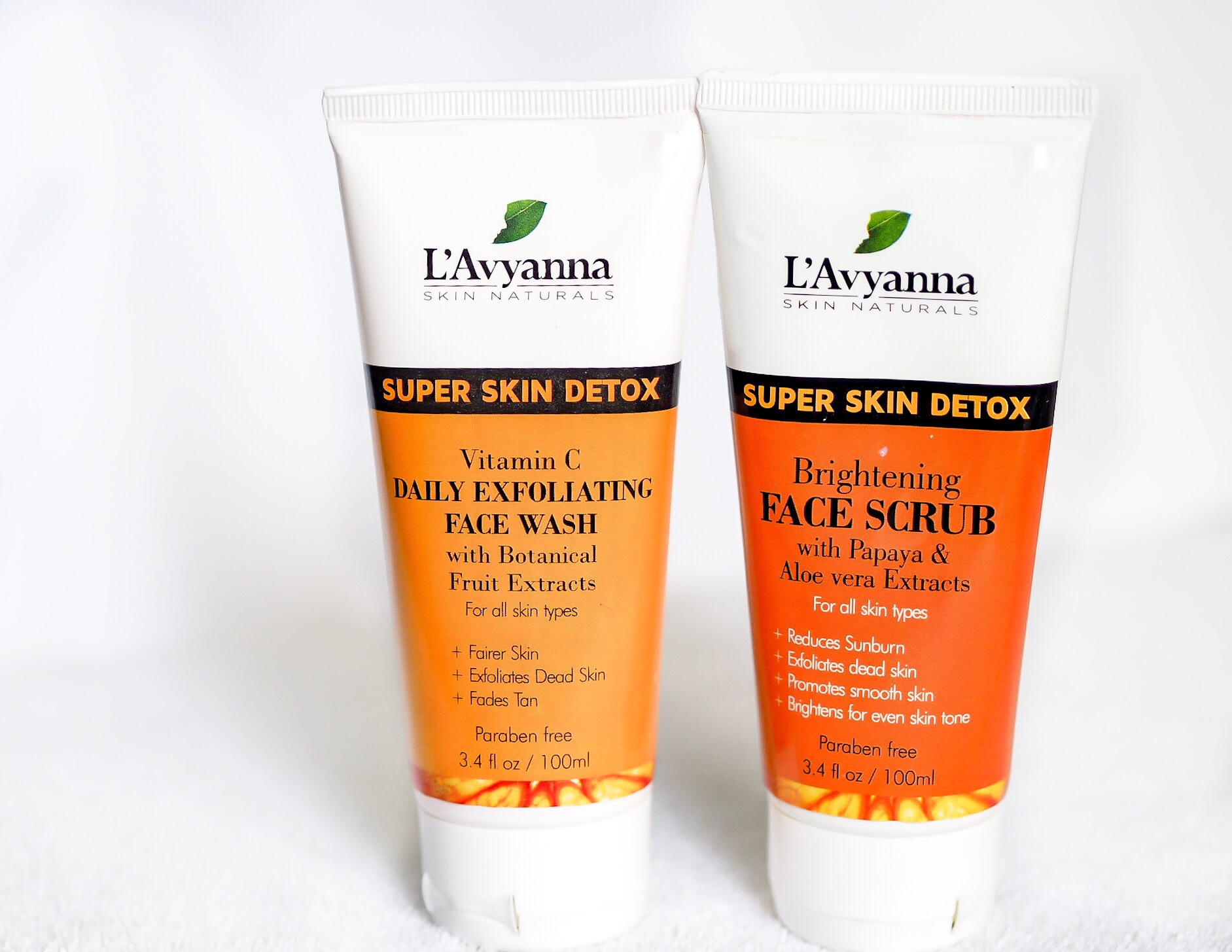 Lavyanna 25% Vitamin C Serum (advanced formula with ferulic acid, hyaluronic acid, green tea extract)
The serum was described as being able to brighten, firm and repair skin. I was excited to try it as this was the main skincare product I was interested in from the Lavyanna brand initially. After I got out of the bathroom, I quickly applied it and waited for about 30 mins before I used the face cream.
This is simply because I'm used to Korean skincare steps and my vitamin c serum application is followed by 30 minutes waiting time before application of other products. There's no instruction on waiting time for this serum before applying other products. So, I don't think you need to wait that long to follow up with your moisturizer or any other serum or essence you wish to use.
Lavyanna 25% Vitamin C Face Cream (advanced formula with retinol and ferulic acid.
Described as being able to brighten, firm and rejuvenate skin. I was also excited to try this out because I haven't been consistent with any of my face creams (this and this) in the past few months.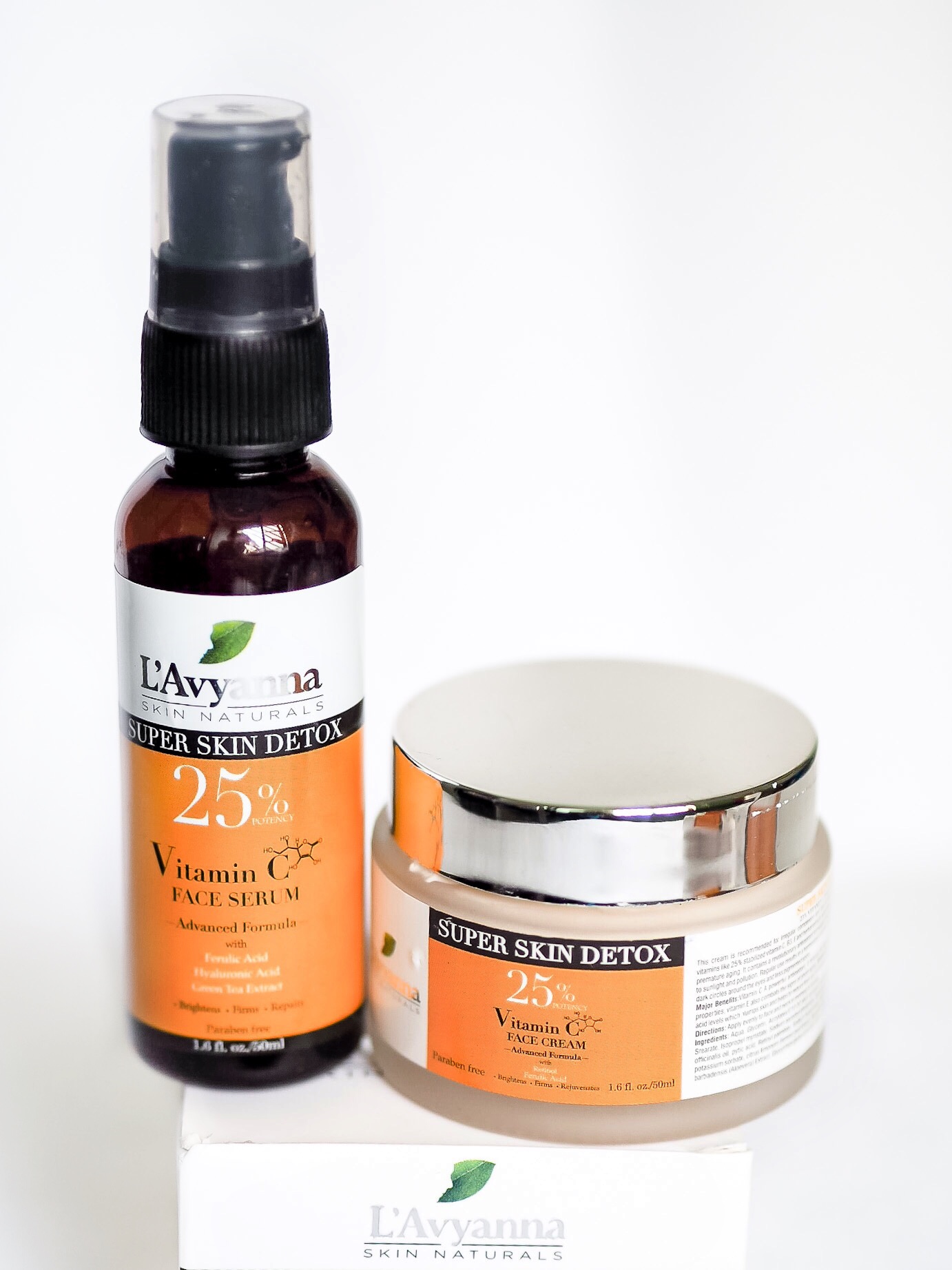 Lavyanna Vitamin C Skin Brightening Body Moisturizing Lotion SPF 50+ (with stem cell therapy)
This product right here is the MVP, let me just tell you that straight up. I had given up on getting a good product with up to SPF50 since my last container of Vichy finished and I couldn't find it in any Nigerian store.
The lotion is described as a lightweight moisturizer. I loved how it felt on my skin the moment I applied it. It's safe to say I'll be using this particular Lavyanna product for a while.
Lavyanna Melanin Glow Body Milk Lotion (with hyaluronic acid & botanical extract)
People often mistake products written melanin as strictly for dark skin tones. Melanin is the pigment that gives us our complexion, how dark or light you are is as a result of the type of melanin and how much melanin your cells produce.
The body lotion isn't part of the super skin detox line like all the products mentioned here. It was described as a luxury body lotion suitable for all skin tones and types, able to provide intense skin hydration and even skin tone. I received the sample size which isn't enough to really evaluate the full effect of the lotion. 
From the few times I applied the lotion, I could tell that it's quite moisturizing. Surprisingly, it has a more moisturizing effect on my skin than the goat milk lotion I've been using since last November. I even got a family member to buy both the spf lotion and the full size of the melanin glow lotion and she has also been loving the combo better than the goat milk lotion we were both using.
What I Liked About These Lavyanna Skincare Products
Face Wash: Despite containing gritty ingredients, its gentle on the skin. It didn't strip my skin or break me out.
Face Scrub: I liked how fine the particles were, way smaller and less coarse than my sugar scrub. A little goes a long way and it's easier to massage without feeling like you're scrubbing your skin off. I still prefer chemical exfoliation but enjoy the good old physical exfoliation at least once a week.
Serum: I liked that I didn't have to store it in the fridge like my other serum.
Face Cream: It was lightweight on application, easy to spread and quickly absorbed without a greasy feel.
Body Moisturizing Lotion: It didn't leave a white cast on application like the typical sunscreen. It's lightweight and absorbs quickly after application. It's brightening (not lightening) like the bottle says and I'm also able to use it on my face without breaking out.
Melanin Glow Body Milk Lotion: It was very moisturizing on my dry skin for more than 8 hours. I didn't use it long enough to find out more on the glow part.
What I Didn't Like While Using These Products
Face Wash: It literally pours when you open and turn it over and this wastes a lot of product when you really just need a pea size. I didn't notice any particular difference on my face while using it as regards to the exfoliating effect. It didn't break me out so, I guess it would make a good daily wash for someone with a clear skin who isn't looking for any particular effect.
Face Scrub: There was always residue after each use no matter how much I wash off with water. I had to either wipe my face with micellar water or wash with a face wash/soap. At first, I thought I had neglected my face for so long that i had so much to exfoliate, lol. After several uses, I was convinced it was the texture of the scrub not my face.
Serum: I really had high hopes for this serum, unfortunately it broke me out within 2 days of use.
Face Cream: Because of the breakout, I decided to try it separately to be sure of the actual product that broke me out. I tried the face cream again 2 weeks after the first use. It didn't break me out this time but it made my face very oily within a few hours of use. I also don't like the fragrance (but you already know I prefer my skincare products fragrance-free).
Body Lotion With SPF: The only thing I hate about this product is that it's only 200ml. I wish it were bigger. It's not moisturizing enough to be used alone on my skin (I have dry skin) but I'm sure people with oily skin will find it adequate.
Melanin Glow: Nothing from the sample size, perhaps, when I try a full size, I'll have more to say. 
Verdict: The products are nice and affordable even though some of them aren't for me. There are lots of positive reviews on @lavyanna_skin (on Instagram) for all these products including the ones that didn't work for me. I've already bought another bottle of the lotion with SPF and will buy the melanin glow as soon as I empty my other moisturizers. The face wash is a product I can always go back to when I just need a daily wash without expecting much.
Check out more products from the Lavyanna website. If you are in Abuja, you can buy from Casabella (Jabi lake mall, silverbird or Apo Mall).
If you've been looking for a Nigerian skincare brand with SPF and vitamin C products to try, here's one.
Click To Tweet
Have you used any of these Lavyanna skincare products before? What did you think?
Thanks for stopping by as usual.
xx!
Keep Up With All Blog Posts