I've found myself falling in love with this Zara off shoulder crop top one year after i bought it and i just want to wear it with everything. Remember the times I've worn it, as a full top here and as a crop top here not too long ago.
  Today I'm wearing it as a full top again with a pencil skirt. I've worn this skirt and a similar printed top before but that was in 2012 when i was still running my very first blog. I like this skirt a lot especially because of the fit and color but i don't wear it a lot because of the fabric, it's difficult to iron and i'm really impatient when it comes to ironing, i'm not going to give up the skirt either. On the other hand, the top never rumples.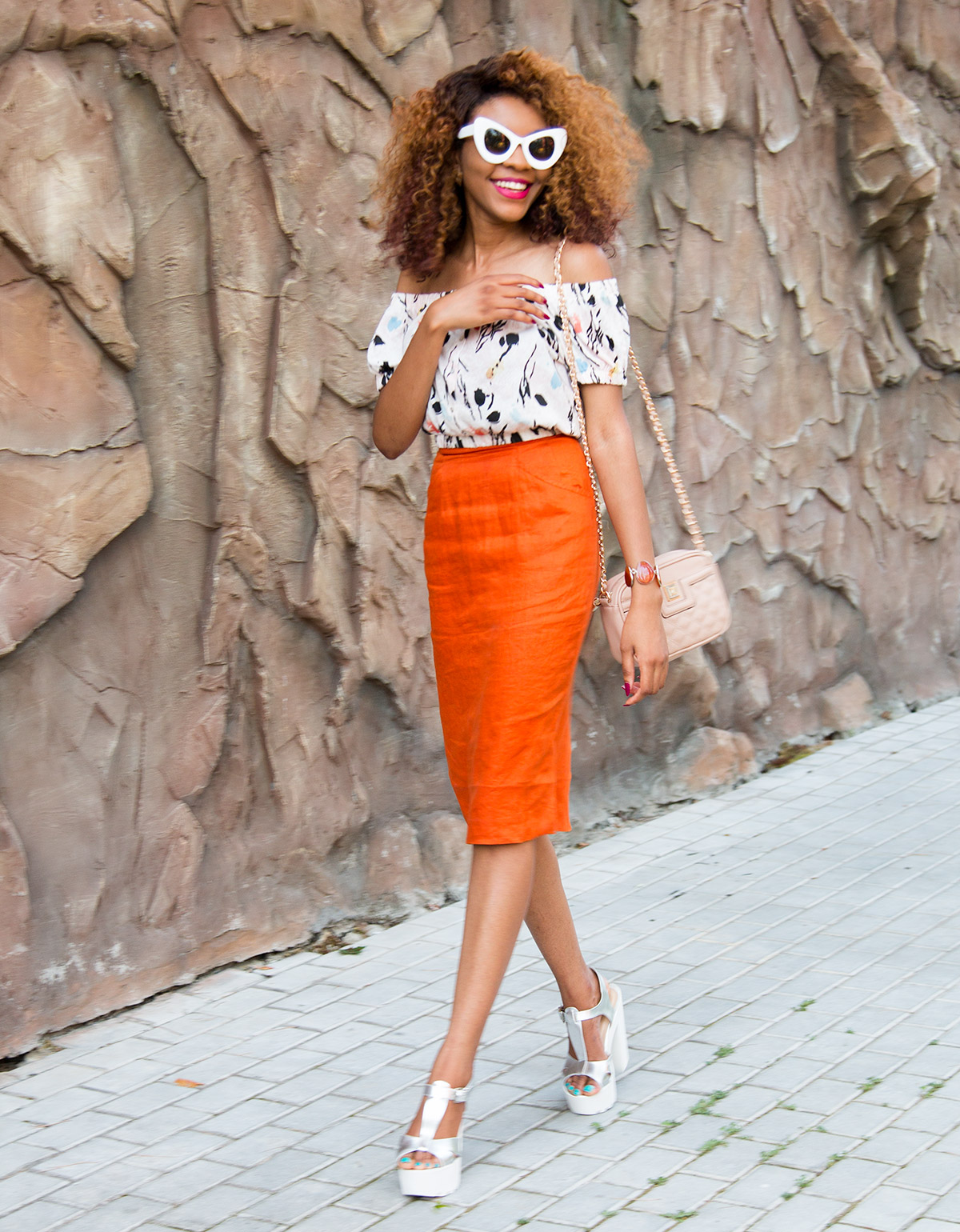 I'm sure the off shoulder crop top isn't new to you because this is one of the hottest trends for spring and summer 2015. It's such a feminine piece that it can be styled with anything really, from flare jeans, skinny jeans, skater skirts, pencil skirts, shorts…name it! It's so chic that it also makes a great day to night transition piece.
  A lot of fashionistas have been rocking off the shoulder crop tops even before this summer, i'm especially loving the white lace ones, maybe i should join the cool kids and get myself one but till then i'm going to rock the prints out of this one and most likely wear it with every piece in my wardrobe.
Wearing: Zara Top (love this fitted style and this floral style) || Old Skirt (love this style with side slit) || Chunky Heels c/o Amiclubwear (love this style with gold ankle strap) || Sunglasses c/o ZeroUV || River Island Bag (in gold) || Bracelet from a friend

*Photos taken by
Ahmad
  Have you been baring your shoulders lately? Are you a fan of the off shoulder top? Do you like my look? Have you rocked one yourself? Join the discussion in the comments and let us know!
[pullquote]The Word today
Mathew 12:33 "Make a tree good and its fruit will be good, or make a tree bad and its fruit will be bad, for a tree is recognized by its fruit. 34. You brood of vipers, how can you who are evil say anything good? For the mouth speaks what the heart is full of. 35. A good man brings good things out of the good stored up in him, and an evil man brings evil things out of the evil stored up in him.[/pullquote]
Thanks for stopping by as always
Happy Sunday!
Have a great week ahead!
Keep Up With All My Blog Posts