Having the right makeup tool is essential. When you have the right tools, your makeup application will not only be easy breezy but also flawless. There are several tools to help achieve flawless makeup but today let's focus on eye makeup, if you are a beginner and wondering what makeup brushes to buy or which ones are essential then you are reading the right post.
 Here are the Top 5 essential eye make-up brushes for the beginner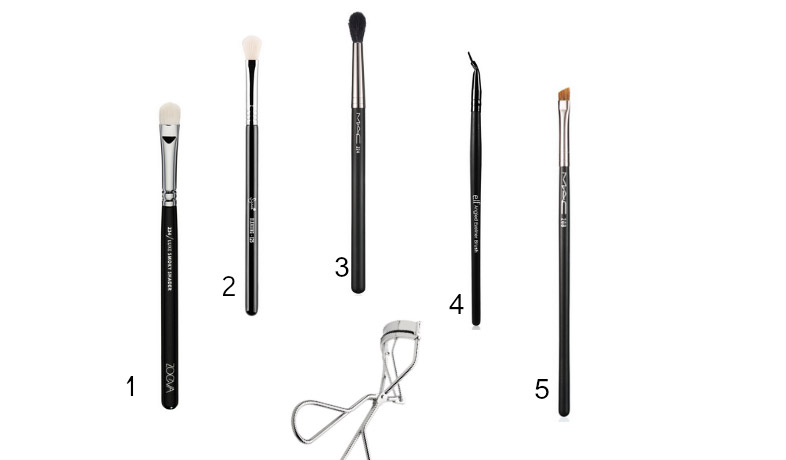 1. A shader brush, this is mostly flat at both sides and it it used to pack on eye shadows, this helps apply shadows to the lid, some are stiff while others are fluffy but as a beginner the fluffy one is preferable as it packs on more shadows, they also come in different sizes depending on your preference. Some good shader brushes includes but not limited to MAC 239, Sephora pro 15 and Zoeva 234.
2. Blending brush
, a must have and essential, it is dense and mostly pinched at the sides, this is one of the keys to acjieving a perfect and gorgeous finish. It is used to apply and blend shadows to crease of the eye, with a blending brush you don't have to do a lot of work because it does it all for you. Some good blending brushes are
Sigma E25
, Zoeva 227 and
MAC 217
3. A tapered blending brush
, now this is also for blending eye shadows but more fluffy and less dense, if you want a light application you can use this to apply shadows as it picks up very tiny amount of products but this is best for blending away ash lines and putting everything in place. There are various types, ones with a tapered end called the crease brush and ones with round ends. Some nice options to check out are Zoeva crease 228,
MAC 224
and
Sigma E40
4. Liner brush
, this depends on you, if you love gel liners and you want a nice precise liner then you need a liner brush, the one to get depends on you as there are various types, the angled liner, bent liner and the precise liner brush which is best for straight precise line. Good ones to check out are Zoeva wing liner 317 and 
E.l.f angled liner brush
.
5. Eyebrow brush
, most similar to the angled liner brush, it is used to apply eyebrow powder, cream or pomade and unless you prefer pencil then you need one.
MAC 208
 and Zoeva 322 brow line are good ones to check out.
Yes I did say 5 but the 6th isn't really a brush, it's an eyelash curler, this is a miracle worker that can change your lash game in seconds. Once you get better with your eye makeup, you can look into other makeup brushes but first, start with these essentials.
Have questions? feel free to join the discussion!
Thanks for stopping by
Have a great weekend
xoxo. Olufunmi
Blogger from Nigeria who loves simple things, makeup and learning new things daily.
Blog: Lady Wannabe Blog