In recent years, pearls have made a successful comeback in designer collections. Far from the classic jewelry pieces, the new pearl jewelry adds an edgy sophisticated tone to any style. Forget the 1950s Marilyn Monroe and first lady inspired trends.
  Pearls have been reinvented not for the little black dress and couture suits, but for styles that range from grunge/punk to a classier sporty style to reiterated pop. With the wildly imaginative new takes on classic jewelry, you should forget everything you think you know about pearls. Find inspiration on how to wear modern pearl jewelry pieces even with jeans.
While striving to achieve your own look including the reinvented classics of jewelry, keep in mind that Jackie O once said "Pearls are always appropriate".Pearls are always appropriate - Jackie O Click To Tweet
How to Wear Pearls with Jeans
1.    Pearls and Chains
  Pearls and chains are certainly one combination that your grandmother wouldn't approve of. There are so many new designs playing with this two elements that it is impossible not to find the new age pearl necklace to fit your comfy jeans-centered outfit. The simplest designs include one or two pearl pendants hanging casually from a rough silver chain. You can choose the length of the chain to achieve different looks. More intricate designs are bound to charm their way to your heart and into your daily wear.Pearls and chains are certainly one combination that your grandmother wouldn't approve of. Click To Tweet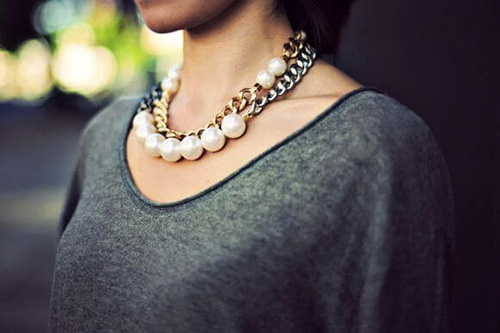 For instance, a number of collections feature the pearl and chain entwined web. Pearls are casually draping the neck scoop, dangling from the fine chain links. Depending on how you wear such a jewelry item, you can lend the pearl and chain necklace a statement necklace status or a more casual note.
2.    Pearls and Spikes
  If there's one accessory whose presence is almost ominous in edgy, full of character modern jewelry, that's spikes. Forged in steel, precious metals or even cast in hard silicon, spikes are the accessories that go with everything. Torn jeans, a leather jacket, a simple shirt and a spiked bracelet will get you the laid-back yet snappy look of the day. Now add pearls to the combination and you'll find they soften the look while keeping it crisp.
3.    Pearls and Hair Accessories
  This may be the easiest way to include pearls in your comfy jeans outfit without necessarily striving for the bridal look. There are so many new takes on pearled hair accessories that you just have to try them. They will render an effortless sophisticated tone to your look in no time. Bobby hair pins accessorized with one pearl are perfect for a messy hair style. Alternatively, you can try the mermaid crown with pearls of all sizes and an intricate lush vine design. Pair with a classic white shirt, a pair of skinny jeans or boyfriend jeans and comfortable shoes.
4.   Pearls and Earrings
 Once reserved for the upper echelons of society, pearl earrings have somewhat fallen from grace. To our joy, pearl earrings have never featured in so many designs, shapes and sizes. From faux pearls to affordable freshwater pearls to the luxurious South Sea pearls, these stones got a new lease of life through earrings alone.
  Simple pearl studs are still commonly met. Yet more daring takes on pearl earrings have made spectacular appearances in the runways of great designers. Dior's Mise en Dior 2013 collection that featured the double-pearl earring may have been the starting point of the new pearl earrings craze.
  Take advantage of these exciting new designs and wear them fearlessly with your casual jeans outfit. Shoulder-length pearl earrings, pearl ear climbers or ear cuffs and edgy rock style spiked pearl earrings are here to help you out.  If you're looking for some inspiration, check out fantastic designers like Sophie Bille Brahe, Hannah Martin, Delfina Delettrez and others. Celebrities are taking the reinvented classic jewelry for a run. Why not give it a try?
5.    Pearls and Clothing
  There are endless possibilities for pearls to make an appearance on the most casual clothing items out there. For once, you can include the creamy glamour of pearls in a jeans outfit by simply throwing on a cardigan with pearl buttons.
Other ways to jewel up your outfit by not wearing pearl jewelry include wearing pearl jeans. Under certain circumstances, pearl jeans may be a little over the top and draw more attention than a simple metal cuff bracelet ended with oversized pearls. Nonetheless, worn correctly and with toned-down accessories, pearl jeans may bring just that dash of wow to your look.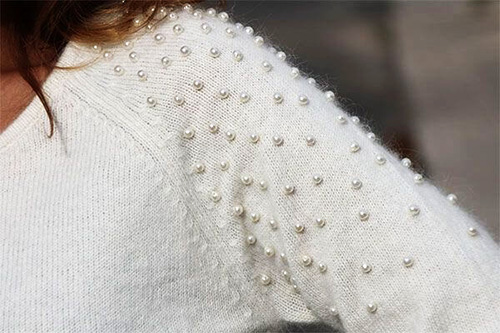 Several collections sported sweatshirts and t-shirts embellished with pearls. After all, it's all about experimenting and breathing new life in two classics of fashion: jeans outfits and pearl jewelry. If you're looking for further ideas on how to casually wear pearls, take a look at this insightful post.
As designers around the world are captivated by the new pearl glam, so should you. The queens of classic jewelry, pearls are at the center of modern edgy designs that are easy to wear in casual ways without losing their sparkle.Designers around the world are captivated by the new pearl glam, so should you! Click To Tweet
Thanks for stopping by
xx.
To ensure you don't miss out on posts like this and more, follow this blog
*If you liked this post, you will like….
       Hot discussions on the blog right now!