This casual jeans and tee outfit was what i wore for an outing with a friend this weekend. If you are following me on Instagram then you would have caught up with me since my absence on the blog. I'm sorry for being away, i was tied down with final year exams and all the other stuffs that accompany final year. I'm so happy that it's almost over, my graduation ceremony is less than 3 weeks from now and i just can't wait for it to be all over.
Just like guest blogger Angela mentioned in this 7 comfy weekend outfit ideas for lazy girls post, Jeans and tees – classic combo that withstands the test of time. I couldn't agree more. I was actually lazy to dress up so, this casual jeans and tee outfit was the simplest combo i could think of. I added my fringe bag from this denim on denim outfit post and this flare jeans outfit post for a pop of color.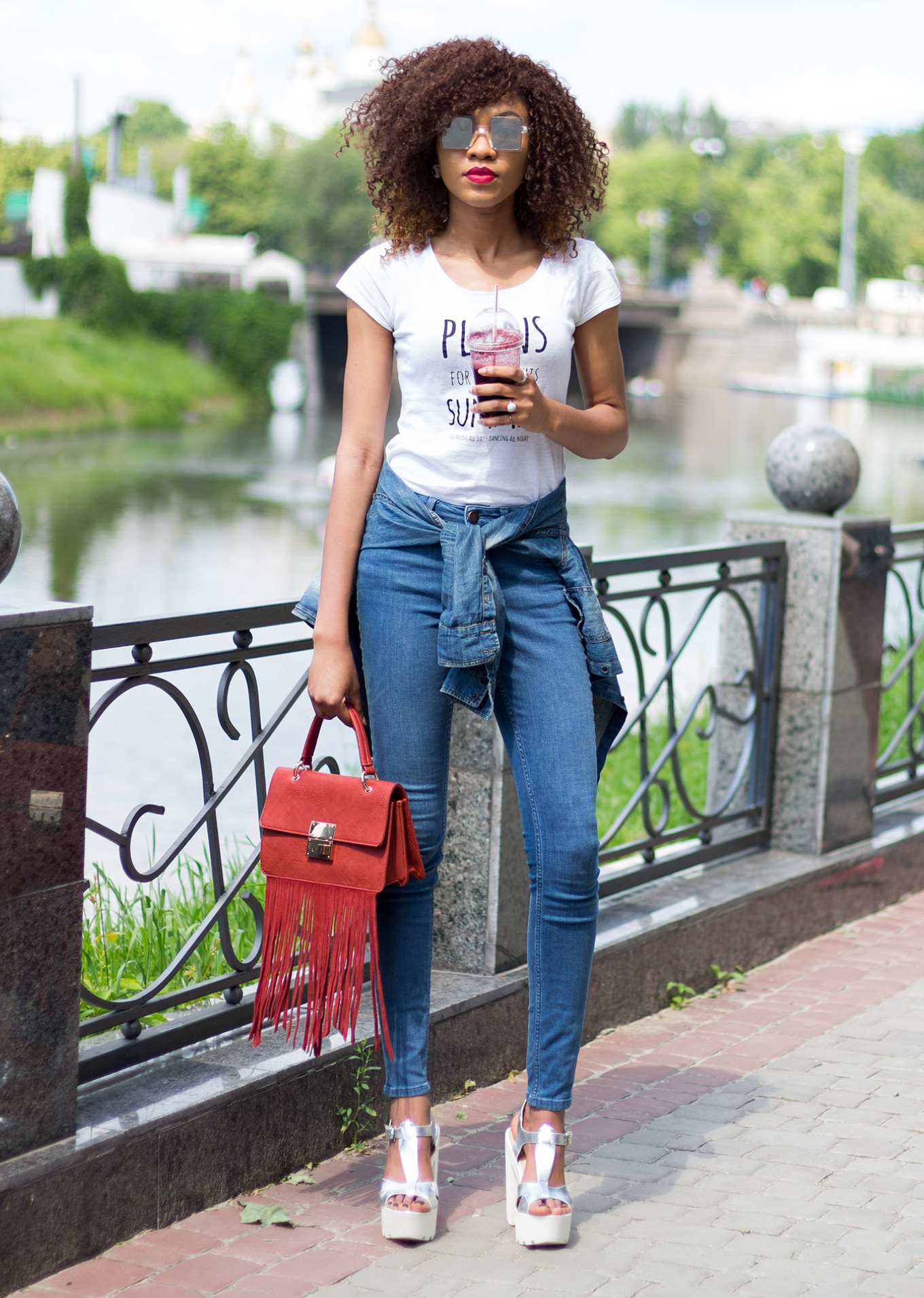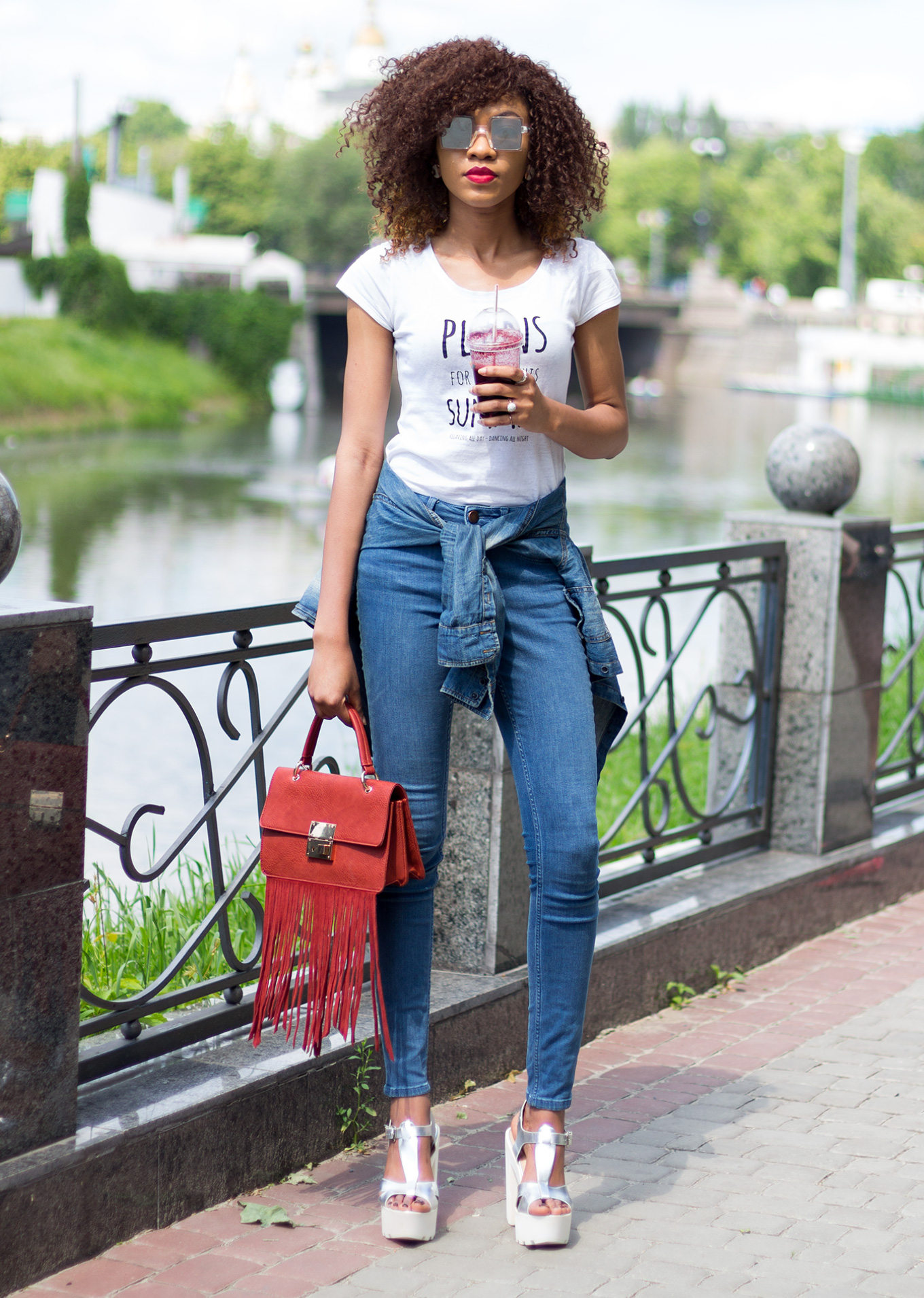 I also wore my silver and white chunky heels from this crop, knots, split and stripes outfit post for a not-so-lazy look and completed the look with my sunnies from this grey outfit post. It was a sunny hot day and my white tee was the perfect top for the amount of time i spent outside. Oh, I actually slipped into flats for the rest of the walk involved in the outing.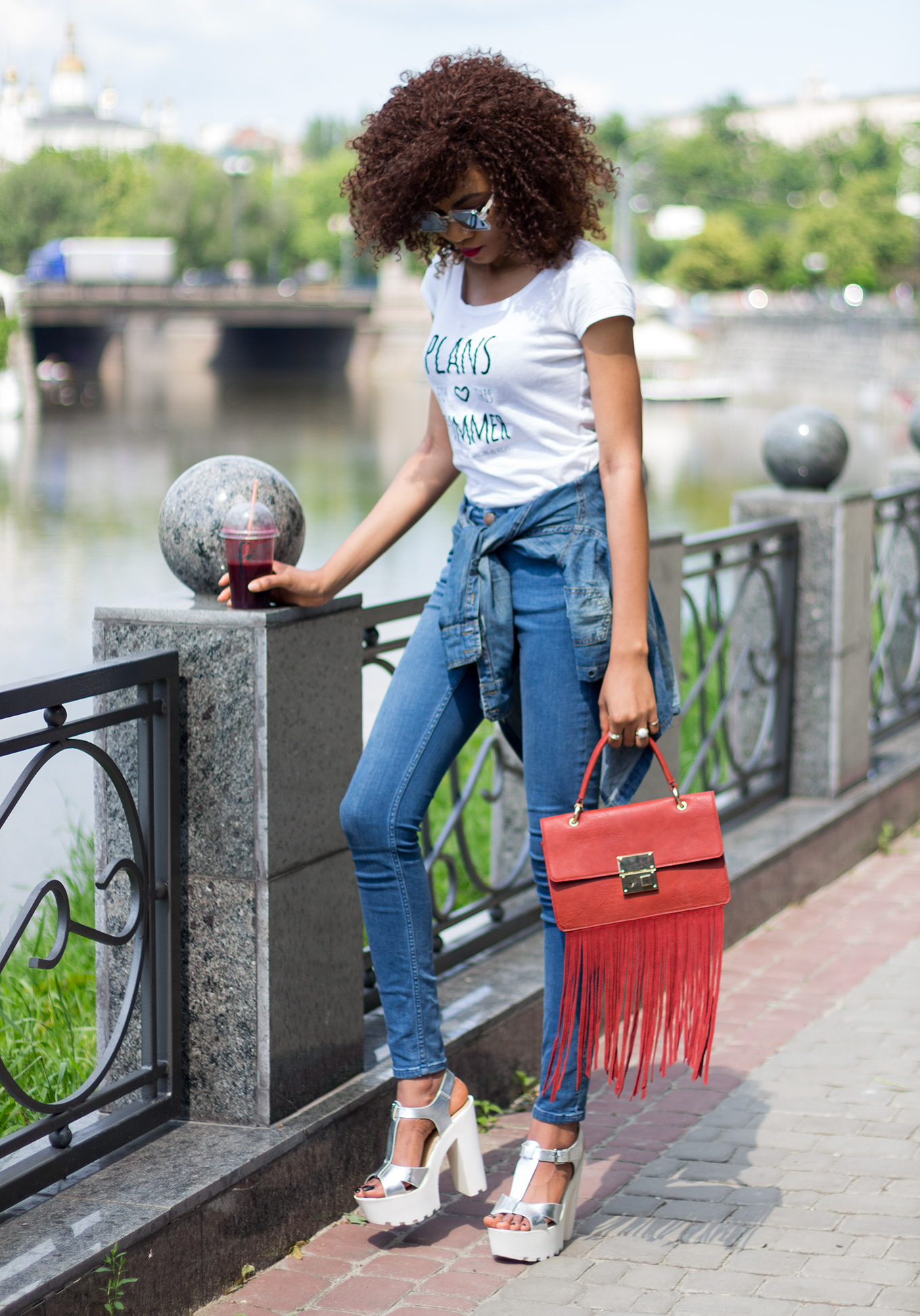 There are lots of ways to rock a casual jeans and tee outfit but i chose this style because it's comfortable and i could easily wear my denim shirt when the weather becomes chilly towards the evening (which i did eventually).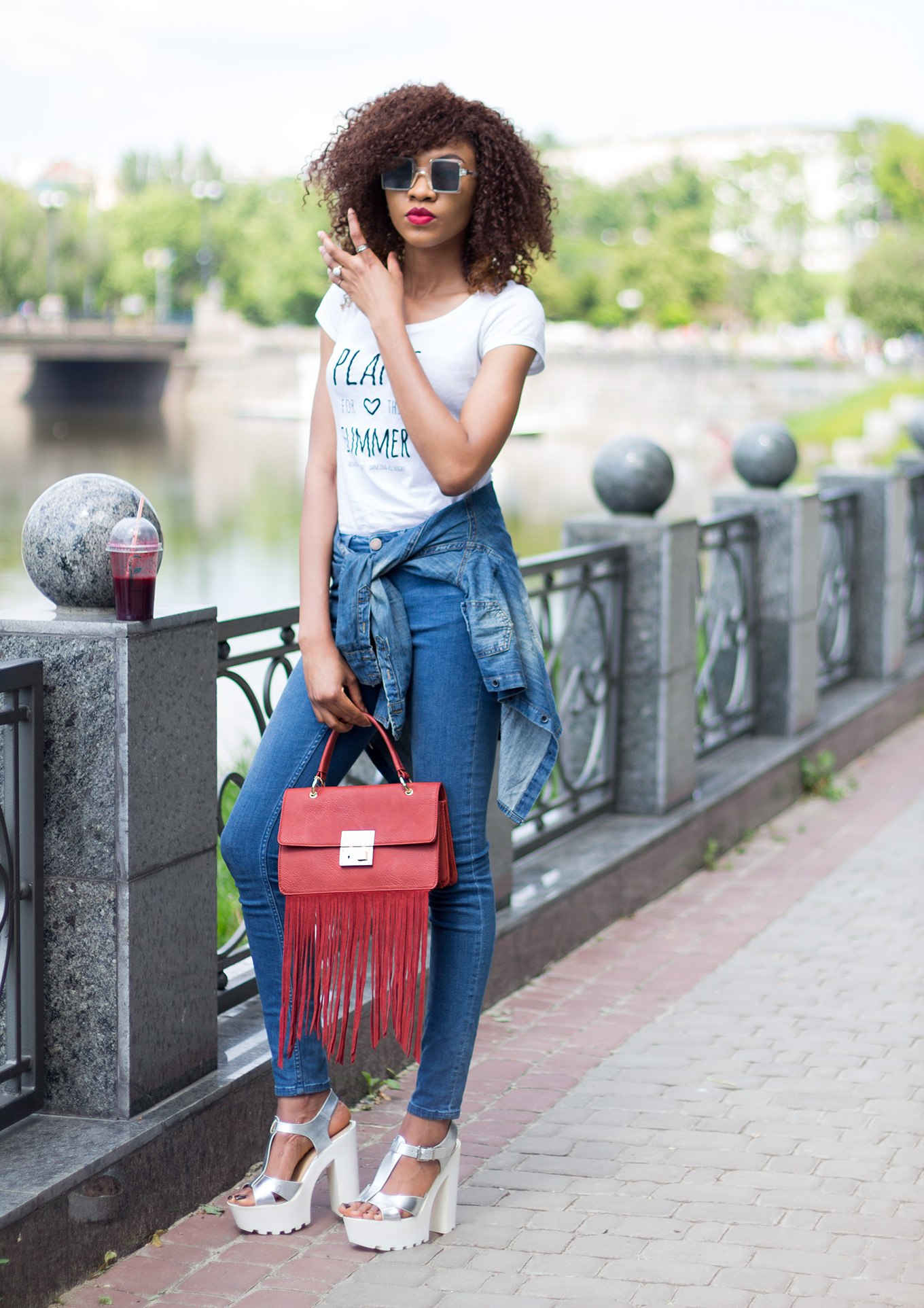 Wearing: Gifted Tee (similar, more options here) || Asos Jeans || Asos Shirt || Glamorous Bag (also available in Black) || Polette Sunglasses *c/o || Amiclubwear Heels *c/o (similar in white with black heels)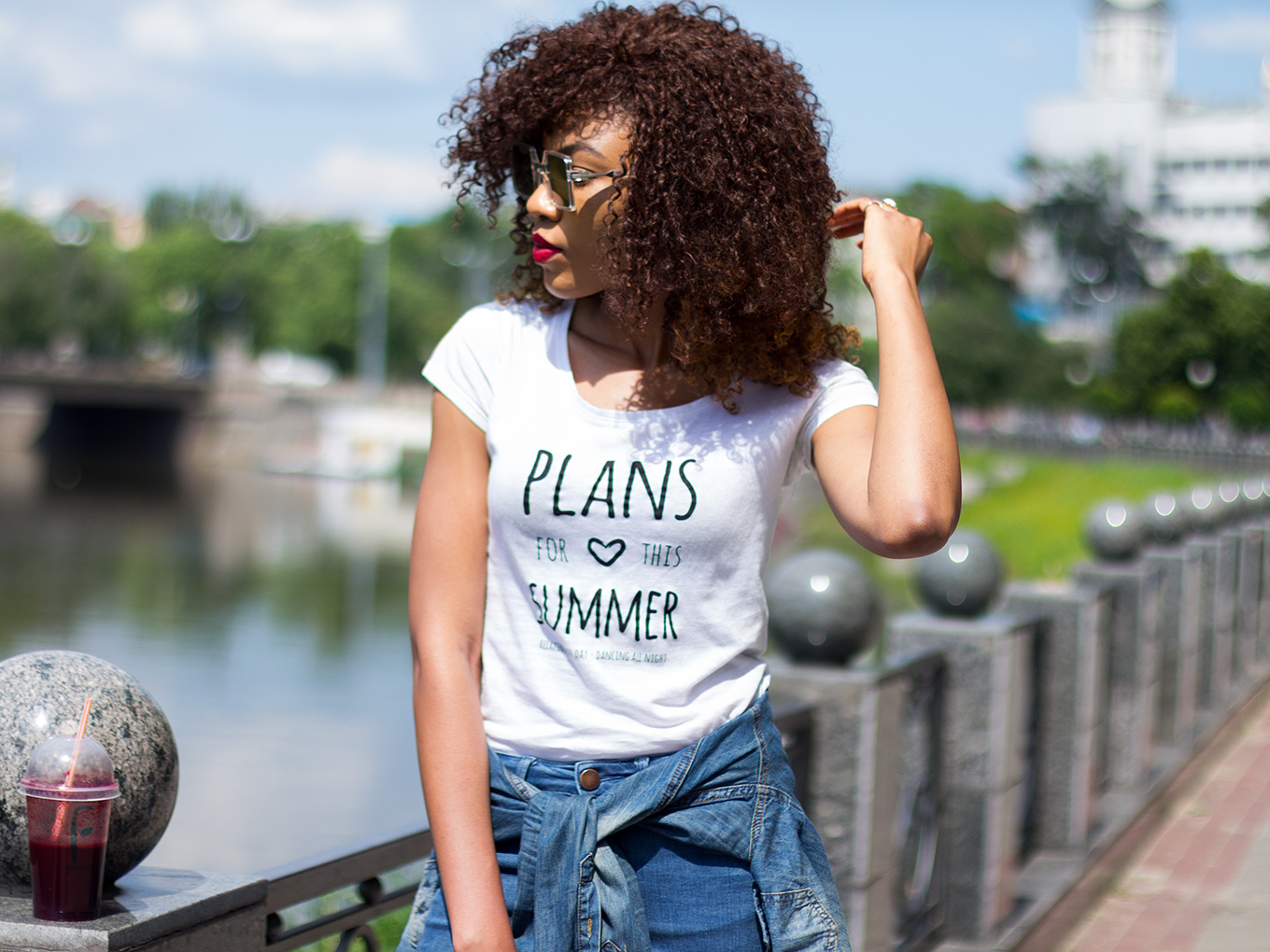 How do you usually rock your casual jeans and tee outfit? How else can you restyle it for a not-so-lazy look? My tee is a summer reminder, any plans? Sadly, i'll be preparing for exams throughout and won't be able to visit a lot of places. I would love to hear about your summer regardless!
Thanks for stopping by as always
Enjoy the rest of your weekend.
xx!
*P.s. I'm still accepting Guest Saturday posts, get in touch if you will like to contribute.
Keep Up With All My Blog Posts