The circle bag trend is the hottest bag trend of the year. Forget the saddle bags and the mini bag trend that I discussed on this blog previously, round shaped bags are the "It" bags of the season pushing those other bag trends all the way to the back seat. Although there are quite a number of half circle bags gaining popularity too like this bohemian half-circle "ark" bag, this post is focused on the full circle-shaped handbags like the popular Mansur Gavriel circle bags.
For some months, I kept seeing a lot of circle bags on Instagram especially on top fashion pages. It was as though there was a circle bag in my explore page anytime I visit Instagram. It took me a while after months of admiration to find out that the particular bag I've been obsessed with was this Mansur Gavriel circle bag. Thanks to bloggers who actually mention or tag the items they're wearing before sending us off to shop their feed (I'm guilty of this sometimes too).
I did what any fashion enthusiast would do, I went to google and searched, I was surprised at the amount of search results I got. I don't know why I didn't think of just searching google for circle bags all those months, I guess I didnt think a round shaped bag would be called a circle bag, talk about common sense not being so common afterall. Well, after i discovered the bag that I've been obsessed with, it was time to check it out. I opened the official website and the 2nd website that I saw on google, I left the sites almost as soon as I opened them, the price range sent me away so quickly.
Fast-forward to some weeks after I was heartbroken by the "out of my price range" price of the particular Mansur Gavriel circle bag I've been obsessed with, I saw an Instagram photo of one of my favorite bloggers (Cynthia of simplycyn) carrying a circle bag. At the time I saw the photo, there were no details of the bag in her post, so I started stalking that photo hoping she would add the details as other people already asked in the comments.
Within 24 hours, she updated the post with the details. I quickly went to check out the brand with the circle bag cheaper than the Mansur Gavriel collection. The reason I knew they were going to be cheaper is because she blog's on a budget and she isn't one of those bloggers that wear only high-end and designer items. On seeing the price of the bag, I blamed my bank account and decided it was time to look into circle bags.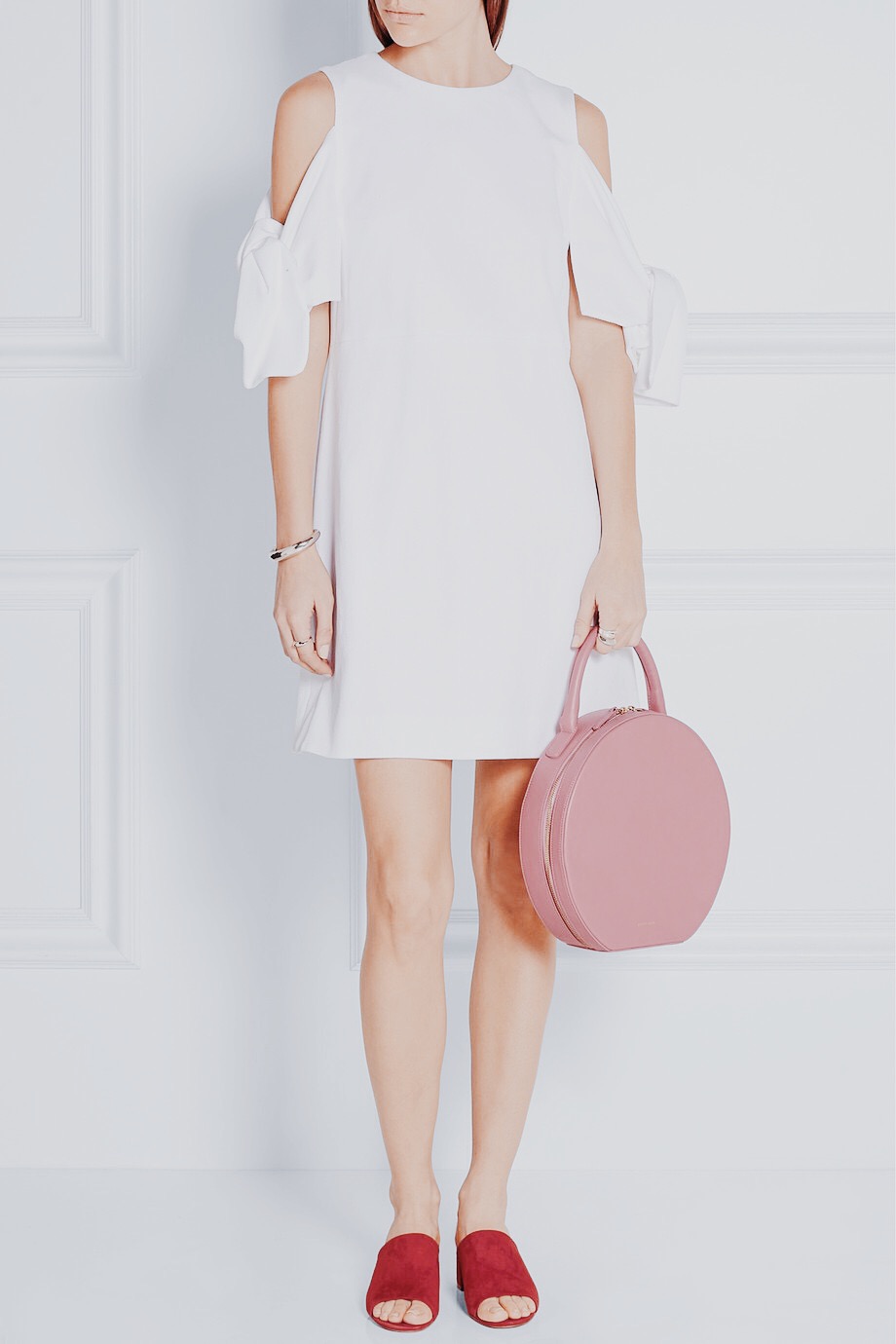 I told myself there had to be cheaper circle bags out there, cheaper than these 2 popular brands of circle bags (Clare V and Mansur Gavriel) that should be affordable enough for me and you. There can't be a circle bag trend if other designers, brands and stores didn't have their versions.
I found lots of options, including this circle emoji bag less than $20. I've shared all of them with you at the the end of this post but first, let's take a look at some of the reasons to dump your current bag styles at the back of your closet and jump right on the circle bag trend.
Move aside saddle bags and bucket bags, circle bags are leading the way! #fashiontrend #fbloggers Click To Tweet
Reasons You Need To Try The Circle Bag Trend
Fashion Statement: The circle bag trend is definitely one of the bag trends you can try that is guaranteed to help you make a fashion statement. That is if you are someone who loves to be on trend and steal the show always.
Fashion Investment: There's no doubt that a handbag is an investment in every woman's wardrobe, so, you should go ahead and try the circle bag trend; add a circle bag to those fashion investment pieces you already own.
Classic Design: The round shape is a delight to look at. I believe the classic shape is a good enough reason to add circle bags to your closet, dont you think so?
Versatility: Despite having a unique shape, the circle bag can go with almost every outfit you can think of.
Shop The Circle Bag Trend Online
There have been different circle bags before now, round bags of different sizes but the circle bag trend is more noticeable this year because of certain brands marketing it more prominently. For eg. the Mansur Gavriel circle bags look classy and unique in a way that draws attention to them.
I would love to try the circle bag trend, I can't wait to add one of these round shaped bags to my handbag collection.
What do you think of the circle bag trend? If you already own circle bags, do share with us what type of outfits you put together with them in the comment section.
Forget saddle bags, the circle bag is the hottest bag trend now! #fbloggers #trending #fashion
Click To Tweet
Keep Up With All Blog Posts